Apple Inc. (NASDAQ:AAPL) investors were anxiously awaiting CEO Tim Cook's presentation this morning at the company's annual shareholder meeting. The hope, of course, was to get some clarity on what Mr. Cook plans to do with all that cash on the balance sheet. Well, that didn't really happen and the shares have sold off a bit more (even in the face of a very positive rally in stocks today).
Mr. Cook, Can We Please Have Some More Cash?
Apple has built a very strong balance sheet over the last few years. The company has no debt and it generates a significant amount of cash flow. As shown in the chart above, Apple has grown its cash balance from about $15 billion in 2007 to over $137 billion (as of 12/31/12).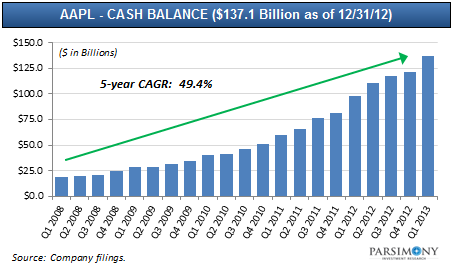 Apple is maturing as a company and investors are expecting the company to start returning more cash to shareholders (and rightly so). While Apple's best days are probably behind it, the company has built an enormous ecosystem that will continue to generate a significant amount of cash flow in the future. This is great news for dividend growth investors...as long as Apple stops being so stingy with all that moola.
How Does Apple Stack Up As A Dividend Stock?
Below is a table that compares Apple to some of its large-cap, dividend-paying technology peers.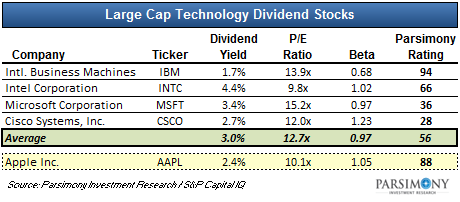 While many of its peers currently have a much higher dividend yield, Apple's overall Parsimony rating is much higher (on average). When you peel back the onion a bit (and look at Apple's sub ratings), it becomes clear why the stock has a higher overall rating. The table below summarizes some of the key data points that we analyze when ranking our dividend stocks.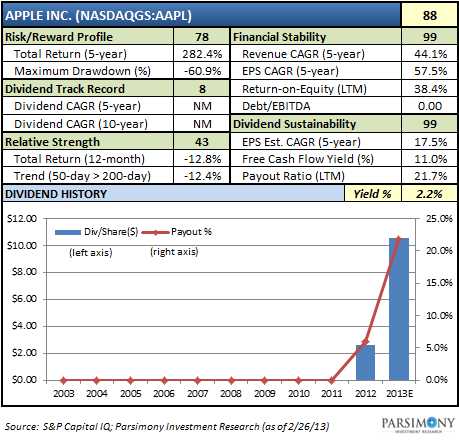 Apple carries our highest possible rating (99) for Financial Stability and Dividend Sustainability. Unfortunately, Apple can't do anything about its short Dividend History, but dividend growth investors should be able to look past this short history given the Company's financial stability and future dividend potential.
A Dividend Announcement Could Send Apple Shares Soaring
Investors can benefit greatly from a stock when its valuation multiple expands. When a valuation multiple expands, the market is essentially saying that it is willing to pay a higher price for a company (based on a variety of factors). Investors often use a stock's price-to-earnings ratio (P/E ratio) to compare its valuation to its peers. That said, given that the numerator in this ratio is price, P/E ratios tend to oscillate around a certain base level as the stock price overshoots to the upside and downside. This is why you often hear analysts say that a stock is overvalued or undervalued at certain price levels. As an investor, you want to try to find stocks that are currently undervalued so that you can take advantage of multiple expansions.
As shown in the table above, Apple currently trades at a 20% discount to its peers (10.1x vs. 12.7x average). We believe that if Apple announces a meaningful dividend hike and proves that it is committed to returning cash to shareholders, the stock's P/E ratio will expand to trade more in line with its peers.
This will obviously cause the stock to soar on the news. If Apple's P/E ratio expands to even 12.0x forward 2013E earnings, the stock could immediately soar to around $550.00 per share...a 22% increase from current levels.
Mr. Cook admitted today that he "doesn't like" the recent trend of the stock. Well, he is the one sitting on the turbo booster...so let's hope he eventually does the right thing about the dividend.
Disclosure: I am long AAPL. I wrote this article myself, and it expresses my own opinions. I am not receiving compensation for it (other than from Seeking Alpha). I have no business relationship with any company whose stock is mentioned in this article.