Ship Finance International Ltd. (NYSE:SFL) is a high-yield stock that has done a good job diversifying its revenue streams and generating more than enough cash flow to cover the dividends. However, a semi-shocking revelation from Ship Finance's biggest customer puts up a road block in the next few years concerning the continuation of the big dividend payments. Investors need to keep a close eye on the situation, because even if Ship Finance does a good job handling the problem, the market might still decide to crater the share price.
Frontline Projects Problems
Tanker ship company Frontline Ltd. (NYSE:FRO) was the first customer of Ship Finance and remains one of the largest. Ship Finance came into existence when it was spun off by Frontline back in 2004. From an initial 47 crude tankers chartered back to Frontline, the two companies have reduced the number owned by Ship Finance and chartered by Frontline down to 22. There are an additional 5 Frontline chartered VLCC tankers that were purchased after the IPO. Ship Finance has diversified its fleet away from tankers, buying deep-water drilling vessels and container ships over the last half decade. However, the VLCC and Suezmax tankers chartered to Frontline still account for about 25% of the fixed charter hire revenue received by Ship Finance.
The charter rates for crude oil tankers are in a continuing slump that started in 2009. Ship Finance leases tankers to Frontline for a fixed rate plus a percentage of the profits. Unfortunately, it has been difficult for Frontline to just earn enough charter revenues to pay Ship Finance, let alone make any profits. The tanker industry seems to be stuck in an environment of capacity oversupply in relation to the amount of oil needing to be shipped.
Frontline's fourth quarter earnings report included some items that caught my eye and are very negative factors for both Frontline and Ship Finance. Here are a couple of quotes from the earnings press release:
"Currently crude tankers are going through one of the worst winters ever with VLCC rates close to zero, limited number of fixtures and very high availability of VLCC tonnage."
"Consensus is that the tanker market will not experience sustained recovery until overcapacity is removed."
"If the tanker market does not recover before 2015 and no additional equity can be raised or assets sold there is a risk that Frontline will not have sufficient cash to repay the existing $225 million convertible bond loan at maturity in April 2015. Such a situation might force a restructuring of the company, including modifications of charter lease obligations and debt agreements."
Can Ship Finance Cope?
During the Ship Finance Q4 earnings conference call, CEO Ole B. Hjertaker discussed the Frontline problems and showed confidence that Ship Finance could work around or through any potential problems with Frontline. The discussion noted that the Ship Finance debt associated with the Frontline tankers was currently just above the scrap value of the tanker fleet. Also, the two companies have been disposing of older vessels - 7 over the last 2 quarters - producing net gains over book values on the disposition.
While Ship Finance is confident it is covered from the debt and capital invested viewpoint, I am still concerned what kind of problems Frontline could cause for Ship Finance in relation to cash flow. The profit-sharing payments from Frontline accounted for about 7% of total revenue in 2012. That money seems to be gone for the foreseeable future and if Frontline goes into some sort of reorganization, the fixed charter payments could also be affected.
Conclusions
Based on the information from Frontline, it seems distinctly possible that Ship Finance could face a cash flow squeeze at some point over the next few years. The company is not in great financial danger, but the current 39 cent quarterly dividend could be at risk. To a certain extent, this is the risk you get from a stock yielding near 10%. Not much should happen with Frontline over the next few quarters, but close watch should be kept on the earnings releases and tanker charter rates.
If some bad news concerning Frontline does hit the news wires, I expect the Ship Finance share price to take a significant hit. I would plan to be a buyer if this scenario plays out, but a share price dropping to below $10 would not be pleasant for investors who bought at $15 or $16. Currently, I do not recommend selling SFL, but also would not be adding to a position.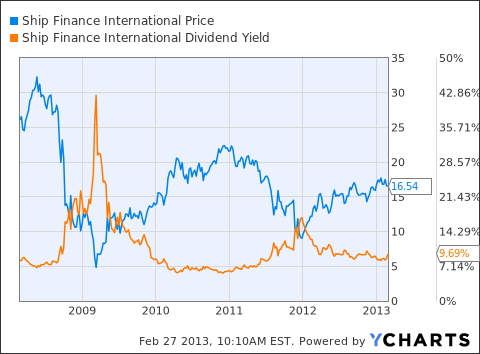 Disclosure: I am long SFL. I wrote this article myself, and it expresses my own opinions. I am not receiving compensation for it (other than from Seeking Alpha). I have no business relationship with any company whose stock is mentioned in this article.