Whole Foods Market (NASDAQ:WFM)
Whole Foods, which has experienced a 13 point sell-off the past few days, runs a chain of natural and organic grocery stores. The Texas-based company has 340+ locations in North America and the U.K. No one can question the fact that Whole Foods has done great things in a very competitive grocery industry, or that Whole Foods has a very good management in place. However, a few factors concern me going forward, including price decreases and premium valuation.
The company beat on earnings and revenue expectations last quarter, but disappointed with respect to the revenue growth coming from new locations rather than higher same-store sales. Additionally, it lowered full-year guidance and announced it plans to lower prices, which will likely cut into margins. This resulted in a stock drop of about 13 points.
This price cutting bothers me. Part of the premium valuation this company gets is due to its high margins and profitability. Lowering prices, while it may boost revenue, also lowers margins, and lowers profitability. It also starts a race to the bottom, in my opinion. Additionally, you can only cut costs so much to make up for price cuts.
Whole Foods is not cheap as you can see from P/E, forward P/E, and PEG in the table below. It is, however, in good financial condition and has very little debt. It also has loyal customers, but the grocery industry is vicious, so it's hard to predict how loyal these new customers drawn by price will be.
Some people view the public's interest in organic as a trend that could end, which places risk on this company. I think the exact opposite is occurring. I think in a world saturated in chemicals, likely causing many diseases (call me a conspiracy theorist), the public will steer more and more toward natural foods free of these chemicals. Yes, I believe that is good for Whole Foods, but I think the trend will become so large that many more grocery stores will end up changing to natural foods, producing more challengers to Whole Foods "throne."
| | |
| --- | --- |
| | WFM |
| Market Cap | $15.67B |
| Price | $83.98 |
| P/E | $31.89 |
| Forward P/E | $24.85 |
| PEG | 1.80 |
| LT Debt to Equity | .01 |
| ROA (return on assets) | 10.27 |
While most analysts still list it is a "buy," I am not convinced.
From a technical standpoint, the chart looks kind of ugly. The stock broke down out of a wedge. It is approaching long-term support at $81.50, however. A break of $81.50 opens up a slide to $74 support, or even $67.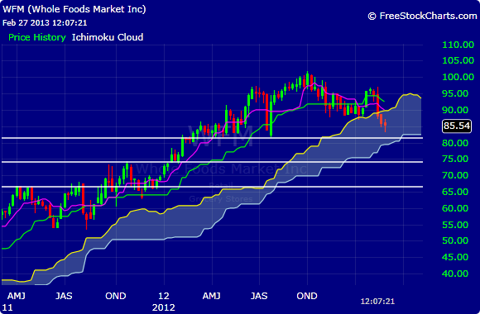 I see this as a sell for now. I am looking at a May 78/65 put spread for about $1.25. Risk reward on that is almost 10:1, but is a scenario I see much more likely than being a "long shot."
The company competes against major grocers like Kroger (NYSE:KR), The Fresh Market (NASDAQ:TFM), and Safeway (NYSE:SWY).
Disclosure: I have no positions in any stocks mentioned, and no plans to initiate any positions within the next 72 hours. I wrote this article myself, and it expresses my own opinions. I am not receiving compensation for it (other than from Seeking Alpha). I have no business relationship with any company whose stock is mentioned in this article.
Disclaimer: We do not know your personal financial situation, so the information contained in this article represents my opinion, and should not be construed as personalized investment advice. Past performance is no guarantee of future results. Do your own research on individual issues.