Investors are taking a harder look at senior bank loan ETFs as a way to access higher yields while hedging exposure to rising rates.
Senior bank loans are private debt instruments issued by a bank and provide capital to companies that typically fall below investment-grade credit ratings. However, the riskier "junk" bonds also come with higher yields. Additionally, as a floating rate instrument, senior bank loans can keep up with changes in interest-rates and are more stable compared to bonds over the long-run.
According to Capital IQ, U.S. these leveraged loans come with an average 5.4% yield, Financial Times reports.
An ETF that tracks senior loans, PowerShares Senior Loan Portfolio (NYSEARCA:BKLN), has a 3.97% 30-day SEC yield. Investors can also take a look at the Highland/iBoxx Senior Loan ETF (NASDAQ:SNLN). BKLN is up 2.7% over the past three months while SNLN gained 2.9%.
BKLN has netted inflows of more than $900 million year to date, according to IndexUniverse data. The ETF now holds assets of $2.4 billion, so 2013 inflows have been significant.
Over $8 billion has flowed into U.S. senior loan funds so far this year as investors looked for a cheap way to access this segment of the market. For instance, BKLN has a 0.76% expense ratio and SNLN comes with a 0.55% expense ratio, compared to the 1.2% in mutual funds tracked by Morningstar.
In ETFs, most of the new inflows went into the BKLN as investors sought attractive yields with a way to protect themselves from rising interest in the future. While the ETF offers high yields, it is exposed to speculative grade debt, with 44% in BB-rated bonds, 41% B and 9% CCC.
BKLN is a "decent yield play" that's easy to trade and very liquid, said Chris Hempstead, director of ETF execution services at WallachBeth Capital, in a phone interview. The ETF's expense ratio is "reasonable" considering how much it would cost for individual investors to trade these type of loans, he added.
On the other hand, if an investor is interested in the floating rate aspect as protection against rising rates but wary about speculative grade debt, there are investment grade floating rate ETFs, such as the iShares Floating Rate Note Fund (NYSEARCA:FLOT), SPDR Barclays Capital Investment Grade Floating Rate (NYSEARCA:FLRN) and Market Vectors Investment Grade Floating Rate (NYSEARCA:FLTR).
PowerShares Senior Loan Portfolio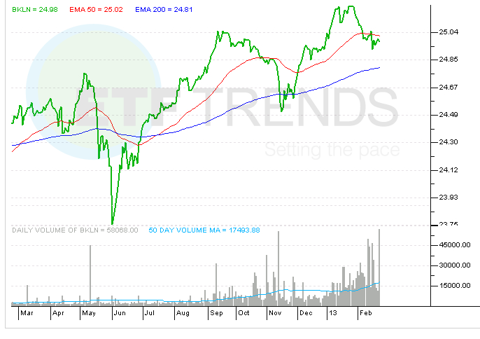 Max Chen contributed to this article.
Disclosure: I have no positions in any stocks mentioned, and no plans to initiate any positions within the next 72 hours. I wrote this article myself, and it expresses my own opinions. I am not receiving compensation for it. I have no business relationship with any company whose stock is mentioned in this article.