As I type, J.C. Penney (NYSE:JCP) has been hammered in after-hours trading, before the call has started and after releasing a Q4 report with nasty headlines. I mentioned this one as a speculative buy potentially when I shared several over-shorted stocks last month, and, at 19 or so, it has pulled back to a slightly lower level than it was at prior to that article after trading to 23 just the other day: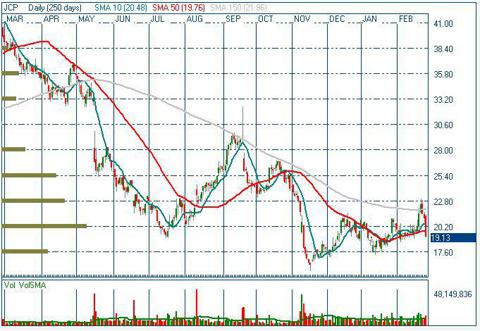 Click to enlarge
The quarter showed a sales short-fall and very weak earnings. The analysts had been looking for sales of $4.08 billion, but they came in at just $3.88 billion, about 5% below expectations. Earnings excluding some one-time charges were a loss of $1.95, which is pretty far from the $0.18 loss that had been anticipated.
Dive In or Defer?
I think that this year-end report smells like the kitchen sink. CEO Ron Johnson knows that he has disappointed, and JCP likely made this report as bad as it could be. The reasons to buy now, if you think that their reinvention strategy is sound, as I do, are three-fold:
Too many shorts
Cash went up
Inventory went down
As I highlighted in January, the name is too heavily shorted. At the last reading (as of 1/31), short-interest was a stunning 60mm shares, representing 43% of the float and over 6 days of trading volume. While this is down 4mm shares, it's still too lop-sided.
As I shared before, there are no significant debt repayments until 2015. Still, I have heard suggestions for months now that there could be a liquidity issue. In Q3, the company had about $525mm in cash and short-term investments. This seemed low given the debt at the time of $2.9 billion and a lack of profitability. Well, checking the balance sheet now, which wasn't in the headline, cash and short-term investments grew on the quarter to $930mm. A big "loss" and cash goes up!
What happened? Exactly what I predicted: Inventory plunged. A year ago, it was $2.9 billion but had increased as of Q3 to $3.36 billion. As of Q4, though, it has declined dramatically to $2.34 billion. There are a lot of moving parts - old, crappy inventory isn't separated from the new good stuff, but hopefully the call will shed some light here.
So, this looks like an opportunity to jump aboard in my view, using terrible headlines that have dropped the price back into the middle of the range for the past few months.
Disclosure: I have no positions in any stocks mentioned, and no plans to initiate any positions within the next 72 hours. I wrote this article myself, and it expresses my own opinions. I am not receiving compensation for it (other than from Seeking Alpha). I have no business relationship with any company whose stock is mentioned in this article.