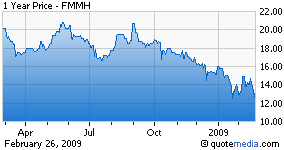 In the latest quarter reported, Fremont Michigan Insuracorp (OTC:FMMH) decreased its expense ratio from 38.4% to 30.8%. That is a great performance, and if the company can keep dropping the expense ratio to 25% and lower, it will be in the running to make the business a true "low cost leader" on the expense front. This progress is a great testament to COO Kent Shantz, CFO Kevin Kaastra and EVP David Mangin's hard work on the expense front.
Starting today, the company also needs to raise rates! Along with low expenses, it should be the company's prime focus. Fremont Vice-President Skip Massucci handles all pricing for the company, and he has done a first-class job. It is born out in the numbers.
In 2003, when Mr. Massucci joined Fremont, the combined ratio was 100.9%, an underwriting loss. Since then, the company has made an underwriting profit every single year (98.1% in 2004, 85.7% in 2005, 79.4% in 2006, 94.3% in 2007, and 94.4% in 2008). That's quite a performance.
During the last year, the loss ratio has gone from 57.1% to 61.1%, and in the most recent quarter, it went from 43.0% to 74.0%. Adequate pricing in relation to the risk assumed, is the name of the game when it comes to insurance. Without it, there is no business.
Therefore, pricing is one of the most important factors a company can consider, both mathematically and philosophically.
When it comes to compelling factors for raising rates and communicating that rationale to state regulators, who approve rate increases, I think it is helpful to keep some key dynamics in mind, which highlight changes in the relationship between variables:
Permanent weather volatility. Whether one ascribes it to global warming, or something else, it's here to stay. Pricing should be such that even in an awful "worst case scenario," there is a combined ratio profit for the quarter. If Mr. Massucci is given free rein to raise rates as he sees fit - free from micromanagement or misguided premium growth considerations - there is no reason why he can't achieve that, in a similar way that Berkshire (NYSE:BRK.A) achieved combined ratios below 100 in quarters with terrible hurricanes.
Inflation in the cost of repairs is hideous. My sources in the transportation industry have told me that even though fuel prices have come down, the price for replacement parts and repairs has gone way up in a way that is not reflected in government reported headline inflation numbers. The same thing may or may not be happening with the cost of repairing homes. Repairing vehicles is a major cost for Fremont, given its growing car business. Rate increases would reflect that.
Social inflation. The creep of "social inflation" is continuous. Lawsuits become more expensive every year and juries award ever-larger payouts. Pricing, therefore, should increase at a rate commensurate with this burden.
Increased driving due to cheaper oil prices. When prices spiked at the gas pump, people drove less. Now, that dynamic has reversed. Pricing should be raised to reflect increased driving, which leads to more accidents.
The economic environment. People become more aggressive about reporting claims when the economy deteriorates. To a large degree, this may change the relationship between variables that may not be reflected in historical data from the recent past.
A 25.2% increase in personal auto direct premiums written for the quarter is dramatic!
There is no question that Fremont's rates are competitive (otherwise, it would not be getting such premium growth). The prime focus should be on whether rates are adequate. With those kinds of growth numbers, clearly generated by great Information Technology (thank you EVP, David Mangin!) and Agency Relations (thank you VP, Kurt Dettmer!), there doesn't need to be a trade-off between growth and rate adequacy. Rates have to be increased until there are no more quarters with combined ratios of greater than 100.
Recently, Michigan Governor Jennifer Granholm requested that Michigan insurance companies voluntarily agree to a 12-month auto rate freeze. Fremont has a fiduciary responsibility to its shareholders to refuse such a request. Many insurers and industry associations have pointed out that rates should reflect Michigan realities - not politics. I think it is absolutely key that Fremont does not voluntarily agree to freeze rates for a year, especially given the performance in the latest quarter reported. Absent a voluntary rate freeze, my understanding is that approval for rate increases by the state regulator will not be a substantive deviation (in terms of the letter of the law) from current practice. The company had a combined ratio above 100 in the latest quarter reported. It has ample justification to raise rates.
If Mr. Massucci is given free rein to increase rates, Fremont can achieve underwriting profits even in worst-case scenario quarters.
Disclosures: Harry Long owns FMMH.OB shares directly, through partnerships, and through trusts. To the best of his knowledge, certain of his family members own FMMH.OB shares through partnerships and trusts. Such ownership may change at any time.