Although the last quarter was full of firms seeing drops in spending, there were firms that did well. An example of such a firm would be Cracker Barrel Old Country Store (NASDAQ:CBRL), whose recent profit declaration showed that the firm's earnings per share beat Street predictions by $0.06.
MSSI statistics on Cracker Barrel show that monthly spending by the average Geezeo user has increased by 7.55% from September '08 and an almost 15% total gain in 2008. Frequency of visits has stayed relatively constant throughout this time, which would suggest that the rising food prices and thereby higher menu prices have not discouraged customers from the old time-themed restaurant.
click to enlarge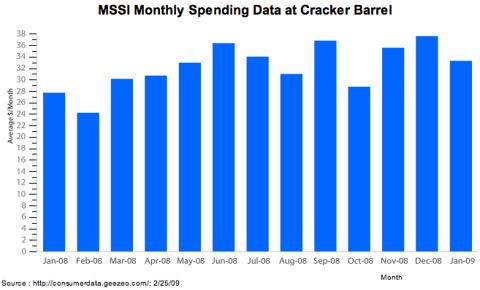 The firm's strategy for the year to come, as discussed in "Cracker Barrel Q2 results top estimates, shares up" involves keeping costs in check and selling off some of its stores to sure up cash reserves.
It would seem that companies like Cracker Barrel, which have better control over their debt obligations are better able to handle this economic downturn compared to their fast-food competitors. Dominos Pizza (NYSE: DPZ), for instance, had to scramble when its primary lender, Lehman Brothers, went bankrupt and now is struggling to keep operations running, despite relatively solid sales.
This data was compiled by the
Geezeo Main Street Spending Index
(MSSI).