After my recent article on Philip Morris International (NYSE:PM), I've decided I will also write about the company that owns Philip Morris USA, Altria Group (NYSE:MO).
Altria's revenue mainly comes from cigarettes (over 90%), but they also produce and sell smokeless products and wine. MO also owns a 28.7% share in SABMiller Plc. (OTCPK:SBMRY) For this article, I will be using MO's quarterly reports which can be found on their website.
Altria is currently trading at $34.00/share, with a 52-week low of $29.76 and a 52-week high of $36.29. Its Q1 2013 will be $0.44, giving it a dividend yield of 5.18%. The market cap is currently just under $69 billion. (From Google Finance)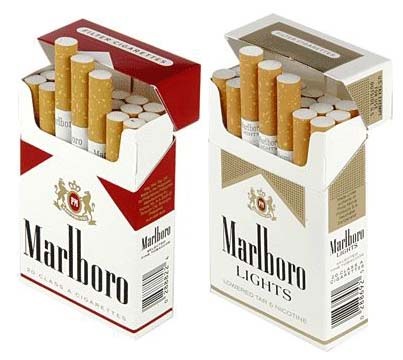 Cigarettes
Altria's brands include Marlboro, the largest selling brand of cigarettes in the US, as well as brands like Benson & Hedges, Chesterfield and L&M. Selling premium cigarettes allows MO to sell its products for a higher price than most of its competitors.
Over 90% of all revenue for MO comes from smokeable products. The revenue in this segment has gone up slightly, going from $21.44 billion in 2009 to $22.22 billion in 2012.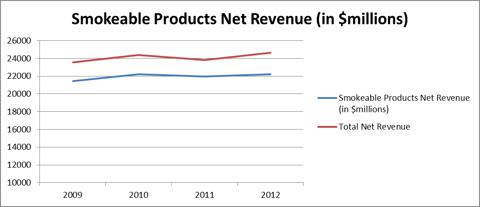 Smokeless Products, Wine and Financial Services
Altria's wine segment's revenue has gone from $403 million in 2009 to $561 million in 2012, an 39.2% increase. Smokeless products revenue went from $1366 million to $1691 million in the same period, for an increase of 23.8%. Financial services revenue dropped by $198 million, or 56.9%, to $150 million in 2012.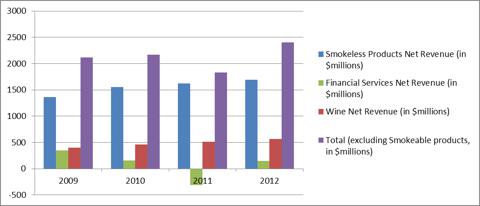 Net earnings
Over the last 4 years, net earnings have gone up from $3.21 billion to $4.18 billion (+30.2%).
This has caused EPS to go from $1.54 in 2009 to $2.06 in 2012.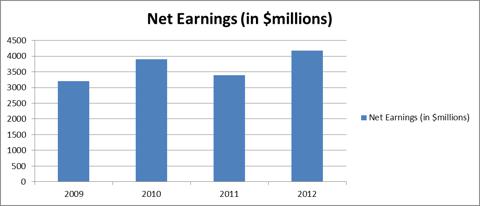 EPS and Dividend
The large amounts of profit that flow into Altria each month are mostly paid out to shareholders. Altria usually pays out between 80 and 90% of EPS, which is very high.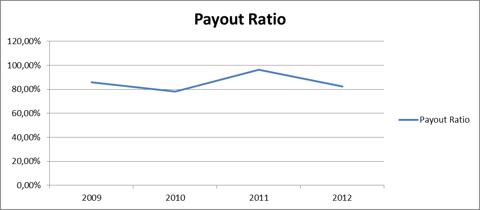 Average annual EPS growth rate over the last 4 years was 10.2%. EPS was at $1.54 in 2009 and grew to $2.06 in 2012. Dividend grew slightly slower, from $1.32 in 2009 to $1.70 in 2012, an average increase of 8.8%/year. The payout ratio went from 85.7% to 82.5%.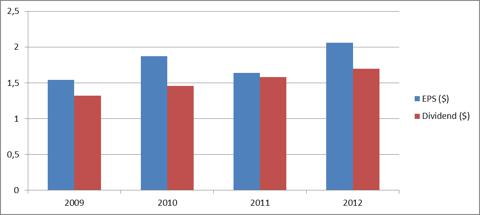 Should I Buy MO?
Forecasted EPS (as stated in MO's Q4 press release) is $2.34-$2.40. At the current price of $34.00, that would result in a P/E ratio of 14.2-14.5.
| | |
| --- | --- |
| Company | P/E Ratio (from Google Finance) |
| Philip Morris International | 17.7 |
| British American Tobacco (NYSEMKT:BTI) | 21.5 |
| Reynolds American (NYSE:RAI) | 19.7 |
EPS for Altria seems to be a lot lower than its competitors. Combined with the attractive dividend of over 5%, the growing revenue and earnings, and the diversification thanks to its non-smoking products and its stake in SABMiller, I'd say MO is a buy at current valuations.
What's your view on Altria? Please comment below!
Disclosure: I have no positions in any stocks mentioned, but may initiate a long position in MO over the next 72 hours. I wrote this article myself, and it expresses my own opinions. I am not receiving compensation for it (other than from Seeking Alpha). I have no business relationship with any company whose stock is mentioned in this article.