BlackBerry (NASDAQ:BBRY) Inc. released the first of its BlackBerry 10 line of phones in India this past Monday. Their goal is to penetrate a rapidly developing market that is currently the second largest phone user base in the world. BlackBerry is entering the very high-end phone market, offering their Z10 device for about $800. While I wrote in a previous article that BlackBerry will be hard pressed to sell their pricey device, there are several factors that may actually allow BlackBerry to post a profit in India.
Rapid Growth and Urbanization
While India may have a nominal GDP per capita of $1,219, the country is experiencing rapid growth. A chart of India's yearly GDP growth shows that, apart from one down year (which still boasted 4% growth), the country's GDP is growing between 7-9%.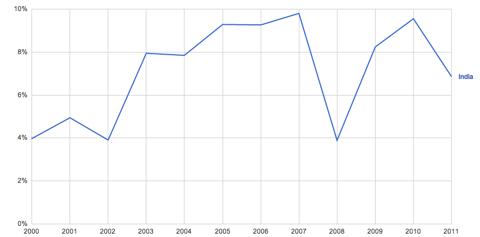 Click to enlarge
Source: Google
India's population is also rapidly urbanizing. Urbanization is usually a trend that results in increased incomes and a higher standard of living. According to the United Nations, ~41% of India's population will reside in cities by 2030, relative to the ~30% that it is now. Keep in mind, this is a country with over a billion people. Although urbanization is occurring at such a rapid rate that many people end up living in slums, it is a step in the right direction. A higher urban population will eventually lead to more technology being bought. Currently India's cities provide ~2/3 of the national income with only ~1/4 of the population.
Growing Mobile Phone Usage
As India continues to develop into a modern economy, its people are starting to purchase mobile devices. As has happened in every developed country, "dumb" phones are eventually taken over by "smart" phones. Although the smartphone penetration is still low within the country, residents are buying mobile phones. This is a step in the right direction. The chart below shows "mobile cellular per capita," which is also known as the mobile phone penetration rate. As you can see, the amount of mobile phones in use has spiked in recent years, and there is no reason for this to stop. This bodes well for companies trying to enter the mobile space now, such as BlackBerry.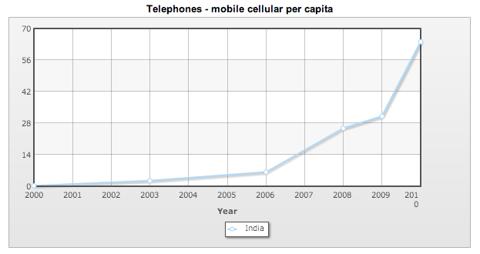 Click to enlargeSource: Indexmundi
The iPhone
The iPhone directly competes with the BlackBerry in India. They both contend for the high-end phone space within the country, with the iPhone 5 selling for $840. Sales were dismal when Apple (NASDAQ:AAPL) first came around. Then the corporation introduced payment plans, allowing people in India to pay for their phones over time. The result was a huge increase in sales: iPhone shipments quadrupled between 3Q 2012 and 4Q 2012, allowing Apple to take the spot as 2nd most popular phone provider within the country. If anything, this is proof that a high-end phone market does exist in India; it just has to be maneuvered properly.
Conclusions
The Indian smartphone market is set to explode. As the country continues to outpace most of the world in terms of growth and urbanization, people clamor for more phones. Soon, they will want more smartphones. Apple proved that you can sell wildly expensive devices in India through their clever payment systems; if BlackBerry can create their own model for receiving payments over time, they can succeed. I believe that deft management may allow BlackBerry to regain what was once a loyal user base in India.
Disclosure: I have no positions in any stocks mentioned, and no plans to initiate any positions within the next 72 hours. I wrote this article myself, and it expresses my own opinions. I am not receiving compensation for it (other than from Seeking Alpha). I have no business relationship with any company whose stock is mentioned in this article.