The share price of Priceline.com (NASDAQ:PCLN) has appreciated by 12.2% in the current year. At $695.91, the stock is trading at around the mid-point of its 52-week price band from $553.42 to $774.96. There are 4 compelling reasons supporting my view that the shares are well positioned for a continued price uptrend.
1. From a relative valuation perspective, PCLN is priced attractively based on the company's solid financial performance relative to its peers (see chart below). Consensus estimates on average predict PCLN's revenue, EBITDA, and EPS to grow at 2-year CAGRs of 19.7%, 24.9%, and 22.4%, respectively. Those estimates are fairly in line with the averages of 13.7%, 26.9%, and 28.9%, respectively, for Expedia (NASDAQ:EXPE), which is PCLN's closest comparable company. Over a longer term, PCLN's EPS growth is forecasted to be 20.3%, significantly above the estimate of 13.2% for Expedia. On the profit side, PCLN demonstrates a superior performance as most of the company's profitability margins and capital return metrics are substantially above Expedia's level. PCLN is less leveraged as reflected by its lower debt to capitalization and debt to EBITDA ratios. In terms of liquidity, the firm's trailing free cash flow margin is slightly higher than that of Expedia. Due to the robust profitability and the lower debt load, PCLN was able to maintain a strong interest coverage ratio. Both the company's current and quick ratios are substantially above Expedia's, reflecting a fortress-like balance sheet.

To summarize, despite the on-average near-term growth potential, PCLN's strong long-term EPS growth trend, robust profitability, as well as its excellent liquidity position should support a premium stock valuation. Nevertheless, the current valuation at 17.9x forward EPS (next 12 months) is at a 2.7% discount to Expedia's multiple at 18.4x, suggesting that PCLN shares are likely undervalued on a relative basis. Further, PCLN's PEG ratio of 0.9x is at a deep discount of 36.0% to Expedia's PEG ratio at 1.4x, again indicating a compelling valuation level (see chart above).
2. Over the past 12 months, PCLN's forward P/E multiple has compressed by about 10% from 20.0x to the current level at 17.9x (see chart below). I believe the valuation downtrend is favorable to investors given the following positive fundamental developments over the 12-month period: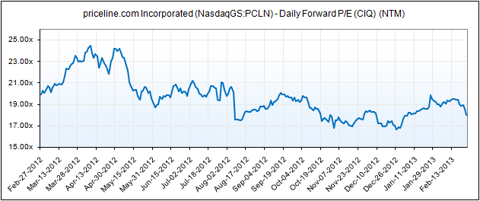 a) PCLN's consensus revenue, EBITDA, and EPS estimates for 2013 have experienced multiple upward revisions over the past 12 months and their current levels are notably above where they were in 12 months ago (see charts below);



b) Over the same period, analysts' average target price has increased by 27.2% from $621.08 to $789.88, suggesting market's increasing bullishness on the company (see charts below); and

c) The company has consecutively beaten the consensus revenue and EPS estimates over the past 2 quarters.
3. PCLN's forward P/E multiple is currently trading at a 28.6% premium over the same valuation multiple of the S&P 500 Index, which stands at 14.3x now (see chart below). I believe the lower relative valuation level presents a great buying opportunity provided that 1) the current multiple premium over the market is considerably below the 12-month average at 45.7%; 2) PCLN's long-term EPS growth rate at 20.3% is overwhelmingly above the average estimate of just 8.2% for the S&P 500 companies; 3) Aside from the superior growth potential, PCLN's profitability and free cash flow margins are also substantially above the market averages; and 4) the company possesses a solid market share in the on-line travel booking field and its geographically diversified revenue sources offer an enhanced earnings stability.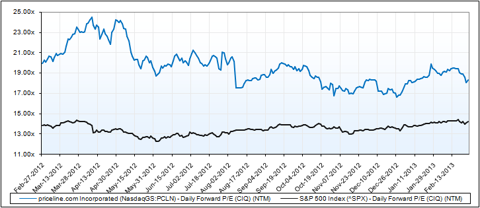 4. In a research note dated February 21, 2013, Doug Anmurth, elaborated on his bullish view on PCLN's growth prospects which I tend to agree on (sourced from Thomson One, Equity Research):
"We continue to believe Priceline is the best-positioned company in the online travel space and will continue to gain share in international markets. We believe International growth can stabilize in 2013 driven by Booking.com, Agoda, and Rentalcars.com, along with a more stable European macro environment. We believe there is still meaningful room for European hotel share gains as Booking.com likely has ~10% of total European hotel nights, and we look for greater contribution from high-growth opportunities in LatAm and APAC."
Bottom line, given the healthy financials, solid growth prospects, and compelling valuation level, PCLN deserves a buy rating and should be worth your consideration.
All charts are created by the author except for the consensus estimate tables, which are sourced from Capital IQ. All financial data used in the article and the charts is sourced from Capital IQ unless otherwise specified.
Disclosure: I am long PCLN. I wrote this article myself, and it expresses my own opinions. I am not receiving compensation for it (other than from Seeking Alpha). I have no business relationship with any company whose stock is mentioned in this article.