Billionaire investor Carl Icahn acquired 82% of CVR Energy (NYSE:CVI) in May 2012 through a tender offer. In an attempt to generate a quick payback on his investment, Icahn hired Jefferies & Company (JEF) to find a buyer for CVR. The failed auction process may have been one of the luckiest accidents ever to happen to Icahn. In January 2013, Icahn sought an IPO for CVR's oil refineries, CVR Refining LP (NYSE:CVRR), valuing his stake at $3.79 billion - an 88% increase over his $2 billion investment.
Brent-WTI Spread
Refineries make money on the difference between (i) the prices of refined products sold and (ii) the costs of crude oil refined, including transportation and manufacturing costs. The resulting "crack spread" is a measure of the difference between the market prices for refined products and crude oil. The industry also refers to the spread as a company's "refining margin."
All crude oil is not created equal. Brent crude oil is sourced from the North Sea while West Texas Intermediate crude is sourced primarily in the U.S. Brent oil has become the global standard and is used to set gas prices. That said, the quirk for U.S. oil refiners is that their costs of goods sold (crude oil) is determined by WTI crude prices, yet the price at which they sell refined oil is set by Brent crude prices. That said, the Brent-WTI spread is a harbinger of profitability. The following chart illustrates the Brent-WTI spread. The Brent-WTI spread stood at $20 in early February 2013, the highest it had been since December 2012.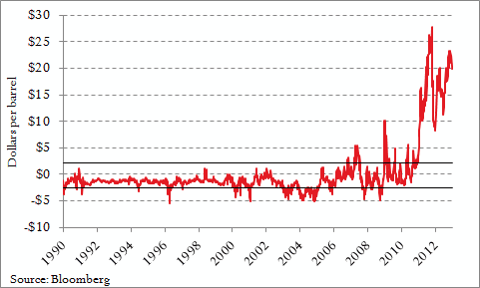 Brent oil and WTI have two separate supply/demand dynamics which are causing the differential in prices. Starting in 2010, WTI began to sell at a discount to Brent due to rapid increases in oil, primarily from the Bakken formation in North Dakota and the Eagle Ford shale in Texas. Brent crude is increasing. According to Marathon: Well Run Oil Refiner With More Upside,
Oil prices are being driven higher by a surge in demand by the Chinese, Libya's oil struggles during post-civil war reconstruction, and a cut in oil production by OPEC to the lowest level since May 2011. Also, adding to the surge are geopolitical risks such as the recent terrorist seizure of the In Amenas natural gas field in Algeria operated by British Petroleum (NYSE:BP), Norway's Statoil (NYSE:STO) and Algeria's state gas firm.
Historical Financial Performance
CVR's historical financials reflects the burgeoning Brent-WTI spread.
Net sales increased from $3.1 billion in 2009 to $7.7 billion through last 12 months ended September 30, 2012 ("LTM0912") - a compound annual growth rate ("CAGR") of 38.9%.
Operating income grew from $208 million in 2009 to $937 million through LTM0912 - a CAGR of 72.8%.
Meanwhile gross margin improved from 18.8% to 21.7% and EBITDA margin improved from 9.3% to 13.7% from 2009 to LTM0912.
Tale of the Tape
The company's gross margin of 21.7% for LTM0912 was the highest among a select group of oil refiners - Valero Energy Corp. (NYSE:VLO), Marathon (NYSE:MPC), Tesoro Corp. (NYSE:TSO), HollyFrontier Corp (NYSE:HFC), Delek US (NYSE:DK), Western Refining (NYSE:WNR) or Sunoco (NYSE:SUN). Its EBITDA margin of 13.7% was matched only by HollyFrontier. That said, not only has the company achieved the double-digit topline growth, but it also boasts the highest operating margins.

Trading Multiples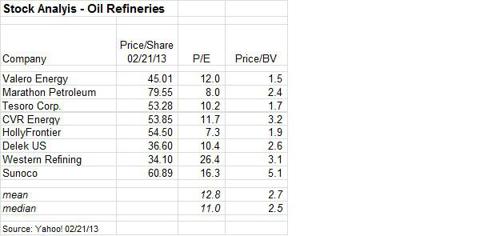 The above chart illustrates the price-to-earnings multiples and book value multiples of selected oil refiners. CVR trades at 11.7x trailing earnings and 3.2x book value, above the median of 11.0x and 2.5x, respectively for its peer group. The higher multiples most likely reflects its "best in class" operating margins. That said, its P/E multiple is well below its historical earnings growth rate.
Conclusion - What Icahn Knows
CVR is a best-in-class oil refiner with high operating margins and double-digit topline growth. The dynamics driving Brent-WTI spreads and gross margin improvements are geopolitical risks globally, and rapid increases in oil supply domestically. Brent-WTI spreads will probably not abate in the near term, and Mr. Icahn has so far been prescient in deciding to hold on to his +80% stake in the company. That said, CVR is a long-term buy.
Disclosure: I have no positions in any stocks mentioned, and no plans to initiate any positions within the next 72 hours. I wrote this article myself, and it expresses my own opinions. I am not receiving compensation for it (other than from Seeking Alpha). I have no business relationship with any company whose stock is mentioned in this article.