The only beneficiaries of J.C. Penney's (NYSE:JCP) latest earnings release are short-sellers and Harvard Business School case writers. This one was ugly! Revenue down 25% year-over-year and gross margins down 35%!
Cash flows weren't much prettier. The company lost $10 million in operating cash flows, and that's including a $575 million decline in inventories that inflates that number. If you ignore working capital changes, operating cash flows were negative $758 million, and free cash flows were negative $1.57 billion. The market cap of JCP as of close of business on February 27th was $4.64 billion, just in case you were wondering. In other words, in one year, this company may have bled a third of its market cap.
It's difficult to see how JCP can recover from here. 10 years from now, Ron Johnson's turnaround efforts at J.C. Penney will be taught by business school professors as "what not to do" when taking over an existing brand for a mass retailer.
When Johnson was brought in from Apple (NASDAQ:AAPL), the media mostly liked the decision. Here was a guy that came from the most successful company in the world, who might be able to turn a boring old mass-retailer into something more exciting. Johnson went about a new strategy of trying to turn JCP into a high-margin, trendy retailer.
The only problem was the cruel science of economics. Take a look at the mass-retailing landscape and take note of which companies are successful: Wal-Mart (NYSE:WMT), Target (NYSE:TGT), and Trader Joe's. These are companies known for rock-bottom profit margins that make their money through volume.
Unlike Apple, these companies focus more on how to cut costs, rather than how to maximize margins. Ron Johnson tried to come in and re-invent the economics of retail, but people weren't very interested in paying higher prices to shop at the place where their grandfather buys his Sunday clothes.
Where Do They Go Now?
Of course, Johnson realized his mistakes this year and has reversed course. He started discounting again to try to lure in customers. But is it too late?
It's not like it was a particularly poor year for retail. Target saw revenue rise 5.1%, with same-store sales rising 2.7%. Wal-Mart likewise saw a 5.0% rise in revenue, but had more difficulty in same-store sales. Still, it saw modest improvement.
Where does JCP go after revenue fell 25%? I'm not sure that there's any coming back from that. It could take years to regain customers and it seems unlikely that the firm will swing back into profitability any time soon. J.C. Penney increasingly looks like the proverbial dead man walking; the "sick man of retail."
Short Sellers Beware: Undervalued Real Estate
There is one potential source of intrigue here. J.C. Penney's real estate looks very much undervalued on the balance sheet. Here's a breakdown of its owned real estate on the balance sheet: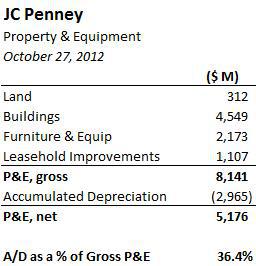 I frequently look at the "Accumulated Depreciation" ["A/D"] account to get a sense of whether a company might have undervalued real estate. In the current environment, I typically look for A/D to be more than 20% of gross P&E. If it's significantly higher than that, there's a very good chance the real estate is undervalued on the books.
Here is a rundown on J.C. Penney's properties.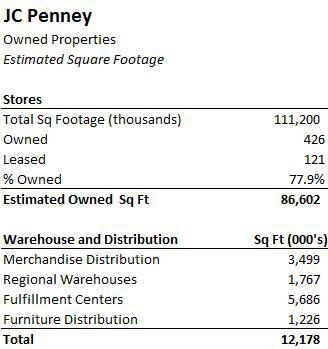 As you can see, most of their value is in the stores themselves. This is particularly true because the store property values are likely to be significantly higher per square foot than warehouse and distribution. A quick glance at General Growth Properties and Simon Properties' rents per square foot suggests that J.C. Penney's store properties could be valued up to $40 per square feet.

Meanwhile, looking at REITs that specialize more in warehouses and distribution, I find rates more in the $5 - $6 per square foot range. That might be low, but even if it's $10 per sq ft, it's clear that the stores are going to be the primary driver of value.
Here's a quick estimate of property values for J.C. Penney. This is a very quick and dirty analysis, so please realize the accuracy is limited. The bigger point is that it should give us a ball-park range for valuation of JCP's properties.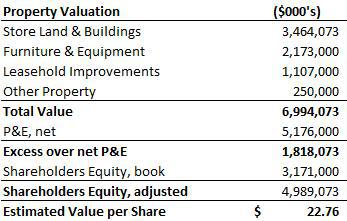 From this analysis, I estimate its properties are worth around $7 billion. Let's stretch that out into a range of $6 - $8 billion. At the low end of that range, the estimated value per share is at $18. At the high end, we come up around $28. Split in the middle, I estimate that the equity interest in J.C. Penney's assets is around $23 per share.
After the stock got obliterated in the after-hours yesterday, it traded around $18.35. For this reason, even though this company might be dead in the water, I'd still have some minor concerns as a short-seller. At $18, the price still might be too high, but if it drops much more, this could conceivably become an attractive play for private equity or some big investor that wants to try to liquidate the company.
Value Destruction
Of course, we still have a long way to go to get there. At $18, J.C. Penney isn't exactly cheap yet. Even if it's undervalued strictly based on its assets, the company is likely to bleed cash for the next few years. It's highly unlikely that current management has any plans on liquidating. Rather, Ron Johnson and company want to redeem themselves desperately. Unfortunately, that's going to be difficult.
In the meantime, expect for value to be slowly drained from this "dead man walking." And if things get bad enough so that the stock price falls below $10 in the next two years, watch to see if anyone gets interested in acquiring this mess and profiting through liquidation. While I'd be a reluctant short-seller here, I do think the shorts will mostly be on the right side of this for the next year. Although, it is a very crowded trade right now.
At least it will provide a mini-boom for those Harvard Business School case writers.
Disclosure: I have no positions in any stocks mentioned, and no plans to initiate any positions within the next 72 hours. I wrote this article myself, and it expresses my own opinions. I am not receiving compensation for it (other than from Seeking Alpha). I have no business relationship with any company whose stock is mentioned in this article.