As I discussed recently in my previous article "A review of European telecoms yields", the European telecommunications sector offers a very attractive dividend yield. On average, it currently yields above 7%. Three of the largest companies within the sector that provide high-yields are France Telecom (FTE), Deutsche Telekom (OTCQX:DTEGY), and Vodafone (NASDAQ:VOD).
However, as shown recently by Telefonica (NYSE:TEF) or KPN (OTCPK:KKPNY) these yields may be misleading if the dividends are cancelled, leaving investors with a double loss: the dividend lost and much probably a lower share price. Thus, investors shouldn't base their investment decision only on high-dividend yields because their sustainability may be weak.
| | | | | | |
| --- | --- | --- | --- | --- | --- |
| Company | Country | Market Cap ($m) | Div. Yield | P/E | P/BV |
| France Telecom | France | 25,905 | 10.6 | 6.8 | 0.82 |
| Deutsche Telekom | Germany | 46,288 | 8.5 | 12.8 | 1.38 |
| Vodafone | U.K. | 122,094 | 6.2 | 11.3 | 1.17 |

Source: Bloomberg
Geographic Exposure
Given the weak macroeconomic outlook in Europe, exposure to emerging markets or the U.S.- which offers a stronger economic backdrop- should be favored. On this point, Vodafone and Deutsche Telekom are better options than France Telecom.
Vodafone has the largest geographical diversification of these three companies. It has exposure to the U.S. through its 45% share in Verizon Wireless (NYSE:VZ), which represented about 42% of Vodafone's adjusted operating profit in fiscal year 2011/12. On the other hand, its exposure to peripheral Europe is high, given that Spain and Italy together account for around 20% of Vodafone's sales. Vodafone has also the lowest exposure to its domestic markets, with the U.K. representing only 12% of the group's revenue. This high geographical diversification is clearly a positive factor, as it is not overly dependent on any specific market.
On the other hand, France Telecom is heavily dependent on the domestic market which accounted for more than half of the company's sales in 2012. It is facing fierce competition in France due to the impact of Iliad's entry in the market, leading to a price war and lower profitability. The recent price cuts introduced by SFR from Vivendi (OTCPK:VIVHY) in the beginning of the year, should make 2013 another very tough year for FTE's domestic business. Its second largest market is Spain, where the macroeconomic situation is weak and competition is also high. Even emerging markets, such as Poland, showed a poor performance in 2012 with a decrease in sales and lower margins.
Deutsche Telekom has more geographic diversification that FTE, but its domestic market still represents around 37% of the company's revenues. In Germany, the competitive landscape is also challenging, especially with KPN trying to gain market share. This will continue to put pressure on Deutsche Telekom's revenues and profitability. The U.S. is Deutsche Telekom's second largest market, representing around a quarter of the group's revenue. Regarding emerging markets, the company is present in several Eastern European countries which account for around 10% of the group's revenue.
Dividend History
Since 2008, France Telecom has paid dividends twice per year. From 2008 to 2011 the annual dividend was unchanged at €1.40 ($1.83) per share, but the company recently cut its dividend. It will now pay a minimum of €0.80/share ($1.04) for 2012 and 2013. France Telecom currently has the highest dividend yield among European telecom companies. However, further dividend cuts are possible due to a weak macroeconomic outlook across Europe and fierce competition in France. Nonetheless, even if the company cuts the dividend in half, it would still offer an attractive yield above 5%.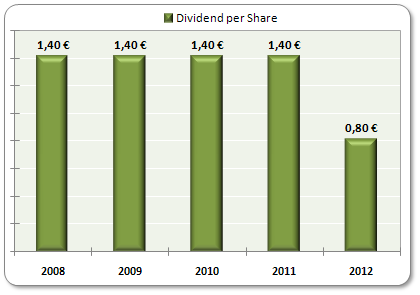 Source: Company Data
Vodafone has a very good dividend history over the past few years, increasing its dividend every year since 2000. From fiscal year ended in 2008 until 2012, the dividend compound growth rate was slightly higher than 6%. In February 2012, the company paid a special dividend of £0.04 ($0.06) per share. For the fiscal year ended 31 March 2013, the company's guidance is for dividends no less than £0.1018 ($0.015) per share, which means a 7% annual increase. Additionally, Vodafone has performed several share buyback programs over the last few years, increasing even further shareholder's returns.
Verizon Wireless' dividends are extremely important to Vodafone, as they represent around half of extra cash generation capacity for the company. Verizon Wireless has a stronger consumer perception on quality and pricing than competitors, which has enabled the company to maintain its superior growth, higher profitability, and good cash flow generation. Thus, Vodafone's dividend shouldn't be threatened unless Verizon changes significantly its dividend policy.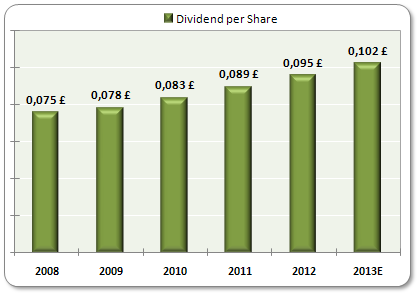 Source: Company Data
Deutsche Telekom pays an annual dividend. Since 2010, the dividend has remained unchanged at €0.70/share ($0.91). For the financial year 2012, it has proposed a dividend of €0.70 per share that shareholders will decide on the coming shareholder meeting in May. However, for the next two years the company's guidance is lower at €0.50 ($0.65) dividend per share.
Deutsche Telekom also has exposure to the U.S. market, but contrary to Vodafone, its consumer's perceptions aren't as good and the operating performance of T-Mobile compared to Verizon Wireless is weaker. The merger with Metro PCS may help, but probably will not be sufficient to materially improve its operating trends in the short-term. However, its recent agreement with Apple (NASDAQ:AAPL) to sell the iPhone will naturally help to retain customers.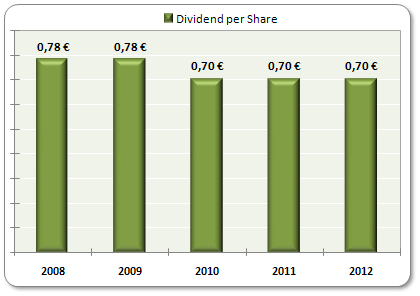 Source: Company Data
Financial Trends Overview
Given the weak economic environment across Europe, it is not surprising that all companies have seen their revenues come down over the last few years. Comparing the year-on-year change on revenues, Vodafone clearly shows the higher growth. Nevertheless, Vodafone's revenues are also declining and were also negative, compared to the previous year, over the last twelve months.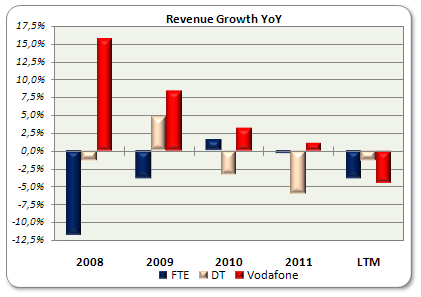 Source: Bloomberg
Regarding profitability, all companies have implemented cost-cutting initiatives to protect the business margins. However, over the past year EBITDA margins continued to fall. Vodafone shows the biggest drop, having its lowest profitability of the past five years.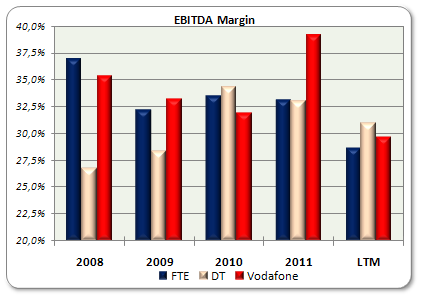 Source: Bloomberg
For dividends, one of the most important threats is the high balance sheet leverage. Usually an investment grade rating is achieved if the net debt/EBITDA ratio doesn't exceed the 2.5x threshold. On this measure, Vodafone has the lowest leverage compared to its peers putting less pressure on the need to cut its dividends.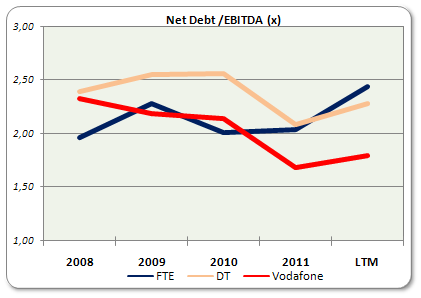 Source: Bloomberg
Another important measure to analyze the dividend sustainability is the payout ratio. Again, Vodafone has better fundamentals than peers, showing a lower payout ratio and therefore greater dividend sustainability. Over the past five years, its average payout ratio was only 56%. France Telecom shows now a dividend more aligned with its earnings level after the dividend cut to €0.80 ($1.04) per share. In 2012, its payout ratio decreased to 62% which is even lower than for Vodafone. However, France Telecom's weaker operating outlook can result in lower earnings going forward, and more dividend cuts.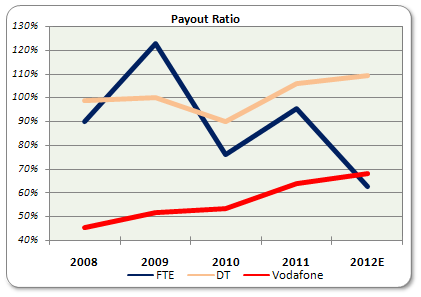 Source: Bloomberg
Moreover, although investors have lost money with European telecom companies over the past five years, Vodafone has outperformed its peers, showing the lowest drop. Adding dividends, the total return is positive for Vodafone's shareholders, something that doesn't happen for its two competitors.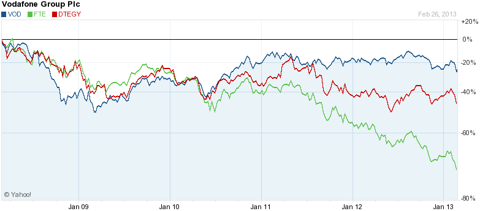 Source: YahooFinance
Conclusion
Vodafone is clearly the best choice for income investors within the major European telecom companies due to its higher geographic diversification, higher exposure to the U.S. through its stake in Verizon Wireless, lower balance sheet leverage, and lower payout ratio. However, the company isn't immune to Europe's weak economic outlook and fierce competition. Its operating trends shouldn't improve substantially in the short-term, which means that dividend growth may be lower over the coming years compared to its historical performance.
Disclosure: I have no positions in any stocks mentioned, and no plans to initiate any positions within the next 72 hours. I wrote this article myself, and it expresses my own opinions. I am not receiving compensation for it (other than from Seeking Alpha). I have no business relationship with any company whose stock is mentioned in this article.