In June, 2012, I compared the short-term and long-term performance of the Ranger Equity Bear ETF (NYSEARCA:HDGE) against ProShares UltraShort S&P500 (NYSEARCA:SDS). I concluded that SDS was OK for short-term bearish bets but HDGE was better for a sustained hedge over time. Surprisingly, since that time, HDGE and SDS are clocking the same woeful performance. They are down 28 and 31% respectively, while the S&P 500 (NYSEARCA:SPY) has gained 16% since then.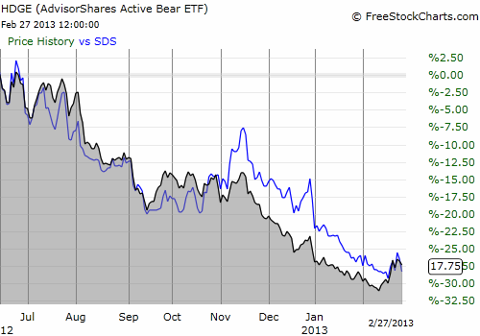 HDGE and SDS share the same woeful performance since the S&P 500's last major low in June, 2012
Source: FreeStockCharts.com
The attraction for using HDGE as a hedge is that it does not use leverage, so I find it disappointing that its performance has tracked that of the leveraged SDS. Even worse, during certain stretches, like most of the post-election period, SDS actually outperforms on BOTH the upside and the downside. Of course, a review of the fund's top 10 holdings demonstrates why HDGE acts like it does. Stocks like Cliffs Natural Resources (NYSE:CLF), Chipotle Mexican Grill (NYSE:CMG), Perrigo Company (NASDAQ:PRGO), and Fossil (NASDAQ:FOSL) experience strong, wide swings between earnings cycles.
The HDGE website currently includes a video clip of HDGE portfolio manager John Del Vecchio discussing his market outlook as the S&P 500 was hitting its highest level since May, 2008 and the VIX was at 5-year lows (late August, 2012). This was of course just ahead of the Federal Reserve's announcement of QE3. Del Vecchio called the price/sales ratio on the S&P 500 very rich because it was higher than at anytime before the 1990s tech bubble. He then concluded that investors are late to the party if they were buying stocks at that time. Del Vecchio is in a difficult position because he must speak consistent with the bearish bias of his fund, but HDGE should have at least palatable/tolerable/adequate performance metrics in any market. HDGE does not short indices; it goes after what it identifies as vulnerable stocks:
"..the Fund seeks to identify securities with low earnings quality or aggressive accounting which may be intended on the part of company management to mask operational deterioration and bolster the reported earnings per share over a short time period. In addition, the portfolio management team seeks to identify earnings driven events that may act as a catalyst to the price decline of a security, such as downwards earnings revisions or reduced forward guidance."
So, if the stock selection under these criteria is working adequately, I would not expect HDGE to perform as poorly as SDS even while the S&P 500 maintains a major bullish bias. Strangely enough, several of the stocks in the top holdings are down, some significantly, since June. Based on this overall subpar performance, I have "downgraded" HDGE to a trading vehicle rather than an investing hedge. I continue to recommend it only occupy a very small part of a portfolio.
Be careful out there!
Disclosure: I am long HDGE. I wrote this article myself, and it expresses my own opinions. I am not receiving compensation for it (other than from Seeking Alpha). I have no business relationship with any company whose stock is mentioned in this article.
Additional disclosure: I am also long SSO puts.