JPMorgan Chase (NYSE:JPM) is widely regarded as one of the strongest big banks in the country, a reputation that is well-deserved. After largely coming through the financial crisis unscathed relative to some of its too-big-too-fail brethren such as Bank of America (NYSE:BAC), JPM has recently endeavored to reduce risk in the face of declining net interest margins. However, if history is a guide, we could see JPM once again begin to partake in some measured risk in its loan-making strategy in order to capture rising NIM in the future.
To understand where JPM is and where it may be going in relation to loans, deposits and margins, we first need to see where it's been. Here is a look at the nominal amounts of JPM's loans and deposits for the past ten years.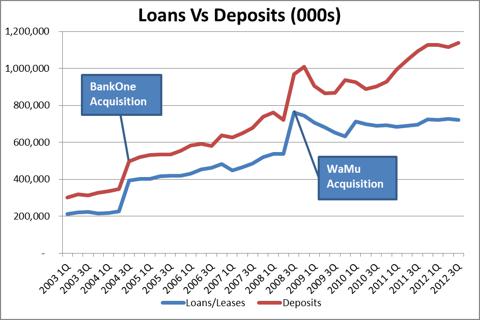 At the beginning of 2003, JPM was at about $300 billion in deposits; as of the end of last year, it was nearly quadruple that amount. The sheer size of JPM has been helped along the way by the BankOne and Washington Mutual acquisitions, as noted on the chart, but JPM has grown organically as well.
Loans haven't grown quite as rapidly in the same time period, increasing from $212 billion in 2003 to $722 billion last year. As you can see, the lines begin to diverge quite significantly starting in 2010 when JPM went "risk off" with its loan portfolio in response to the financial crisis.
Viewed another way, the graph of the loan-to-deposit ratio shows that JPM's loans are at the lowest levels at any time in the past decade as a ratio of total deposits.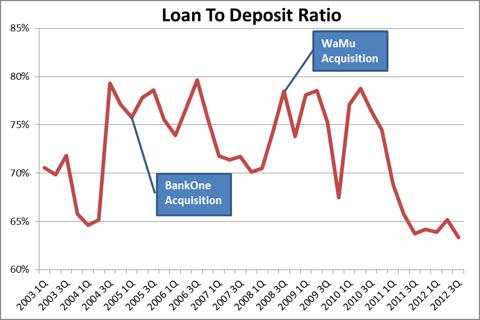 At 63%, JPM has decreased its LTD ratio by 1700 bps since the number peaked in 2006. It looks like JPM may have found the ratio it wants at this point, following the sharp decline in 2010 and 2011 from 78% to current levels. The point is that JPM has a ton of room in the near future to increase its risk exposure to loans when net interest margins begin to rise. Given the historical data, it appears there is nowhere to go but up.
Given this information, what would a rise in the LTD ratio mean for earnings? I have assembled data for a scenario in which JPM begins to raise its LTD ratio gradually as NIM begins to rise. Currently, NIM is 2.4% for JPM and as we already saw, the LTD ratio is 63%.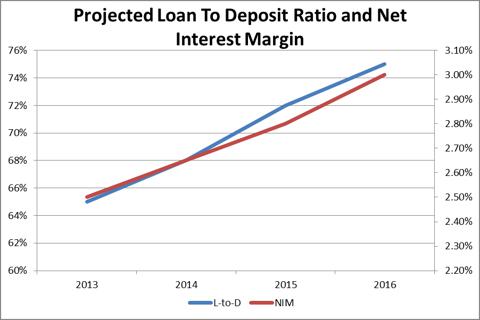 Under my scenario, which is predicated on both an improving economy and reduced unemployment, along with the eventual unwinding of the Federal Reserve's QE Infinity, I have JPM's LTD ratio rising to 75% over four years and NIM rising to 300 bps. I fully understand many things must fall into place for this to happen and it may occur over more or less time than what I have laid out, but please understand this is my best guess of what will happen and I could be wrong. Keep in mind, however, that both of those values are well within historical norms for JPM, so the idea that those numbers will be hit in the medium term is hardly outrageous.
In terms of earnings potential, my scenario would play out as shown below.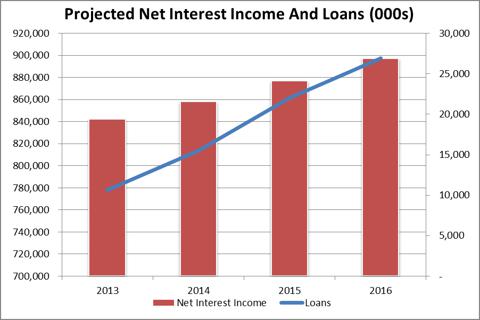 Loans (blue line, left scale) would rise in conjunction with the LTD ratio and it is important to note that I also built in 5% deposit growth each year. Again, this may prove to be conservative or pessimistic, but I feel it is a reasonable estimate.
Under my scenario, loans would rise from the current level of $722 billion to about $900 billion in four years, or about 25% total. With NIM rising gradually from the current level of 2.4% to 3.0% in year four, net interest income would amount to roughly $27 billion (columns, right scale). This is in contrast to 2012's number of roughly $18 billion, or a gain of about 50% over four years.
If this were to occur as I have shown, JPM would be justified in having an additional $90 to $100 billion added to its market cap between now and such time that this occurs. This amount is derived from an additional $9 billion in net interest income with a 10 to 11 P/E ratio assigned. Granted not all of this additional net interest income would necessarily be applied to net income, however, JPM would be growing earnings and book value rapidly enough that I believe the cumulative effect of such a scenario would warrant $90 to $100 billion in market cap gains. Given JPM's market cap of $187 billion today, a 48% to 55% gain in shares is reasonable during the four-year timeframe. Thus, with simple changes in the way JPM allocates its capital and a little help from the Federal Reserve and the larger economy, JPM could end up with roughly 12% yearly gains exclusive of other measures that are intended to boost profitability, such as the company's recently announced job cuts.
JPMorgan shares aren't necessarily "cheap" by conventional measures today but as we have seen, if the company can execute over the next couple of years, the shares are very cheap indeed. Jamie Dimon is exactly the most popular man in America, but I believe he is a truly great CEO and he knows better than anyone what to do in order to take care of JPM shareholders. The company's buyback program should serve to buoy shares if macroeconomic issues flare up again and if they don't, we have seen just how good things can get for JPMorgan. Chasing shares at current levels is probably unwise; however, if we get a 5% or greater pullback, perhaps to the $46-$47 range or lower, shares would be a good buy.
Disclosure: I have no positions in any stocks mentioned, and no plans to initiate any positions within the next 72 hours. I wrote this article myself, and it expresses my own opinions. I am not receiving compensation for it (other than from Seeking Alpha). I have no business relationship with any company whose stock is mentioned in this article.