Calumet Specialty Products (NASDAQ:CLMT) recently announced its annual results with revenues up by approximately 48.5% and earnings up by a stellar 258% year on year. The 4QFY12 net income was reported at $45.7 million compared to $26.9 million in 4QFY11 and $42.4 million in 3QFY12. The company has performed reasonably well during the last few years in terms of product volumes, net profitability and payouts. The next two years appear to be relatively stable but unless crack spreads widen further or more acquisitions add to the product volumes, CLMT might experience a slowdown in the profitability growth it has posted since 2010.
Source: Yahoo! Finance, Company Data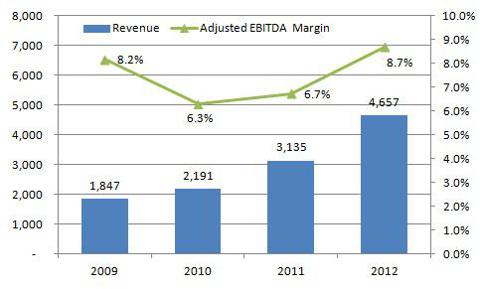 Click to enlarge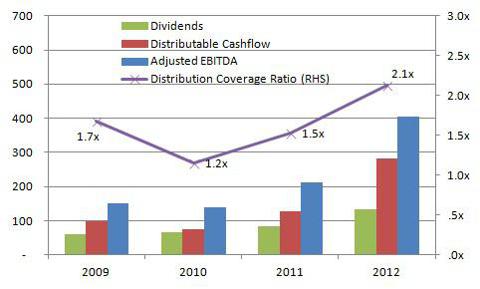 Click to enlarge
Currently it seems like the growth has been priced in for CLMT stock given the priorities the company has for its 2013 operations. Although those activities would be positive for the company in the long term, short term selling pressures might come into play from here. The stock has appreciated by approximately 25% in less than two months and it will be fair to expect that the price momentum might cool down a little bit.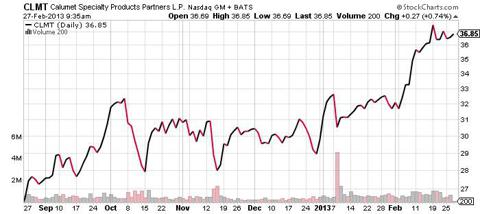 Click to enlarge
Key takeaways from the earnings announcement are listed as follows:
Volumetric Growth: As expected, the higher product volumes resulting from the acquisitions have contributed to the topline growth. The gross margins were reported to be lower in 4QFY12 due to seasonal factors and are expected to be lower from historically strong margins. This is based on management's understanding that many of the CLMT competitors have resolved their operational issues adding supply to the market and subsequently lowering margins.

Click to enlarge
The increase in product volumes is primarily due to Superior, Missouri, TruSouth, Royal Purple and Montana acquisitions.
Higher Expenses: Selling expenses mainly increased in 2012 due to additional amortization expenses and employee compensation costs driven by the Missouri, TruSouth and Royal Purple acquisitions, and increased advertising expenses. General and administrative expenses for 2013 are estimated to be 33% higher in 2013, which already increased in 2012 due to higher professional fees on account of new portfolio assets.
Refinery Turnaround: The Company has announced a significant turnaround for the Superior refinery (45000 barrels per day) in late April, early May, involving substantial time and funds. This shutdown is a once-in-four years event and is expected to last for 30 days. It will affect the volumes which will be partially offset by the addition of San Antonio Refinery (14500 barrels per day) to the Calumet portfolio in the first quarter of 2013.
Higher Capex: Higher maintenance and environment related capex is expected to bite into the operating and subsequently distributable cash flows as the company spends on logistics and mechanical upgrades to make its facilities more compliant from a Health, Safety & Environment perspective. Substantial amount would also be spent on the Bakken project with MDU, which is expected to start building this year and continue to be an outflow on resources for at least 2-3 years. In all, the company will be spending $350-400 million in 2013-2014 on turnarounds, maintenance and environmental related capex of which it anticipates 40-50% to be spent in 2013.
Lower Dividends: The company has been increasing its dividends since 2010 with the improved profitability. Though CLMT has reiterated its commitment for 2013 dividends as well, we would anticipate lower payout for at least the first half of the year.
Seasonal slowdown: According to company management, seasonal slowdown for asphalt business occurs in the first and fourth quarters every year due to the lower paving activity during that period and the demand is expected to pick up again during the middle of the year. Since the company has already produced approximately 40% higher asphalt and by-products in 2012 compared to 2011 we believe the volumes would be encouraging given the higher production capacity.
Crack Spread Volatility: One of the most significant risks that a refiner could face is the volatility of crack spreads. The company has estimated an implied crack spread at an average $26.74/barrel for 2013-2015. Yet the company has also reported $8.9 million in realized derivative losses indicating that the hedge does not cover 100% of product portfolio and the net income might be affected in case of an adverse movement in product prices. Given the impact of any future derivatives related losses on net profits, we would advise additional due diligence while evaluating CLMT as a potential investment.
To summarize, we still believe CLMT to be a good long-term play as the refinery turnaround and higher capex are merely additions to the long-term value. However, the stock might come under some selling pressure in 1HFY13 for the same reasons, along with seasonal factors affecting asphalt margins in 1QFY13 and absence (so far) of any significant additions to the product volumes for 2013. It would be worth considering protecting some gains in anticipation of the 30-days refinery shutdown in late April and early May while keeping an eye on the long-term company prospects.
Disclaimer: The opinion in this document is for informational purposes only and should not be considered as a recommendation to buy or sell the stocks mentioned or to solicit transactions or clients. I do not recommend that anyone act upon any investment information without first consulting an investment professional as to the suitability of such investments for his or her specific situation.
Disclosure: I have no positions in any stocks mentioned, and no plans to initiate any positions within the next 72 hours. I wrote this article myself, and it expresses my own opinions. I am not receiving compensation for it (other than from Seeking Alpha). I have no business relationship with any company whose stock is mentioned in this article.