Molycorp's (MCP) acquisition of Neo Technologies Materials has been the subject of much debate over recent weeks. Neo, which Molycorp renamed "Molycorp Canada," gave Molycorp new processing technologies in powders used in high-performance magnets and expanded its production capacity. The Neo transaction was made when rare earth prices were more buoyant. Its $1.2 billion price tag also created nearly $1 billion in intangible assets, including over $500 million in goodwill. At September 30, 2012, intangible assets and goodwill pursuant to the Neo acquisition were $476 million and $501.6 million, respectively.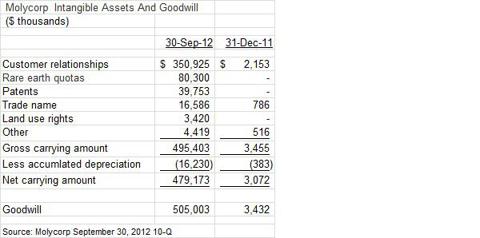 Has There Been a Diminution in Molycorp Canada's Value?
According to the article, Are Molycorp's $1 Billion Intangible Assets Impaired?
Through nine months ended September 30, 2012, Magnetic Material and Alloys, the division where Molycorp Canada's financial results are reported, recorded a pretax loss (prior to intercompany eliminations and corporate overhead) of $2.4 million. Also, the company's September 30, 2012 10-Q referenced higher fixed costs associated with prior acquisitions as a drag on its financial performance. The following chart illustrates Molycorp's negative earnings through nine months ended September 30, 2012 and last twelve months ended September 30, 2012 ("LTM12"). The question remains, given Molycorp Canada's recent operating loss, has there been a diminution in its value?
Below are Molycorp's historical financial results: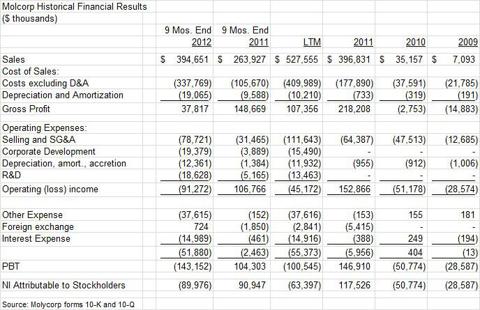 Through nine months ended September 30, 2012, Molycorp generated a pretax loss of $143.2 million. In January 2013 management alerted shareholders that fourth quarter 2012 revenues could be lower than third quarter 2012 revenues by as much as 30%. Also, it could experience a 2013 cash shortfall of as much as $250 million. The announcement led to a dilutive event featuring $200 million in common stock and $100 million convertible senior notes. It all begs the question, "If Molycorp experienced a diminution in the value of its business, resulting in a capital raise, then why wouldn't there be a diminution in the value of Molycorp Canada as well? That said, there are four reasons Molycorp should write-off its $1 billion in intangible assets now.
It Reduces Amortization Expense Going Forward
According to the company's third quarter 2012 10-Q, depreciation, amortization and accretion expenses unrelated to production were $9.7 million for the three months ended September 30, 2012, as compared to $0.5 million for the three months ended September 30, 2011. The increase was mainly due to the addition of approximately $492 million in amortizable intangible assets acquired in connection with the Molycorp Canada acquisition. That implies that the Molycorp Canada deal created quarterly amortization expense of approximately $9 million - an annual run-rate of $36 million. If Molycorp wrote off a portion of the $492 million amortizable intangible assets, it would save a portion of the amortization expense. If the company wrote it all off, it would save the entire $36 million run-rate expense.
It Puts The Issue in Former CEO's Bailiwick
The Neo acquisition was made during former CEO Mark Smith's regime. Current interim CEO, Constantine Karayannopoulos, took over after Smith resigned in December 2012. Some speculated that the Neo transaction was Smith's undoing. By writing off the intangibles now, it keeps the Neo financial debacle in the past, and it also mixes it with the noise of [i] the recent capital raise and [ii] the negative fourth quarter 2012 earnings. If Karayannopoulos does not take the write-down now, he may be viewed as taking a passive approach to a known issue. If he then writes the intangibles off at a later date, the write-off and the Neo transaction become associated with his regime.
It Brings More Clarity to Molycorp's Financial Statements
The purpose of financial statement reporting is to present to investors the true or clear picture of a company's financial results, and financial soundness. At September 30, 2012 Molycorp reported a book value of $1.6 billion, of which $984 million were intangibles and goodwill related to Molycorp Canada. At a high level, if Molycorp's book value was really $1.6 billion, why would it need to raise $300 million to keep from going bankrupt? Secondly, according to Molycorp's third quarter 10-Q the company issued shares to help fund the Molycorp Canada transaction in June 2012:
Approximately 13,545,426 shares of Molycorp common stock and 507,203 Exchangeable Shares were issued and collectively valued at $284.1 million.
Based on Molycorp's current share price of $6.24, the same amount of common stock and Exchangeable Shares issued to Neo equity holders in June would be worth far less than $284.1 million. Moreover, that $6.24 share price is after the $300 million or so capital raise that shored up the company's going concern value. Molycorp's balance sheet implies that though the value of Molycorp and other rare earth minors has diminished since June 2012, the value of Molycorp Canada has not. At first blush, the company's financial statements bring more confusion than clarity.
The Auditors May Require It
Periodically, a company's auditors are required to perform a three step goodwill impairment test:
Determine Molycorp Canada's "recoverable amount" or the higher of its [i] net selling price (sale price minus the cost to sell) and [ii]] the present value of its future cash flows.
If the "recoverable amount" is greater than Molycorp Canada's current carrying value, then there is no goodwill impairment.
Otherwise, the recoverable amount is allocated to the unit's assets (including intangibles) and liabilities. If the estimated goodwill from this calculation is less than the carrying amount of goodwill, then the difference is "impaired goodwill" and must be charged to expense.
If based on the impairment test Molycorp's intangibles are deemed impaired, the auditors would require management to write them off.
Conclusion
In order to decide the appropriate entry point for the stock, I advise investors to wait for further guidance from Molycorp management on [i] estimates of 2013 revenues and cash flows and [ii] how it expects to survive the pending industry shakeout. That said, by writing off its $1 billion in intangible assets now, management removes one more issue that could negatively impact the stock going forward.
Disclosure: I have no positions in any stocks mentioned, and no plans to initiate any positions within the next 72 hours. I wrote this article myself, and it expresses my own opinions. I am not receiving compensation for it (other than from Seeking Alpha). I have no business relationship with any company whose stock is mentioned in this article.