Last week, in its quarterly report Cabot Oil & Gas (NYSE:COG) delivered a fresh crop of outstanding natural gas wells in the Marcellus in Susquehanna County. The 30 wells that the company turned in line during the fourth quarter had average 24-hour IP rate of 20 MMcf/d and an average 30-day IP rate of 16.6 MMcf/d. The results are particularly impressive taking into account that the operating area is located in the heart of the consuming region, less than 150 miles from New York City, and drill & complete costs are moderate by the industry's standards, $6.0-$6.8 million per well and declining. Cabot estimates that its 2012 wells have an average EUR of 13.9 Bcf.
The average metrics mask some truly extraordinary individual well results. In its press release, Cabot stated that the company now has 10 wells with EURs in excess of 20 Bcf. Cabot also mentioned several recent notable wells, including:
A 35-stage well with a 24-hour peak rate of 41.4 MMcf/d and a 30-day average production rate of 35.9 MMcf/d.
A 13-stage well with an initial production rate of 28.5 MMcf/d and a 30-day average production rate of 20.2 MMcf/d.
A single well with cumulative production of 5 Bcf in 205 days.
A four-well pad with a combined 24-hour peak rate of 92 MMcf/d.
During the conference call, Cabot's CEO Dan Dinges commented:
We continue to be impressed...I've looked at a couple of the wells that we had brought on not that long ago - a well, shale well, producing over 40 million cubic feet a day, continues that with a 30-day average of over 35 million cubic feet a day. I had 20 years in the offshore, and I would have taken that well offshore any day of the week.
Where are those giant wells located? What are their performance metrics to date? How big is the sweet spot?
Zeits Energy Analytics has developed EUR Potential estimates for the majority of the Marcellus wells currently on production in Susquehanna County. We estimate, based on our well models, that of the ~360 Marcellus horizontal producers in Susquehanna County as of December 31, 2012, over 110 wells have a strong chance of being assigned 10+ Bcf EURs by their operators. Not surprisingly, the percentage is higher among the more recent wells.
Below is the list of what we believe are some of Cabot's best wells in Susquehanna County to date. The table also includes production results for the two "eastern" pads, the Zick Pad which spans Lenox and Harford townships and the Williams Pad in Brooklyn Township. Both pads show very strong early production results (a township map of Susquehanna County is shown below for reference).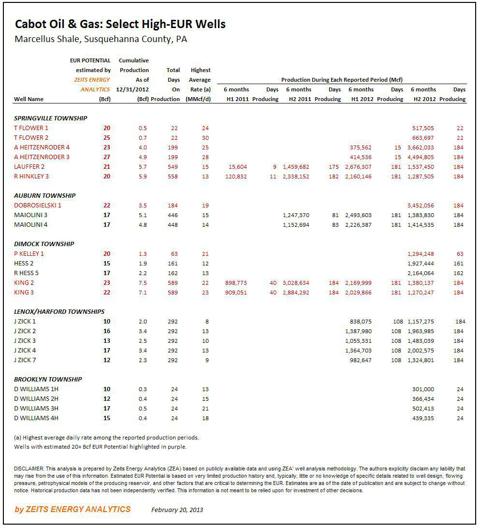 (Source: Zeits Energy Analytics)
Townships of Susquehanna County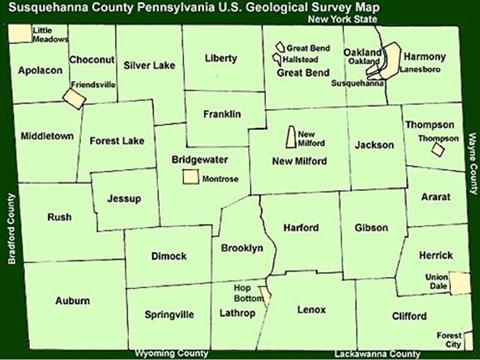 (Source: US Geological Survey)
Clearly, well results in the Marcellus will always remain "statistical." Even within the most productive part of Susquehanna County, there are recent wells that fall below what I would consider the economic threshold for EUR. However, the tendency towards better results on average should continue. Less activity will be taking place in "fringe" areas while drilling will accelerate (as much as off-take capacity additions will permit) in the more productive parts of the play. Completion optimization is also a major productivity-enhancing factor.
Operators are still drilling to meet their HBP requirements. In fact, even in the highly economic Susquehanna, HBP-driven drilling may continue for another couple of years, as the lack of infrastructure in certain areas, particularly in the east, limits the pace of activity. In the HBP process, operators are accumulating multi-year inventories of undrilled well slots on fully developed pads that is supported by detailed knowledge of the underlying micro-geology and production history from the producing wells. This "hidden asset" should begin paying tangible dividends once the HBP process has run its course and operators transition to full development mode - initially drawing the very best locations from the inventory and enjoying significantly reduced costs and timing/volume flexibility.
So far, Cabot and Chesapeake Energy (NYSE:CHK) are the only two operators with high percentages of 10+ Bcf EUR wells, which reflects the two companies' acreage positions within the highest productivity area. Southwestern Energy (NYSE:SWN) has recently drilled a significant number of wells in Lenox and New Milford townships. Those areas also have potential to deliver strong results, however at this point we are unable to assign EURs to the majority of their wells due to the lack of production history and likely restricted flow regimes. An operating update from Southwestern within the next few months should add abundant delineation data for those two counties.
Carrizo Oil & Gas (NASDAQ:CRZO) and WPX Energy (NYSE:WPX) operate acreages mostly in the northern portion of Susquehanna. Wells in that area so far have lagged, by a significant margin, the best results seen in the southern half of the County. However, as completion techniques and the understanding of the area's petrophysical model continue to evolve, it may be too early to write the northern part of the County off.
Disclaimer: This article is not an investment recommendation. Any analysis presented in this article is illustrative in nature, is based on an incomplete set of information and has limitations to its accuracy, and is not meant to be relied upon for investment decisions. Please consult a qualified investment advisor. The information upon which this material is based was obtained from sources believed to be reliable, but has not been independently verified. Therefore, the author cannot guarantee its accuracy. Any opinions or estimates constitute the author's best judgment as of the date of publication, and are subject to change without notice.
Appendix: Digital Image Description
Cabot Oil & Gas' Select High-EUR Wells - Marcellus Shale, Susquehanna County, PA
Springville Township: T Flower 1; T Flower 2; A Heitzenroder 3; A Heitzenroder 4; Lauffer 2; R Hinkley 3
Auburn Township: Dobrosielski 1; Maiolini 3; Maiolini 4
Dimock Township: P Kelley 1; Hess 2; R Hess 5; King 2; King 3
Lenox/Harford Townships: J Zick 1; J Zick 2; J Zick 3; J Zick 4; J Zick 7
Brooklyn Township: D Williams 1H; D Williams 2H; D Williams 3H; D Williams 4H
Disclosure: I have no positions in any stocks mentioned, and no plans to initiate any positions within the next 72 hours. I wrote this article myself, and it expresses my own opinions. I am not receiving compensation for it (other than from Seeking Alpha). I have no business relationship with any company whose stock is mentioned in this article.