We are initiating coverage on Stratasys (NASDAQ:SSYS) with a Strong Sell rating, and a $31.50 price target. This reflects a price drop of over 50% from current levels.
SSYS shares valued at over $1 billion will flood the market from the beginning of next week
Overly optimistic growth and earnings forecasts are likely to be downgraded in the coming quarters
Competition from China is already on the way and will erode margins dramatically
Investment thesis
The reason for this rating in the short term is the pressure of massive shareholder sales that we believe are imminent. These shareholders had invested over a decade ago, at a share price lower than 5% of the current share price. They are probably aching to liquidate and cash out.
In the long term, we strongly believe that the organic growth potential in the coming five years is half what industry analysts are forecasting. The unrealistically high earnings multiples SSYS is trading at cannot be justified by the growth rate in the coming five years. Our $31.50 target price is based on the following assumptions:
1. We find it hard to believe Wall Street's revenues and earnings forecasts for 2013. They are unrealistic. But even if we buy into these generous forecasts of ~$420 million in sales and ~$77 million in net profits, we believe that this growth rate of 20% will not last in the coming years. Therefore, a multiple of 15 times future earnings in an industry with a long-term low 'teens' growth rate is generous enough. To reach our target share price we multiplied the expected 2013 EPS of $1.93 by an x15 multiple and added the cash per share.
2. Current cash in hand according to latest filing of Stratasys (Q3 2012 results) was ~$51 mn, and Objet's Q1 2012 Cash & equivalents were $32 mn. We have added another $17 mn (reflecting the increase in cash towards the end of the year) to the company's total cash position of $100 mn, and equating to $2.5 cash per share.
3. We believe that in the coming 12 months the company and its peers will report a slowdown in growth rate, which will impact the 2013 and 2014 revenues and profits, due to which we will further decrease our multiples and price targets. 3D Systems (NYSE:DDD) has reported this Monday that their top line revenues fell below consensus and the outlook is flatter, although their EPS exceeded expectations. We expect more companies in this sector to miss targets in the coming quarters.
Investors owning SSYS shares are probably not aware that over 40% of SSYS shares, which are still locked up, will hit the market in the near future. This avalanche of shares, starting next week, is likely to tumble the share price dramatically.
Moreover, there is an extreme misconception on Wall Street about the top and bottom line growth potential of SSYS and its peers. We believe that demand for 3D printers and printed materials is dramatically lower than the market expectations. Some companies may try to hide the weakness in demand by acquiring growth via M&A activities, rather than organic growth. Such M&A opportunities are scarce, risky, mislead investors into falsely believing growth of this magnitude exists, and will dilute EPS and current shareholders.
Chapter 1: It's gonna be raining SSYS shares
In the coming 4 months, an astounding amount of 16 million SSYS shares (over 40% of SSYS fully diluted share capital), currently valued at over $1 billion (based on 27/2/2013 closing price of $63.94), are expected to hit the markets. In 2012 Stratasys completed an all stock merger with Objet Ltd. None of the significant shareholders in Objet sold any of their shares, nor did they receive any cash compensation from the merger.

Source: Stratasys F-4/A (Registration of securities, foreign private issuers, business combinations) submitted to US Securities Exchange Commission on 6 August, 2012; Page 126
Objet, founded in 1998, raised $28 million over its lifecycle. According to our research:
After receiving a lucrative offer, Objet abandoned its IPO plans, choosing to merge with publicly traded Stratasys who was a direct competitor. On the day of the merger announcement in April 2012, Objet was valued at $630 million. This valuation was over 50% higher than the valuation that Objet, its shareholders and the underwriters (JP Morgan & Goldman Sachs) agreed on in March 2012 for the IPO - just a month earlier.
By the merger's closing date, on December 3, 2012, the valuation jumped another 80%, to a valuation of $1,130 million (45% of the then market cap of SSYS).
Let's look at what has happened to the value of Objet's shareholders holdings: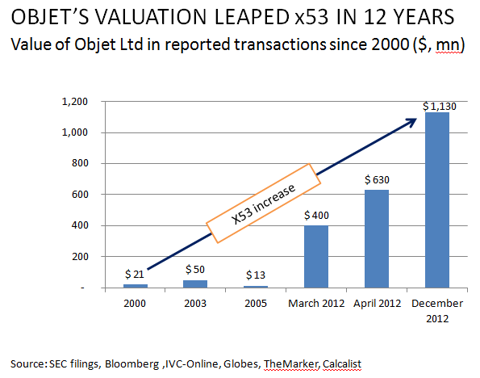 The huge disadvantage in the merger for the existing shareholders was that their shares were locked up for a six month period after the merger. This period is coming to a close three months from now.
Current shareholders are looking forward to being able to cash in hundreds of millions of dollars, more than a decade after investing in the company.
These shares will start hitting the market early next week, after the company releases its fourth quarter financial results on Monday, March 4, 2013. The immediate number of shares released for sale next week exceeds 1.2 million shares, worth over $70 million at last night's closing price.

Source: Stratasys F-4/A
The remaining 14.8 million shares of SSYS held by locked Objet shareholders (currently worth over $940 million) will become eligible for sale on June 3, 2013, only three months from the date of the Q4 results announcement planned for next week.

Source: Stratasys F-4/A
Taking into consideration this huge number of shares that will hit the market, we expect the company to conduct a large secondary share offering for selling shareholders only that will raise no capital for the company. In this secondary offering we expect the CEO, David Reis, to sell a substantial amount of his holdings, as well as other C-level executives. The timing of this secondary offering is likely to be much earlier than June 3, in order to take advantage of the currently inflated share values.
We believe that it is no coincidence that JP Morgan initiated coverage on SSYS on January 18, taking a position in line with their wishes to become the lead underwriter in an enormous and lucrative secondary offering. We expect this offering to amount to a total between the $300 and $500 million owned by former Objet shareholders. It is not unreasonable to assume that this can happen any time between next week's Q4 results announcement and the end of the lock up period on June 3, 2013.
Following the expected secondary offering, we expect massive selling pressure to continue from these shareholders, who will still have over 50% of their initial positions.
Chapter 2: Industry's leading analyst sees ~10% growth in units sold by SSYS, while other industry segments to grow over 20%
Over the past two decades, Terry Wohlers has been following and researching the 3D printing, also called Additive Manufacturing, industry. Wohlers' annual reports, issued over the last seventeen years, are considered to be "the Bible" of this industry. Let's look at what this industry authority, who is quoted by leading analysts including JP Morgan, forecasted in his latest report, published in mid-2012.
In his 286-page highly detailed report, Wohlers tracks the number of industrial 3D printers sold annually since the industry's infancy in 1988. While in the initial decade recorded growth was tremendous, it has dramatically slowed over time.
1. Currently Wohlers forecasts that the growth in the number of industrial 3D printing units sold in the coming five years will slow to under 10% annually. Wohlers believes the 3D industry as a whole will grow rapidly, but the segment in which SSYS operates will grow at a much lower pace. Specifically, Wohlers estimates that "annual sales of industrial AM systems" which stood at 6,494 units in 2011 "exceed 10,000 units worldwide" by 2016. The higher growth is expected in segments SSYS is not active in. We hold the highest respect to Terry Wohlers and entirely agree that some segments of this industry will grow in double digits, but as Wohler stated in his forecast, this is not the industrial unit sales segment.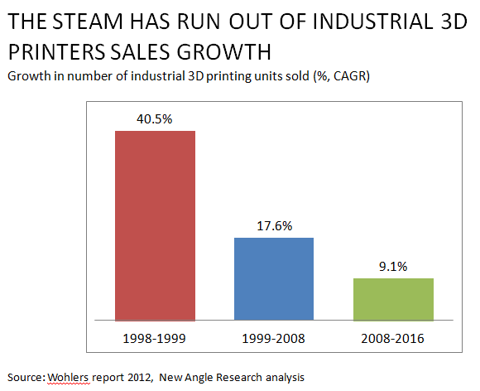 2. Evidence of disappointing growth in the industrial 3D segment can be seen in the termination of the much-publicized HP (NYSE:HPQ) - Stratasys cooperation in which both parties had high expectations. In 2010, Stratasys developed and manufactured an exclusive line of 3D printers for HP, which HP started distributing that year. In July 2011, Stratasys said the company was making "incremental progress" in expanding its agreement with HP. "We believe HP can become the ideal partner to grow the sales of our 3D printers," Crump said. In August 2012 the companies declared they are discontinuing their manufacturing and distribution agreement.
3. Not only is the growth rate of unit sales slowing to single digit growth, Wohlers expects the majority of the growth to arrive from the lower end, lower cost units, dramatically impacting manufacturers' gross margins. This can be clearly witnessed by the trend of declining Average Sale Price (ASP) of these units. It is important to understand that SSYS' growth engine is based on the sale of such lower end units.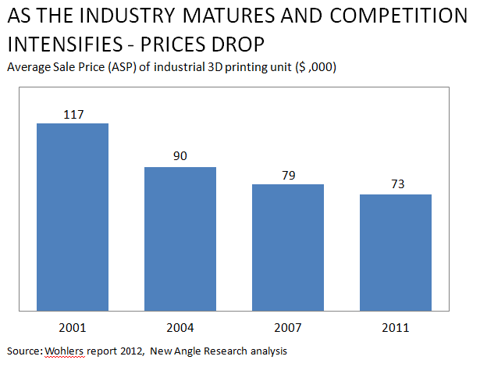 4. Lower cost units have lower capacity, and therefore consume significantly less resin than high-end units do. The difference between the resin consumption of low end and high end units can be as much as 75%, according to interviews we conducted with industry experts and clients. It is important to understand that over 40% of product revenues come from consumables and resin sales.
5. SSYS already holds more than 50% of the market share in the industrial 3D printing segment, therefore it is unlikely their growth will outpace the market.
6. Competition from start ups with newer technologies and better products will intensify and eat at market share and profitability.
We are of the firm view that the revenues and profits forecasts for SSYS competitors, are unreasonably high and unlikely to be achieved from organic growth over the next few years, for the reasons mentioned above.
Much of the industry hype focuses on a segment that Stratasys is not active in: the personal "home use" 3D printers. Home use printers are defined as units sold for under $5,000, with reported prices as low as $500. The leading player in this segment, Makerbot Industries LLC, sells units for under $3,000. Stratasys has no foothold in this segment at all. In fact, the cost of manufacturing its least expensive unit is over $5,000. This is a totally different market segment, with low margins, fierce competition, minimal demand for resin (consumables), and requires a totally different skillset than what Stratasys possesses. Another rapidly growing and noteworthy segment of the 3D printing market is the metal printing segment, in which ExOne (NASDAQ:XONE) operates.
Chapter 3: Additional risk factors investors should be aware of
1. Competition in the highly profitable resin market - Over 40% of the company's revenues is generated from resin sales, which has a dramatically higher gross margin than printer units. We estimate that the gross margin for resins is in excess of 75%. Therefore, this contributes even more to the bottom line and illustrates the "razor and blade" model at its very best. As the installed base continues to grow relative to sales of new machines, the importance of resin sales will increase. Stratasys' future gross margins depend on increasing resin sales. The company will face increasing competition from new resin manufacturers selling to the company's existing installed base. This is a clear and present danger and an unavoidable phase in the industry as it matures. Many companies, such as HP in the inkjet cartridges lines, have suffered from this. Recently initiatives like 'Pwdr.' introduced new materials and are showing how to use HP empty inkjet cartridges to save money: "A Hewlett Packard inkjet cartridge is used for the deposition of binder. The cartridge can be refilled with custom binders using a syringe". We also expect Chinese entrepreneurs to become dominant suppliers of cheaper resin to SSYS and other manufacturers' clients.
2. Chinese companies have already begun manufacturing and selling 3D printers. Competition from China usually starts at the low end, and moves upmarket over time. We expect competition for the mid range printers to arrive in the near future and later on for the high end printers. China's Vice Minister of Technology and innovation is promoting tax incentives to speed up R&D in this segment.
3. Failed integration of Stratasys and Objet - The two companies are facing significant integration challenges in order to both streamline the new business and realize operational synergies. The company has chosen the dual headquarter approach, leaving existing Stratasys headquarters in Minneapolis and Objet headquarters in Rehovot, Israel. One must not forget the unfavorable record of mergers - historically more than 75% of mergers fail to create shareholder value.
4. Expiration of key patents - a key patent owned by SSYS on its core Fused Deposition Modeling (FDM) technology allowed a flurry of low end competitors to emerge. This trend will continue as additional patents expire across the industry.
5. Loss of key leadership - We are concerned that the opportunities presented by the now possible cash out for salaried management will create a serious managerial vacuum. For example, CEO David Reis owns nearly 700,000 shares valued at over $40 million, at the current share price of $63.94. The potential windfall, together with the sense of accomplishment from finally completing the merger, will likely result in several key top executives choosing to leave the company in the next 12 to 18 months. We honestly can't blame them…
David Reis, Stratasys CEO perhaps sums it up best in a recent interview: "Fate has significantly increased the company's value since the merger." We find it hard to top the CEO's own words about the share price.
Disclosure: I am short SSYS. I wrote this article myself, and it expresses my own opinions. I am not receiving compensation for it. I have no business relationship with any company whose stock is mentioned in this article.