By: Brendan Gilmartin
Summary: The top automakers are scheduled to report February 2013 auto sales on Friday, March 1. For the most part, the industry is seen delivering solid results, with TrueCar.com predicting buyer incentives down 4% and sales up double-digits versus prior year levels. Meanwhile, Edmunds.com Analysts point out that rising gasoline prices, the recent payroll tax hike, and related factors are not deterring the consumer. Finally, a report from Kelley Blue Book shows consumers are likely to be enticed by better lease offers, lower finance rates, and improved product offerings. Technically, both General Motors (NYSE:GM) and Ford (NYSE:F) recently tested and held support near key levels - an indication these stocks are ready to move higher in the event that sales for February top forecasts.
Ford Motor Expected Release Time: 9:30 a.m. EST
Overview: Ford shares halted the recent slide on Wednesday as the market looks for the auto giant to deliver solid double-digit comps. TrueCar.com issued a report suggesting that full-size trucks benefited from growth in small businesses, offsetting the uptick in gasoline prices. Similarly, Kelley Blue Book projected full-size pickup trucks had a particularly strong month, with solid rebates on the Ford F-Series.
Estimates
TrueCar.com:11.9% (Source: Truecar.com)
Edmunds.com: 15.6% (Source: Edmunds.com)
Kelley Blue Book: 7.50%(Source: KBB.com)
Technical Review: Ford rallied Wednesday on solid volume, following a 38.2% retracement off the move from the 2-week low this summer to the recent peak near $14.00. Near-term resistance is $13.25, followed by $14.00. The Relative Strength Index is also bouncing off the 30-level - an indication that momentum is returning. (Chart courtesy of StockCharts.com)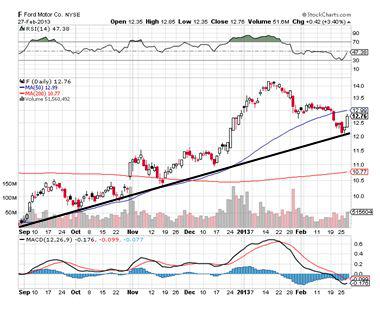 General Motors Expected Release Time: 10:00 a.m. EST
Overview: General Motors shares have been mirroring the slide in Ford before holding support at the $26-level. Similar to Ford, industry experts expect GM to benefit from strong pick-up sales, given the attractive incentive plans and recent improvement in the U.S. housing market.
Estimates
TrueCar.com: 5.6% (Source: Truecar.com)
Edmunds.com: 4.6%(Source: Edmunds.com)
Kelley Blue Book: 4.2%(Source: KBB.com)
Technical Review: GM shares held support near $26.00. A solid sales report could drive the shares back above the 50-Day SMA near $28.25, with room to run toward $29.00 and the recent high near $30.00. (Chart courtesy of StockCharts.com)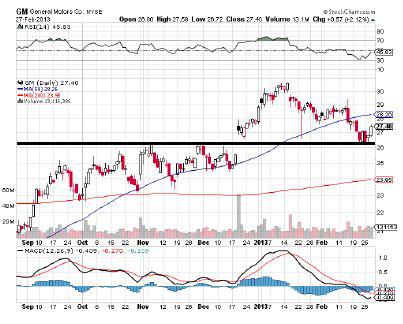 DISCLAIMER: By using this report, you acknowledge that Selerity, Inc. is in no way liable for losses or gains arising out of commentary, analysis, and or data in this report. Your investment decisions and recommendations are made entirely at your discretion. Selerity does not own securities in companies that they write about, is not an investment adviser, and the content contained herein is not an endorsement to buy or sell any securities. No content published as part of this report constitutes a recommendation that any particular investment, security, portfolio of securities, transaction or investment strategy is suitable for any specific person.
Disclosure: I have no positions in any stocks mentioned, and no plans to initiate any positions within the next 72 hours. I wrote this article myself, and it expresses my own opinions. I am not receiving compensation for it (other than from Seeking Alpha). I have no business relationship with any company whose stock is mentioned in this article.