ValueExpectations.com recently posted, "Dividends are falling, so stocks have less value?" which gave some insight on our thoughts on the effect dividends have on stock values. We concluded that dividends alone are irrelevant in estimating a company's value.

As a follow up to that article we have identified a dozen companies that pay a dividend and have the fundamentals to support the dividend. We looked at several fundamental factors to flush out companies that may be at risk of reducing their dividend in the near future. The end result, was a list of companies with:
-Positive Future Economic Margins
-Low Financial Debt
-High Management Quality
-High Valuation Score
-High Dividend Yield
Solid Companies That Pay A Dividend: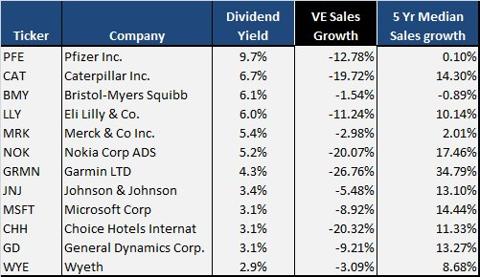 *AFG's Value Expectation interface allows us to understand the imbedded Sales Growth, EBITDA Margins, and Asset Turnovers a company has to deliver in the future to justify its current trading price. In theory and in normal circumstances, if the imbedded future performance is very conservative relative to the company's historical performance, the stock is regarded as undervalued. The above table displays the implied future sales growth of these companies assuming their EBITDA margins and Asset turnovers stay at the 5 year median levels.