As a true contrarian I like to spot opportunity where the herds see disappointment. It was my grandfather who told me the herd gets slaughtered. That never seems more true than on Wall Street where investors and fund managers alike create the perfect storm, stop-lossing out of good fundamental winners and starting a tidal wave of selling in the hopes that they will recover elsewhere and come out ahead.
So that leads me to a recent case of time to read between the lines:
On Tuesday, February 26, Titan International (TWI) announced earnings of just .09/share adjusted versus estimates of .46/share [see transcript]. On its face that may seem like negative growth for the company. In reality the company earnings were largely offset by an acquisition made in Europe, a subsequent earthquake in Italy and temporary labor discrepancies which seem to be coming to a fast close.
Top line revenue for the 4th quarter came in at $493.6 million, a 23% increase from the previous year - an impressive number for the mere one billion dollar market cap Titan holds at its current share price.
Another stand-out to me was the annual net income: Titan said its annual net income climbed to $95.6 million, or $1.83 per share, in 2012 from $58.2 million, or $1.18 per share, in 2011. Revenue grew 22 percent, to $1.82 billion from $1.49 billion. Another impressive number for the current market cap of the company which stands at just $996 million.
Titan's labor issues could be settled as soon as next week as a pending vote on the contract is to take place next week. In addition, Wednesday it was announced that demand for construction equipment jumped by the biggest number in almost 2 years in January with a 13.5% increase month over month.
Looking at the technical side of things Titan is trading at just 11.33 times last year's earnings and less than 9 times forward projections.
Institutional ownerships seems to be heavy in this stock, listed at 115%, suggesting the stock has been overly shorted and the buyers of those shorted-shares are large institutions and insiders among others that would not be reported under this category. This has the perfect makings of a short squeeze candidate.
In addition the last few days of trading seem to suggest a support floor at or near the current price of $21 per share.
5 day chart: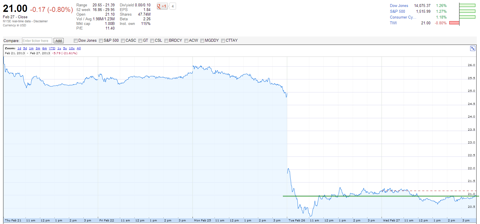 However the best reason to make a case for a long sided trade has nothing to do with a potential short squeeze or technical analysis. It is firmly my belief that the stock is just plain fundamentally cheap. A recent 16% one day hit, following the 4th quarter earnings report, was a result of a revenue estimate miss that is the equivalent to less than 3% of 2012's annual revenue. Take that overreaction into consideration along with the actual reported revenue of $493.6 million, which annualized out and assuming no growth in revenue puts the company on track for another record year with results that should come in or top $2 billion. Titan's market cap is currently half that number and very attractive at this level.
It is my conclusion that it shows extreme value for the short, mid and long term.
Disclosure: I am long TWI. I wrote this article myself, and it expresses my own opinions. I am not receiving compensation for it (other than from Seeking Alpha). I have no business relationship with any company whose stock is mentioned in this article.