In its most recent year-end quarter Angie's List (NASDAQ:ANGI) reported a surprise profit, causing the stock to jump from just under $14 per share to more than $17 at current prices. A number of factors led to this, but foremost among them was a significant reduction of marketing expenses (as shown below, with levels below 100% corresponding to profits), as the company spends less on this expense during this seasonally slower quarter.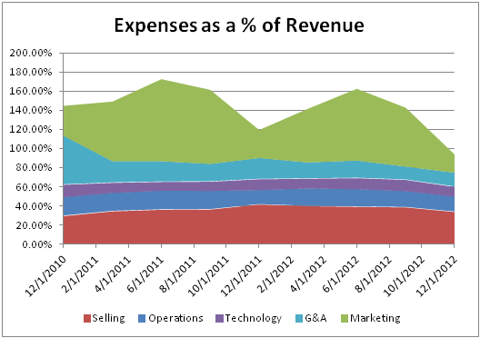 The company also performed well on a number of other metrics, with the cost per member addition decreasing and strong growth in service provider revenue (mostly advertising revenue). Although these results are positive the price of the company shares is more than optimistic and doesn't reflect the risks facing Angie's List, including:
the risk of insolvency if the company faces a cash crunch,
the risk of an unproven, potentially unsustainable business model,
the potential for slowing growth or market saturation before the company hits breakeven,
or the shares simply being overvalued relative to its future potential
Personally I believe the risk of bankruptcy is overstated by ANGI shorts, especially in the near term, as Angie's List has a number of options which it can pursue to stay solvent over the next few years. This recent quarter shows one of the more important levers the company can pull: reductions in advertising spending. If the firm faces a cash crunch it can simply reduce advertising spending commensurate with revenue. Angie's List has a fair amount of visibility into its revenues because of its subscription nature (91% of members subscribe for 1 year + and the average advertising contract is more than 1 year), which makes planning out their cash needs (and cash burn) fairly simple. Any such reduction in advertising would, however, lead to slower growth or revenue declines, making it less likely that the company will ever hit a breakeven level of profitability.
Another factor which should provide a cash infusion to the company's already high cash hoard of over $50 million is a change in employee compensation which should add as much as $17 million to cash flows over the next year, described below:
In the fourth quarter of 2012, we commenced the transition to a new compensation plan for our sales force responsible for new advertising originations whereby we have begun to pay commissions as cash is collected from our service providers rather than upfront at booking, as we have done historically. This change, once fully implemented during 2013, is expected to reduce growth in our prepaid expenses and therefore have a positive impact on our operating cash flows, as it will allow us to grow newly originated service provider revenue on a primarily self-funded basis. To minimize the disruption to our sales force, we are transitioning to the new compensation plan gradually over a nine-month period.
This change will benefit cash flow during future periods, as growth in these commission expenses is a drag on liquidity during periods of growth and resulted in reduced cash flows of roughly $7 million during 2012.
In my opinion, if Angie's List is going to go bankrupt it would likely occur during the 2014-2015 period, possibly being exacerbated by the $15 million in debt coming due in August 2015. As a last resort Angie's List could always attempt a secondary issue or another debt issue to fuel its cash burn. If the company is smart they will do this in the near term with their sky-high stock price and not as a forced issuer when their problems are more apparent.
My short thesis rests more on valuation and their unsustainable business model. Angie's List competes with a number of other companies such as Yelp (NYSE:YELP) and niche online sites which compete with portions of Angie's List's offering, as well as traditional offline companies such as Yellow Pages, with many of these services being free to the consumer. By charging for what others give out as a free service, Angie's List is making it more difficult to benefit from the network effect, whereby each new member or advertiser would make their service more valuable for the next member or advertiser that joins. It is questionable whether Angie's List provides a benefit to customers greater than the additional cost it charges. The 75% customer retention rate seems to imply that at least some customers have found their service valuable.
It is also worth mentioning that a large number of members might not know that service providers pay to advertise on the site due to the very prominent mention that "Businesses Don't Pay" on their site. If this information was more widely known it could lead to customer attrition and make the site less valuable to members and therefore advertisers.
It appears that Angie's List has noticed that they are at a competitive disadvantage as they have been consistently lowering the cost they charge per member (as shown below). So far they have made up for this with an increasing amount of Service Provider revenue per member (this is made up of advertising, at 86.6% of Service Provider revenue and ecommerce, at 13.4% of Service Provider revenue, which is essentially reselling the services of certain contractors). This shift away from paying members risks taking away Angie's List's differentiation relative to their free competition and brings their service closer to their competitors, which may risk the premium they are able to charge to their current advertisers.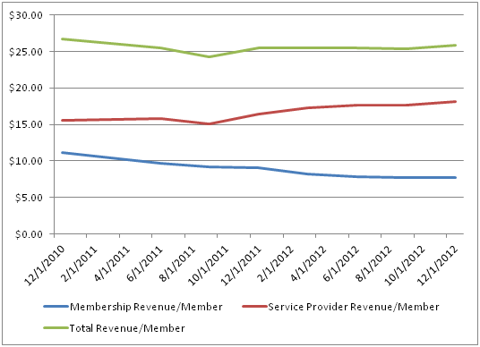 In the short term, Angie's List faces the risk that some of their original service providers will not renew their contracts upon expiration, a huge risk considering roughly 70% of total revenues come from them. Over the longer term there is a risk to disenfranchising these advertisers by essentially competing with them for customers with their new Big Deal and Storefront offerings. It is uncertain whether Angie's List can continue extracting more and more value out of these suppliers without a backlash and negative reaction.
In my opinion the most compelling argument for shorting ANGI is valuation. At roughly 6.4x revenue the market is pricing in substantial growth in revenue and profitability which I believe will be difficult from current levels. Thinking of how the market might mature in the future, it is only using rose colored glasses that you can justify the current valuation. In the table below, I projected a very optimistic scenario with substantially reduced costs and 25% market penetration (up from 8.5% in mature markets, at present), representing membership growth of roughly 300%.
| | | |
| --- | --- | --- |
| Memberships | 6,750,000 | 25% Penetration of current market |
| Service Providers(NASDAQ:SP) | 135,000 | Stays at 50 Members/SP |
| Member Revenue | $290,250 | Up to rate of mature markets* |
| SP Revenue | $675,000 | Up to $100/member & $5000/SP** |
| Total Revenue | $965,250 | |
| Operations | $115,830 | Leverages to 12% of revenue*** |
| Selling | $303,750 | Down to 45% of SP Revenue**** |
| Marketing | $241,313 | Down to 25% of Revenue |
| Technology | $96,525 | Remain at current levels |
| G&A | $96,525 | Down to 10% of Revenue |
| Operating Profit | $111,308 | |
| Net Income | $72,350 | Normal Tax Rate, no debt |
*$43/member
**from $70/member and $3400/SP
***from 17.5% of revenue
****from 50%+ of SP revenue
This scenario would be at least 5-7 years away, if the site is ever able to reach this level of penetration and cost reduction. This scenario also ignores the dilutive impact of any secondary equity offerings and assumes the company is debt free at this point. Even with these assumptions the company trades at over 12 times earnings (and would likely have fairly slow growth at that point). It is far more likely that Angie's List never hits these levels of profitability and only starts to flirt with breakeven profit in 4-6 years. I think ANGI is a compelling short opportunity at current prices, and although its price could go anywhere in the short term, over the medium and long term it will only go down.
Disclosure: I have no positions in any stocks mentioned, but may initiate a short position in ANGI over the next 72 hours. I wrote this article myself, and it expresses my own opinions. I am not receiving compensation for it (other than from Seeking Alpha). I have no business relationship with any company whose stock is mentioned in this article.