Arabian American Development Company (ARSD) is a company operating in the basic materials sector with a focus towards highly diversified chemicals. ARSD's sound fundamentals make it an excellent company to trade in and out of for short-term gains. Currently, ARSD is trading at a favorable discount to its fair value and an arbitrage opportunity now exists. This article briefly captures ARSD's business model, highlights its recent performance, and concludes with multiple reasons why ARSD is a solid company for investors seeking short-term capital gains.
Company Description
ARSD originated as a Delaware corporation in 1967. Today its business activities are based in Sugar Land, Texas, and are concentrated around manufacturing specialty petrochemical products as well as the development of mineral properties in Saudi Arabia. ARSD's business can easily be divided between its special petrochemical entity, South Hampton Resources, and its partial ownership in a mining company is Saudi Arabia.
Figure 1: ARSD's Operational Breakdown
The South Hampton Resources entity is the leading provider of specialty petrochemicals through its fully owned and operated 115 acre facility in southeast Texas. The products manufactured at this facility are selectively sold as intermediate components to manufacturers competing in markets including expandable polystyrene, polyethylene, adhesives, building foams, synthetic rubber, as well as food processing. It is estimated South Hampton Resources comprises nearly 80% of the North American market share for c5 solvents, which are essentially expanding agents.
In addition to its specialty petrochemical products, ARSD is the original developer and 35% owner of Al Masane Al Kobra Mining Company (AMAK). AMAK is a Saudi Arabian joint stock company that was formed in 2006 with $60 million of cash capital. In addition, the Saudi Industrial Development Fund (SIDF) contributed $88 million towards this project. The primary focus of this mine is concentrated around the production of copper and zinc. In October of 2012, the first shipment of zinc and copper took place. Looking forward, it is important to note ARSD has significant capacity that is still available, however they are still evaluating options for future expansion at the moment.
Market Performance
Currently, ARSD is trading right around $7 dollars per share and with 24.11 million shares outstanding its market capitalization is roughly $170.22 million. On a daily basis, the average number of shares traded is roughly 37.79 million, which suggest the security is highly liquid.
Figure 2: ARSD One Year Price Graph retrieved from FinViz
ARSD's current P/E ratio is 12.89. Excluding data prior to 2011, its P/E ratio has been on average below 20. However, the large variation and changes in its P/E ratio at the end of November 2011 extending into January of 2012 can be attributed to a large decline in its market value per share. Followed by a major increase in its security market price at the beginning of 2012. It is important to note that earnings remained relatively stable during these periods and all major changes to the P/E ratio were a result of investors perception that ultimately became priced into the market.
Figure 3: ARSD's P/E Ratio TTM
This security can be shorted, however figure 3 below shows this is not a concern. The number of days to cover is slowly decreasing and the short interest is decreasing significantly.
Figure 4: ARSD's Short Info retrieved from Yahoo Finance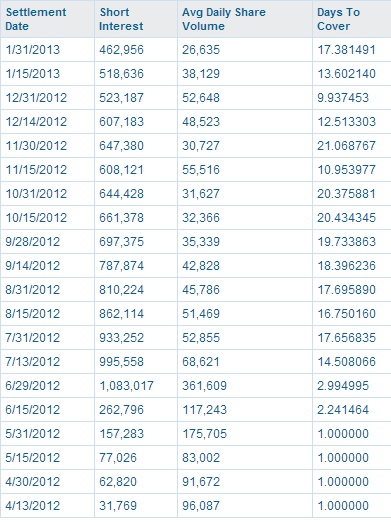 Seven reasons ARSD is an excellent short-term buy at $7 per share:
#1 ARSD's 35% ownership in AMAK sets the stage perfectly for future growth. The combination of AMAK's lucrative resources and sustainable sources of capital to finance new projects makes future expansion inevitable.
#2 Margin compression is not a concern. Historically, ARSD has proven its ability to provide shareholders with stable margins. These margins are directly linked to ARSD's majority ownership of the market share for petrochemical products and its stability displayed among its end markets. The figure below was retrieved from ARSD's January 2013 shareholder presentation and clearly illustrates the wide range of uses for ARSD's specialty petrochemical products.
Figure 5: Petrochemical End Market Uses
#3 ARSD The demand for ARSD's products is quite extensive and is clearly illustrated through its wide customer base. ARSD's customers include Exxon Mobile (NYSE:XOM), 3M (NYSE:MMM), Dupont, Dow Chemical Company (NYSE:DOW), Baker Hughes (NYSE:BHI) , Dart, NOVA Chemicals, Chevron Phillips, Imperial Oil (NYSEMKT:IMO), Total, Calumet (NASDAQ:CLMT), Advance Romantics, Chevron (NYSE:CVX), and Lyondell (NYSE:LYB).
#4 ARSD is well positioned to benefit from an upward sloping cost curve due to an increased demand for particular metals. In foreign markets, specifically China, the demand for copper has increased nearly 3% in the past month. In addition, analysts have projected the price of aluminum and copper to increase significantly in FY 2013. A simple increase in the price of metals is substantial enough to augment ARSD's margins and add further firm value.
Figure 6: Copper Futures Historical Settlement Prices
#5 ARSD has always been a cash friendly company. Historically, ARSD has revealed large levels of cash on its balance sheet. However, it is far more appropriate for the purposes of valuation to analyze its free cash flow available to investors as well as its free cash flow growth over time. Figure 7 below clearly shows ARSD has increased its level of free cash flows significantly since 2009 and has maintained a relatively stable level thereafter.
Figure 7: Five Year FCF Growth
#6 ARSD is trading at a severe discount to its fair intrinsic value, thus making it a strong security to trade in and out of given its strong fundamentals. By simply looking at several of ARSD's valuation metrics including its price to book, price to sales, as well as its price to earnings growth ratio, it is clear ARSD is trading at a low range of these metrics. In addition, its P/FCF ratio is below 15. A strong indication that a security is undervalued is displayed through the combination of a PEG ratio of less than 1 and a P/FCF ratio of less than 15, which in this case exists.
Figure 7: ARSD's P/B, P/S, & PEG Ratio
#7 Analysts clearly recognize ARSD is undervalued as well. The seven analysts that cover the stock have a median price target of $12 per share. The price targets range from $10 to $15.
Conclusion
ARSD's sound fundamentals and availability of lucrative growth options have forced me to follow this security for quite some time. I will admit I have traded in and out of this security for substantial short-term profits and anticipate doing so again. ARSD's large foothold in the industry eliminate the fear of margin compression and clear the path for future expansion. In addition, its attractive financing options and sources of funds make capital adequacy concerns irrelevant. In conclusion, ARSD is a well managed company that has the potential to provide investors with abnormal returns.
Sources: YCharts, TD Ameritrade, The Wall Street Journal, FinViz, Google Finance, and Yahoo Finance.
Disclosure: I have no positions in any stocks mentioned, but may initiate a long position in ARSD over the next 72 hours. I wrote this article myself, and it expresses my own opinions. I am not receiving compensation for it (other than from Seeking Alpha). I have no business relationship with any company whose stock is mentioned in this article.