Intel (NASDAQ:INTC) is the world's largest semiconductor company. Intel has done a phenomenal job maintaining that accolade for decades. Intel has stayed ahead of the competition with its state of the art chip manufacturing plants. While companies are increasingly becoming fabless to cut costs and avoid heavy capital expenditures required to build and maintain a manufacturing plant, Intel has used this as a big competitive advantage in leading the industry with its fabrication and assembly plants. This model worked great when Intel was dominant in the PC client space, which consists of laptop and desktop PC and this used be a huge growth driver. But with the rapid growth in tablets and smartphones, the PC segment is no longer the growth driver. Where does Intel look for new growth?
Manufacturing chips entails building a capital-intensive fabrication plant. A lot of R&D money needs to be spent on efforts in tackling the challenges involved in handling the ever-shrinking process geometry. Spending so much capital to stay ahead of the competition in terms of manufacturing technology and capacity gave a key competitive edge to Intel, when the PC and the notebook market were growing. This strategy and business model made a lot of sense, when the so-called WinTel (Windows - Intel) combination was thriving, and PC and notebook used to be a great growth story. Not anymore.
The PC sales are sagging, and both Microsoft (NASDAQ:MSFT) and Intel have little or no presence in the rapidly growing tablet and smartphone market. Time was long ripe for Intel to reconsider their strategy of keeping their manufacturing plants to make their own chips. And indeed, they have started doing this. They have opened up their manufacturing plant to manufacture chips for other chip vendors. Their latest addition is to manufacture Altera's (NASDAQ:ALTR) next generation FPGA chips.
Welcome Intel to the so-called "foundry" business. This is a great move indeed by Intel, which I believe will pay off handily.
The pure-play semiconductor foundry business will ride the growth of tablets, ultra books, and smartphones to $29.6 billion in revenues, according to an IHS iSuppli Semiconductor Manufacturing and Supply market Tracker report.
This is a 12% increase over the $26.5 billion in 2011, about 3x the rate of growth expected for the overall semiconductor industry.
2013 can expect 14% revenue growth ($33.6 billion), and 2014 and 2015 will also see solid double-digit growth.
Figure. Worldwide pure-play semiconductor foundry revenue forecast.
(Source: IHS iSuppli Research (Semiconductor foundry growth, Q2 2012)
2011

2012

2013

2014

2015

Billions of US Dollars

$26.5

$29.6

$33.6

$37.5

$42.2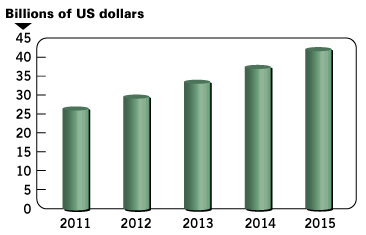 The top five foundry players accounted for almost 80 percent of the foundry market, with Taiwan semiconductor (TSMC) grabbing close to 50% of the market share (Source: Gartner, March 2012). Business 101 says that a consolidated business with high capital requirements and high barriers to entry will be difficult for a late entrant. But Intel is not a late entrant into this business. They are very well in this business, except that they were catering to their own needs so far. Intel certainly has the scale and capacity to rapidly expand its foundry business, open it up for other chip vendors, given its long history as a highly successful semiconductor manufacturer. Intel was very successful and was the leader in the foundry for manufacturing its own chips. Intel has certainly all the processes in place and has always pushed the technology envelope in this area.
With an established foundry vendor like Intel, it certainly is not inconceivable that companies, who want to maintain a competitive edge and differentiate their products, will flock to Intel for meeting their chip manufacturing needs. Taking a conservative estimate of a Market share of 10% in 2013 and scaling it to a Market share of 30% in 2015, we can clearly see the incremental revenue for Intel.
| | | | |
| --- | --- | --- | --- |
| | Market | Market Share | Revenues in Billions |
| | | | |
| 2013 | 33.6 | 10% | 3.36 |
| 2014 | 37.5 | 20% | 7.5 |
| 2015 | 42.2 | 30% | 12.66 |
The PC market is sagging and Intel's revenue growth is slowing. Intel is looking for additional revenue streams. This seems like a great segment to enter for Intel and try to own the piece of the foundry pie. Taking Intel's 2012 revenue of $53 billion, that's a whopping 23% addition to the top line. While other foundry vendors are using a lot of capital to build the manufacturing plants and stay ahead of the technology curve, Intel is already doing this and they are just expanding what it already is building for its own needs.
Intel has indeed made a smart decision by entering into the foundry business. And with a very strong balance sheet and almost $31 billion in cash, Intel has the ability to rapidly expand the foundry business. Intel also has the expertise and R&D muscle to stay ahead of the competition in terms of process technology. The other companies very well know this and they would be more than willing to give their chip manufacturing business to Intel. After all, "Intel Inside" is still a well-known slogan and Intel's brand is recognized worldwide.
Disclosure: I have no positions in any stocks mentioned, and no plans to initiate any positions within the next 72 hours. I wrote this article myself, and it expresses my own opinions. I am not receiving compensation for it (other than from Seeking Alpha). I have no business relationship with any company whose stock is mentioned in this article.