Massive losses of 60% and more in 2008 have some investors questioning whether the alt-energy bull market was no more than an illusion - an investment fad that may only have been viable when oil prices topped $100 a barrel. No way, Barron's says - not if President Obama has anything to do with it.
Increased government funding will be a boon for the solar, wind and ethanol industries. But it bodes even better for "well-established, diversified and financially healthy companies" that operate in priority markets of energy conservation, infrastructure renewal and the build-out of a smarter power grid.
To which end Barron's has assembled a "green dream team" of five bargain stocks that "probably aren't the first names that come to mind when you think 'green,'" but that "have the products, technologies and, not least, the financial strength to deliver for investors."
1) ABB Ltd. (NYSE:ABB) - one of the world's biggest builders of electricity grids. 2009 estimated earnings are $1.32/share, down a bit from 2008's $1.74 - but the stock's price has been cut by almost two-thirds. ABB's balance sheet is strong with net cash of $5.4B, which ABB is using to boost its dividend and buy back shares. "Investors can collect a $0.46 annual dividend (for a current yield of 3.8%) while waiting for the global economy to jump-start." (Barron's profiled ABB favorably in May.)

2) FPL Group (FPL-OLD) - the leading U.S. producer of energy from wind and solar power. FPL stands to profit most from national initiatives to expand wind-energy generation and bolster transmission facilities. NextEra, its clean-energy business, tripled its net income in 2008. 4.14% dividend yield. Barron's did a bullish piece on FPL in December.

3) Waste Management (WMI) - owner of the largest network of landfills in the U.S., WMI is a major generator of energy from methane gas, landfill waste and other recoverable waste materials. Its core business, garbage disposal, is somewhat recession-proof. WMI's waste-to-energy incinerators combust 1/4 of the nation's trash burn, and each ton of garbage burned replaces a ton of coal - with a significant carbon-emission reduction. WMI is using its healthy cash flow to pay down debt, and its $1.16 dividend yields 4.3%.

4) Jacobs Engineering Group (NYSE:JEC) - "has all of the engineering, design, architectural and other skills needed to build and manage large infrastructure projects," making it likely JEC will get the nod to design, build out and monitor some of the upcoming government initiatives. JEC has a fortress-like balance sheet with "gobs of cash," which it could use to pick up faltering rivals on the cheap, and a history of exceeding earnings and sales estimates.

5) Eaton (NYSE:ETN) - makes energy-efficient power-management systems for transport, industrial, aerospace and windmills that help reduce fossil-fuel use. Some are concerned its earnings expectations are overly optimistic, but Morningstar's John Kearney says ETN's aggressive acquisition strategy (funded by a healthy $15B+ in annual sales) has diversified the revenue stream. In Q4, Berkshire Hathaway (NYSE:BRK.A) upped its stake to 3.2M shares from 2.9M. ETN's $2 dividend yields 5.41%.
(click to enlarge)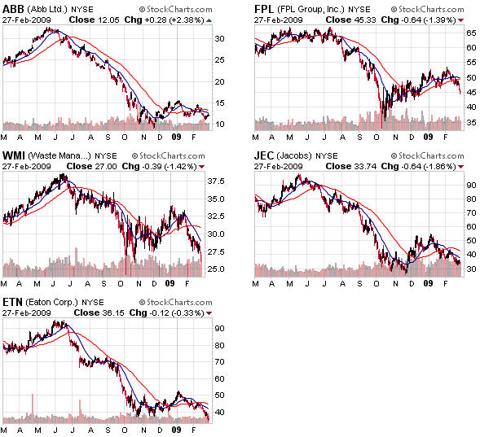 Click to enlarge
::::::::::::::::::::::::::::::::::::
In a well-researched article titled Long Live the Cleantech Revolution, author John Petersen explains why he thinks alt-energy is just getting started, and names a dozen pure-play firms "that have the potential to make a real difference in America's energy storage future."
Kelvin Schulle thinks solar producers will rebound as investors get their heads around the new U.S. gov't initiative.