Firearm sales in the United States have been surging. As a result firearm producers Smith & Wesson (SWHC) and Sturm, Ruger and Company (NYSE:RGR) have seen their profits and share prices rocket higher. While it would seem that these companies are solid long-term investments there is no foundation to the thesis that the trend of rising firearm sales will continue.
In this article I look at several data points regarding firearm sales as they correlate with other economic and political events. In analyzing the data the most predictable trend I have found is that over the past 20 years firearm sales tend to spike when people anticipate the election of a Democratic president. While there may be some legitimacy to this pattern it hardly constitutes a long term investment thesis.
I will also demonstrate the lack of correlation between firearm sales and economic strength or weakness, and I conclude by discussing the fact that there is no connection between the occurrence of mass shootings and an increase in firearm sales.
1--Firearm Sales and Presidential Elections
Consider the following chart of annual firearm sales from 1992-2010: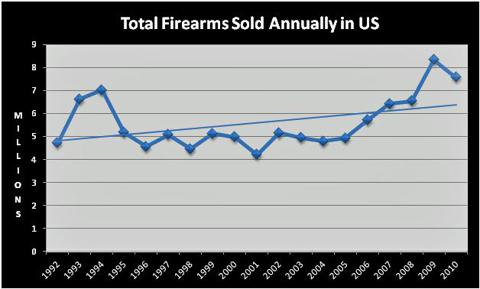 Looking at the above data reveals that firearm sales spiked in 1992 and 2008. In both of these years Democrats won the presidency from Republicans. If we look at years of presidential elections in which a Democrat was reelected there is a modest increase in 1996 and another spike in 2012. This last piece of data (from Smith & Wesson's corporate presentation) is based on FBI background checks which doesn't necessarily correlate to total firearm sales because we don't know how many guns somebody has purchased when (s)he commits to a background check.
This trend could be attributed to the fact that people generally believe that Democrats are more likely to restrict firearm sales than Republicans. But in 2012 we had the Sandy Hook disaster which has made gun control a hot political topic, and so I am less convinced that the anticipated reelection of a Democrat increases firearm sales then I am that the anticipated election of a Democrat over a Republican increases firearm sales. This is not actionable data until 2020, assuming a Republican wins the 2016 presidential election and a Democrat is anticipated to win the 2020 election. At best one can conclude that if a Democrat is anticipated to win the presidential election then firearm sales will rise. This is not a strong long-term investment thesis.
2--Firearm Sales Are Not Correlated with Economic Strength or Weakness
Firearm sales appear to have no correlation with U.S. GDP or retail sales. Consider the chart of U.S. GDP from John Williams' Shadow Government Statistics and the following chart of U.S. retail sales while keeping in mind the above firearm sales chart.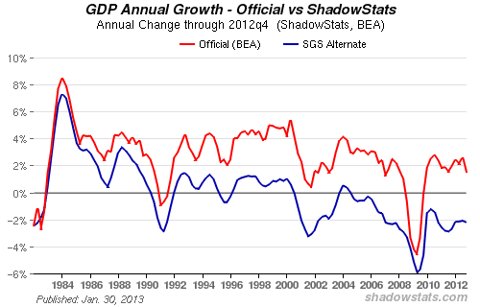 Courtesy of ShadowStats.com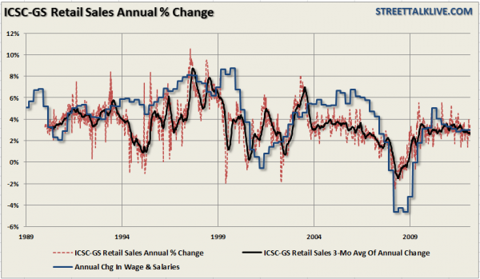 Let us look specifically at a couple of growth and recessionary periods.
1992-1994: GDP was growing, although not robustly. Retail sales grew along with GDP. Firearm sales soared.
1997-1998: GDP was growing. Retail sales paralleled this economic strength as is to be expected. Firearm sales declined.
2000-2002: GDP decelerated (declined according to John Williams' data). The growth rate of retail sales declined significantly, although it only went negative briefly. Firearm sales rose slightly, but were basically flat.
2007-2009: GDP declined sharply. Retail sales growth plummeted and even went negative. Firearm sales soared.
While there is a definite correlation between GDP and retail sales, firearm sales did not correlate with either of these data points either positively or negatively.
Consequently there is no actionable information here for investing in firearm manufacturers. While I could use this data to conclude that I should buy shares of retail companies if I believe the economy will grow, and that I should sell shares of retail companies if I believe the economy will shrink, I cannot make any such claims for shares of RGR or SWHC.
3--Mass Shootings
According to the FBI background check data, firearm sales surged at the end of 2012. What is unusual is that this surge continued into January which is generally not a strong month for firearm sales. Evidently potential firearm owners are being driven to actually buy guns because they are concerned that the Sandy Hook shooting will lead to restrictive gun control legislation. While this may be true, the general claim that mass shootings cause people to fear restrictive gun control legislation and to subsequently buy firearms is not true. The Virginia Tech shooting in April 2007, for instance, did not lead to a surge in firearm sales. Nor did the Columbine shooting in 1999 (in fact firearm sales sank in 1999 from 1998).
Is it different this time? If so there is hardly an investment thesis to be found in this observation. If it really is different this time then either one of the following must hold. First, it is only different psychologically. The media is simply making a much bigger deal out of this incident for whatever reason and fears of stricter gun control will fade over time, leading to a normalization of firearm sales. Second, it really is different and the government attempts to eliminate Second Amendment rights. If that is the case then either (1) firearm sales will be banned completely which will bankrupt the firearm manufacturers, or (2) the sale of certain firearms will be eliminated. While the latter scenario would temporarily boost the sale of firearms that are not banned, investors will likely fear that this is an intermediary step towards the former scenario, and shares of firearm manufacturers will suffer even if their profits are up. Additionally, if (2) is the case then these investor fears will likely be realized, and the firearm manufacturers will go bankrupt.
There is one other possible response to the question: "Is it different this time?" that would actually lead to a very strong thesis for investing in firearm companies, although I cannot substantiate it at this time. Namely, the media hype surrounding the Sandy Hook shooting has created a massive collective concern, justified or not, that the government intends to restrict gun ownership rights, and people feel that they need to buy firearms before their rights are infringed upon. This could lead to a growing culture of gun ownership. In this scenario people would buy more firearms and the shares of firearm producers would perform incredibly well.
However, were such a scenario to play out it would likely be reflected in NRA membership data.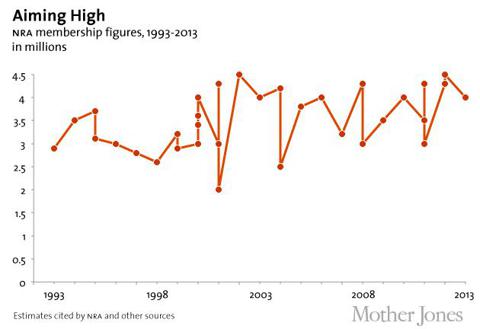 NRA membership appears to be in a multi-decade range, albeit at the top of this range. Furthermore, while FBI background checks and the profits of RGR and SWHC soared in 2012, NRA membership declined. I will reconsider the "rising of gun culture" thesis once 2013 NRA membership data is released, but as of now I am not convinced.
Conclusion
While firearm sales have been rising there is no definitive reason to suggest that this trend will continue.
That is not to say that this trend will not continue. If you believe that it will for whatever reason then both RGR and SWHC appear to be quality investments based upon their financial statements. RGR will appeal to more conservative investors as the company has no debt and a dividend payout that is proportional to its profits. However they trade at 17X trailing earnings, which is a little rich for my tastes. SWHC will appeal to more aggressive investors with $44 million in debt and no dividend. However SWHC shares trade at just 10X trailing earnings, which is a much more reasonable price than RGR.
Yet based upon my analysis of the firearms market I cannot endorse either investment.
Disclosure: I have no positions in any stocks mentioned, and no plans to initiate any positions within the next 72 hours. I wrote this article myself, and it expresses my own opinions. I am not receiving compensation for it (other than from Seeking Alpha). I have no business relationship with any company whose stock is mentioned in this article.