After the market closed on Wednesday, February 27, 2013, American Capital Agency Corp (NASDAQ:AGNC) announced a public offering of 50M shares with an additional underwriter option for 7.5M shares. AGNC expects the total proceeds from the offering to be approximately $1.58B, which implies a pricing of $31.60 per share. As of Q4 2012, AGNC had a book value of $31.64 per share. AGNC's last declared dividend was on December 14, 2012, for $1.25 per share. At current prices, AGNC yields about 15.2%.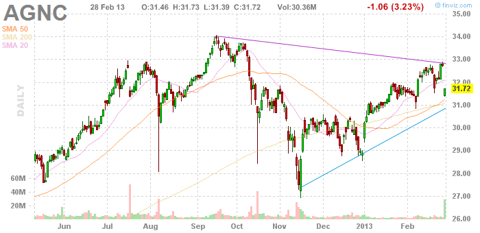 AGNC had an excellent 2012, reporting a total economic return (dividends plus book value increases) of over 32%. AGNC has consistently outperformed its peer group, by paying higher dividends and posting bigger increases to book value. Even during Q4 2012, which was in my opinion the low point for net interest spreads for agency mREITs, AGNC delivered a total annualized economic return of 5%.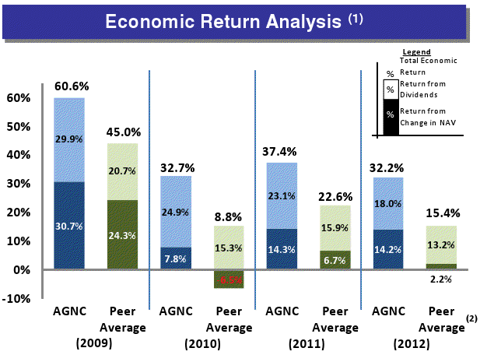 AGNC has proven itself to be the best run agency mREIT. During Q4 2012, AGNC started generating "dollar roll income", also known as drop income. This income is associated with the"to-be-announced" ("TBA") dollar roll market for mortgage backed securities. AGNC has also seen lower prepayments ("CPR") than its peers, with only a 10% CPR for Q4 2012. This is due to AGNC actively targeting lower loan balance mortgages and HARP pools. Just to put the 10% CPR into perspective, the average CPR for similar 30 year mortgages is 30%. Including the "dollar roll income", the net interest spread for AGNC in Q4 was 1.63%; higher than peers CYS Investments (NYSE:CYS) (1.36%), Annaly Capital (NYSE:NLY) (0.95%), Anworth Mortgage (NYSE:ANH) (0.94%), and Armour Residential REIT (NYSE:ARR) (1.55%).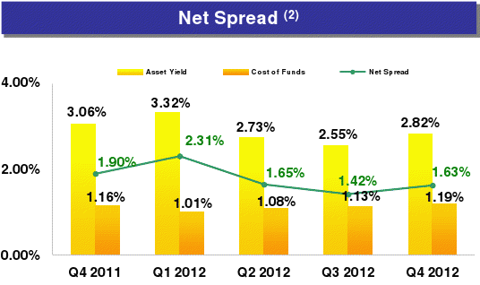 Though they have recently narrowed slightly, net interest rate spreads have been improving for most of Q1 2013. This implies a possible increase in spread income is coming for AGNC for Q1 2013.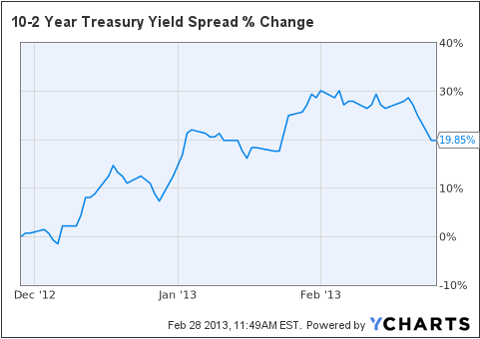 Conclusion
This share offering will allow investors to purchase AGNC at under book value. Buying now should entitle investors to AGNC's next quarterly dividend. Last year, AGNC went ex-dividend on March 5, 2012. I took this equity offering as an opportunity, and started a position in AGNC at a cost basis of $31.60 per share.
Disclosure: I am long AGNC, CYS. I wrote this article myself, and it expresses my own opinions. I am not receiving compensation for it (other than from Seeking Alpha). I have no business relationship with any company whose stock is mentioned in this article.