As an income-driven investor I tend to look for higher yielding stocks that are currently in an uptrend. For a stock to be considered in an uptrend, shares must be simultaneously trading above their current 20-day, 50-day and 200-day simple moving averages. In this article I wanted to focus on two electric utility companies which are currently in an uptrend and yield upwards of 3%.
Xcel Energy Inc. (NYSE:XEL): Based in Minneapolis, Minnesota and through its subsidiaries, "engages in the generation, purchase, transmission, distribution, and sale of electricity in the United States. The company generates electricity using coal, natural gas, nuclear, hydro, solar, waste, biomass, oil, and wind energy sources. It is also involved in the purchase, transportation, distribution, and sale of natural gas". Shares of Xcel Energy, which yield 3.78% ($1.08), are trading 2.18% higher than their 20-DSMA, 4.12% higher than their 50-DSMA and 4.07% higher than their 200-DSMA.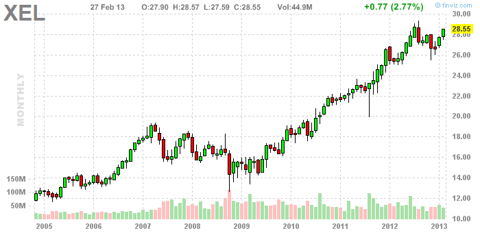 Recent Earnings Performance
On January 31st Xcel Energy announced its full year 2012 results, which were actually quite positive as the company not only surpassed EPS estimates but was also able to reaffirm its 2013 outlook. According to Ben Fowke, Chairman, President and Chief Executive Officer of Xcel Energy,
"We delivered earnings in the upper half of our guidance range, which represents the eighth consecutive year in which we have met or exceeded our earnings guidance and for the ninth consecutive year we increased our dividend. We implemented a multi-year rate plan in Colorado and reached constructive regulatory outcomes in several other rate cases. Finally, we maintained excellent reliability during one of the warmest years on record, all executed with outstanding safety performance."
It should also be noted that the company plans on successfully delivering on its 2013 full year EPS guidance of $1.85 - $1.95 per share. If the company can continue to demonstrate strong earnings and maintain (or even boost) its current dividend then I see no reason why a position should not be established at current levels.
Southern Company (NYSE:SO): Based in Atlanta, Georgia, SO operates as an electric utility company. It is involved in the generation, transmission, and distribution of electricity through coal, nuclear, oil and gas, and hydro resources. The company also constructs, acquires, owns, and manages generation assets, including renewable energy projects. Shares of Southern Company, which yield 4.40% ($1.96), are trading 2.06% higher than their 20-DSMA, 3.82% higher than their 50-DSMA and 1.57% higher than their 200-DSMA.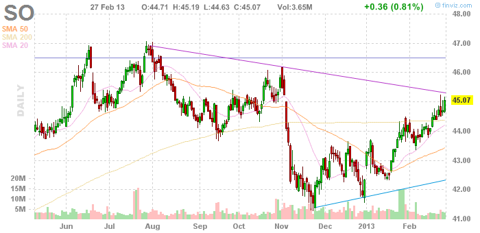 Recent Earnings Performance
On January 30th Southern Company announced its fourth quarter and full year 2012 results, which quite positive even though operating revenues took a bit of hit. According to the company's press release, "Southern Company reported fourth quarter 2012 earnings of $383 million, or 44 cents a share, compared with earnings of $261 million, or 30 cents a share, in the fourth quarter of 2011. Southern Company also reported full-year 2012 earnings of $2.35 billion, or $2.70 a share, compared with earnings for 2011 of $2.20 billion, or $2.57 a share". The year-over-year increase of 5.05% in annual earnings and year-over-year increase of 46.66% in terms of quarterly earnings are certainly catalysts long term investors should consider moving forward.
One of the reasons Southern Company has been so successful is because of its business model, which revolves around its customers, and its ability to execute its business operations in an efficient and sustainable manner. According to Thomas A. Fanning, Southern Company's Chairman, President and CEO, ""The efforts of our employees demonstrate the effectiveness of our business model, which is able succeed by placing our customers at the center of everything we do".
Disclosure: I have no positions in any stocks mentioned, and no plans to initiate any positions within the next 72 hours. I wrote this article myself, and it expresses my own opinions. I am not receiving compensation for it (other than from Seeking Alpha). I have no business relationship with any company whose stock is mentioned in this article.