Up until the Martin Luther King Jr. holiday, the S&P 500 had been tracking its pattern from both 2012 and 2011 extremely closely. The 2012 pattern has gone off the rails since then, however.
As shown below, last year the market kept on chugging along higher through early March before it saw any kind of pullback, while this year we saw a decent sized dip in the final weeks of February. The S&P 500 is currently up 6.3% year to date, but last year at this time, the index was up more than 9%!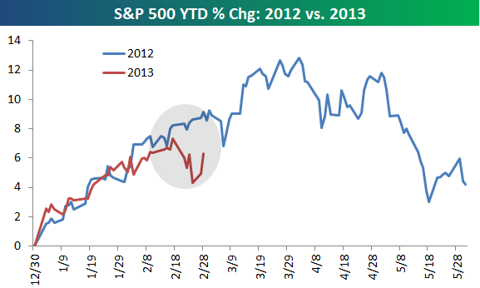 Click to enlarge
While the 2012 pattern no longer compares too well, 2011 is getting interesting. At this point in 2011, the S&P 500 was up 5.3%, and it had just bounced back after experiencing the exact same pullback in late February that we've seen this year. The bounce back at the very end of February 2011 was short lived, however, and the index quickly turned lower again and actually ticked into negative territory for the year by the middle of March.
The bearish sentiment that began to form last week and early this week appears to have quickly dissipated, and it seems like the bulls are eagerly anticipating a new bull market high in the coming days. Just remember that we're not there yet, though, and we would tread carefully until we take out the February 19th high.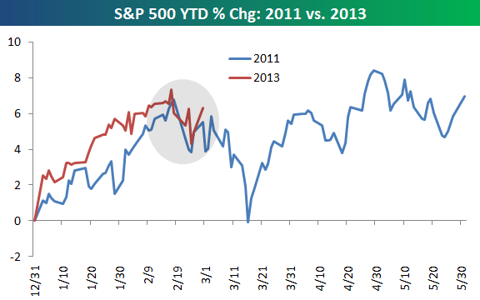 Click to enlarge