In Part 1 of Five Mortgage REIT Preferreds to Consider, we took a look at Apollo Residential's (NYSE:AMTG) 8.00% Series A fixed rate cumulative perpetual preferred stock. In this piece, we will switch gears from one of the newer hybrid mREITs and analyze one of the oldest agency mREITs - Annaly Capital Management (NYSE:NLY).
Outstanding Traditional Preferreds
Annaly has three traditional preferreds outstanding - the 7.875% Series A (ticker: NLY-A), 7.625% Series C (ticker: NLY-C), and the 7.50% Series D (ticker: NLY-D). All three positions traded ex-div on Wednesday, February 27, allowing investors to purchase the positions at lower prices (but investors will not receive the upcoming March dividend). All three positions are fixed rate cumulative perpetual preferred stocks.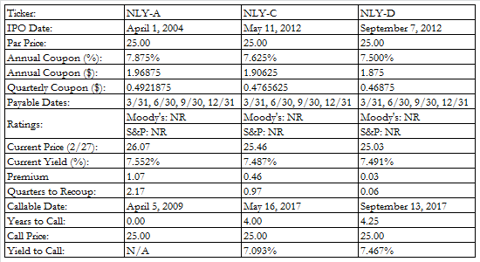 Series A is trading at a $1.07 premium, which will take three quarters to fully recover, and was callable in April 2009. Series C is trading at a $0.46 premium (which will be recovered in the June dividend payment) and is callable in May 2017. Series D is trading at a $0.03 premium and is callable in September 2017.
Price History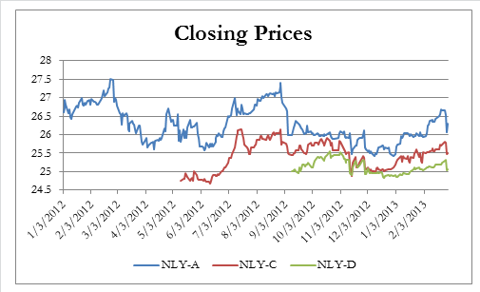 The three preferreds have traded with similar patterns but in different ranges. This is because of the difference in coupons between the three, with NLY-A trading at the highest levels and NLY-D trading at the lowest.
Current Yield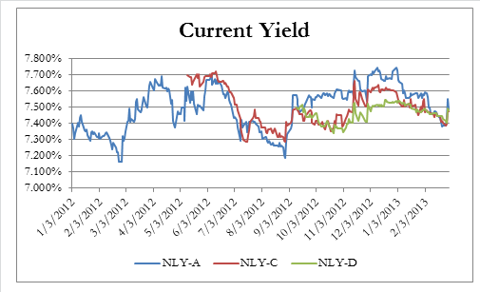 To further the point from above, the different prices are driven by the different coupons. As can be seen in the above current yield chart, the three preferreds all trade to very similar current yields. This is highlighted further when the timeframe of the chart is shortened. The below chart shows the period when all three positions have been outstanding.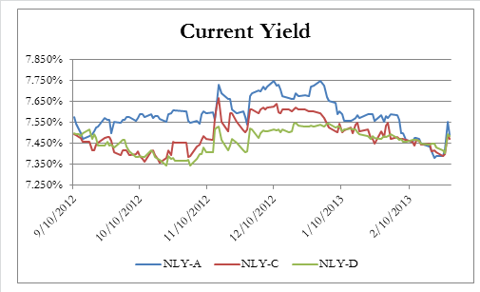 Final Thoughts
Between Annaly's three preferreds, Series D is the best investment in my mind. It has the lowest premium, trades to a very similar current yield (all three are within 0.06%), and has a yield to call of 7.467% (vs. 7.093% for NLY-C).
Annaly Capital Management
The agency mREIT space has been very tough recently with rates compressing and QE3 ongoing. This is evident in Annaly's portfolio as Asset Yield and Net Interest Margin declined throughout 2012.
This compression has caused for Annaly to increase leverage. Its leverage is still not as high as their biggest comp, though - American Capital Agency Corp (NASDAQ:AGNC).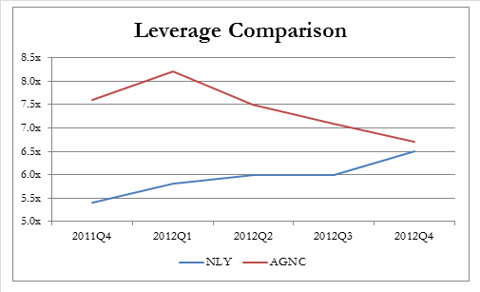 Net Book Value
The fourth quarter, Annaly's Net Book Value declined from $16.60 per share to $15.85 per share.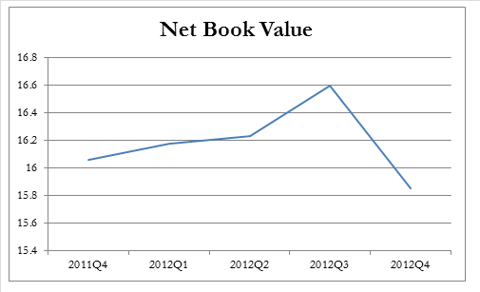 This drop in book value was seen by many mREITs, including AGNC. As you can see in the chart below, the Quarter-over-Quarter change in net book value was negative for both NLY and AGNC.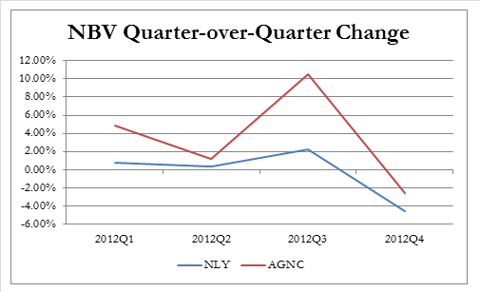 Dividends
This pressure has caused Annaly to lower their quarterly dividend per share throughout the year.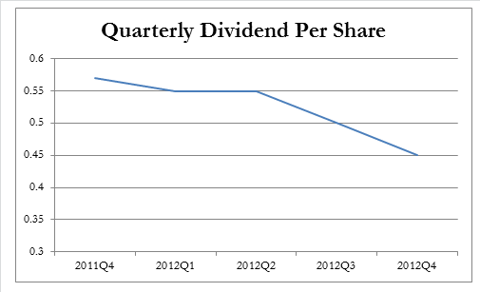 Dividend Yield
Annaly common stock closed on Feb. 27 at $15.31. At this price, the annualized dividend yield from the fourth quarter is 11.757% ($1.80 over $15.31).
Total Economic Return
Over the course of 2012, Annaly had a total economic return of 11.5%. This return is the result of the drop in book value per share ($16.06 to $15.85) offset by the dividends paid out ($2.05).
Final Thoughts
Despite a slight drop in book value and declining quarterly dividends during 2012, Annaly's common stock had a total economic return of 11.5% for the year. The company offers preferred stock with current yields around 7.5%. By purchasing the preferred stock you are taking a lower yield now but are able to know what your quarterly payments will be going forward.
If you are comfortable with the risks of the mREIT industry and think that Annaly is going to survive the yield compression that has been occurring, NLY-D offers investors cumulative dividends and the ability to sleep a little bit easier at night.
Five Mortgage REIT Preferreds To Consider:
Part I - Apollo Residential
Ticker Reference Table: To help find preferred stocks on your trading platform, please see the Preferred Ticker Reference Table.
Disclosure: I am long NLY, AGNC, AMTG. I wrote this article myself, and it expresses my own opinions. I am not receiving compensation for it (other than from Seeking Alpha). I have no business relationship with any company whose stock is mentioned in this article.
Additional disclosure: This article is for informational purposes only, it is not a recommendation to buy or sell any security and is strictly the opinion of the author. Investors are strongly encouraged to do their own research and discuss potential investments with an investment professional.