Introduction
Over the past two weeks, a battle has been raging on the forefront of the marijuana industry. Reports have surfaced from every direction claiming companies such as Medical Marijuana Inc. (OTCPK:MJNA) have no value, their products are somehow not real and that audited revenues of over $12 million are just a fallacy.
Three months ended

Mar. 31, 2012

Three months ended

Jun. 30, 2012

Three months ended

Sep. 30, 2012

Three months ended

Dec. 31, 2012

2012 Total

Revenue

$1,788,445

$2,403,624

$3,001,902

$5,193,654

$12,387,625

Assets

$6,356,301

$7,908,677

$8,131,147

$16,384,698

$16,384,698

Debt

$101,778

$156,778

$585,437

$84,800

$84,800

Net Income

$1,208,136

$1,471,596

$1,193,937

$3,233,623

$7,107,292
Above is the audited financial information for 2012 from the annual sharholder report . Now by just glancing at theses financials, one can see that MJNA has been increasing revenue at a exponential rate. Net income nearly doubled from Q3 to Q4. The OTC Markets website reports MJNA to have 800,000,000 shares outstanding. With Net income of $7.1 million, earnings per share currently is .01 cents. EPS can be a fair judge of stocks in the same industry, and it appears MJNA has one of the only positive earnings per share in the marijuana industry. MJNA has a P/E ratio of roughly 30. The price per earnings ratio may seem high, but with the bright forward looking projections given in the annual shareholders report it can be justified.
MJNA's revenue in 2013 is projected to be $47,000,000, with $32,000,000 in operating cash flow; 2013 revenue is almost 4 times what it was in 2012. In 2014 projected revenues of $155,000,000, with $95,000,000 in operating cash flow, equates to 12.9 times increase in revenue from 2012. As you read on, I will address how these numbers can be made possible, as MJNA continues to strategically position itself for the ever expanding market.
Nay-Sayers
A interview hosted by STT Radio recently featured CEO of Dixie Elixir and board member of MJNA Tripp Keber. He stated that there were 13,000 shareholders in MJNA. I am sure that 12,999 of those investors read Infitialis's article. The stock managed to hold off at around .30 cents after the piece. This shows that this stock has a core following, such as myself who refuse to sell, as we believe in the growth of this company. Growth will be my main theme throughout this article.
Growth and Opportunities
Medical Marijuana Inc. continues to be an innovator and leading competitor in the marijuana industry. A common misconception with the company Medical Marijuana Inc. is that they operate illegally and that they can be shut down. This is a false accusation, as MJNA only buys intellectual property, and stakes in other companies. Red Dice Holdings is the child company of MJNA that owns all the intellectual property, such as patents on the way they make their medical products.
The STT radio interview from stocktraderstalk.com with Tripp Keber, CEO of Dixie Elixir and a board member of MJNA on 2/15/13 helps clear a lot of this confusion up.
Keber goes on to talk about future expansion with the hope of in 2013 alone, expanding Dixie Elixir products to Arizona, California, Washington State, Connecticut, Mass, and Washington DC. This would be a huge increase in sales since almost 100% of their market is based in Colorado currently. Massachusetts has been proclaimed as the "next green rush" with a large market, MJNA has been actively working to ensure they will be included in this (more on this later on.)
In this interview Tripp proceeds to address Colorado's booming market, and how their target market will move from 100,000 Patients to over 1,000,000 consumers once legalized. Just in Colorado they have potential to increase their sales 10 folds, with the opportunity to sell in Washington State too. Realistically, competitors will probably appear and take away some consumers, but as the leading brand in Colorado, it appears that the market share is mainly in Dixie's hands. This is just one of the many ways MJNA can easily reach the $155,000,000 revenue forecast by the end of 2014.
With Colorado and Washington legalizing marijuana, many states are looking to do the same. According to Marijuana Policy Project (MPP) Hawaii, Maryland, Massachusetts, New Hampshire, Maine and Rhode Island have all introduced bills to tax and regulate marijuana legally. Nevada, Pennsylvania and Vermont are all in the works of introducing a bill to regulate Marijuana legally. If just one or two of these states legalized marijuana in the next few years, this would provide unprecedented growth for the industry.
California was one of the first states to attempt to legalize marijuana with Proposition 19, falling short with only 46% favoring legalization. Recent research conducted by Field Resarch Corporation's survey of CA, shows 54% of the state favored legalization. This is up 8% from 2010 when Proposition 19 was shut down, and shows that next time marijuana is able to be voted on for legalization, it will most likely pass.
Fifteen states, Alabama, Illinois, Iowa, Kansas, Kentucky, Maryland, Minnesota, Mississippi, New Hampshire, New York, Oklahoma, South Dakota, Texas, and West Virginia have all introduced bills to create new laws regarding Medical Marijuana, and nine more states are developing bills to fine not jail small marijuana offenses. It's apparent that Marijuana is rapidly changing, according to mpp.org in just a matter of years, over half of the US states have created new marijuana legislation toward Medical or recreational use.
Marijuana is expanding faster than anyone could of predicted, with 25 states proposing 45 new Marijuana legislation bills.
Each state that approves Medical Marijuana or legalization is dramatically expanding the Marijuana Market.
Leverage
Medical Marijuana Inc. is leveraged better than any other company in the industry, and posses 60% ownership in one of the leading innovators in medicinal products, Dixie Elixir. On 2/21/13 Dixie Elixir's creator Tripp Keber, and their marketing director Chrissy went on the icannabis radio show, just like they do every month.
The segment begins at about 19 minuets in, and goes on for over 30 minuets.
They begin by addressing the negative articles, which have surfaced on MJNA from various SA authors. Tripp, as a board member on MJNA states that the allegations that have surfaced regarding the executive team at MJNA are horrendously false, and he further goes on to state that legal action will be taken, but what exactly legally can be done was not stated. He does multiple times bring up that MJNA is soon going to issue a strong statement addressing mainly the Chronically Criminal article.
They go on to talk about new products. They begin by discussing one of their most popular products lines of Dixie Elixirs, Dixie Botanical's. Tripp states that there are days where they sell more Dixie Botanical products in 24 hours than they did in the past month (a great example of exponential growth.)
The Dixie Botanical's product line is all hemp based products. I think this is where most investors get confused. This product line of Dixie Elixir does not get you high, as there is no THC in these products, only CBD's (more explained here if confused.)
THC is what gets you high, CBD's are credited without providing memory loss and offers mostly medicinal values, such as "treating autoimmune disorders, stroke, alzheimer's disease, parkinson's, and HIV."
A statement on MJNA's online FAQ page reads:
"Are Dixie Botanical products legal?"
"Our hemp oil-derived wellness products are legal to consume both here in the U.S. and in many countries abroad. The FDA considers hemp oil as a dietary supplement product and our parent company MJNA imports its naturally-derived raw hemp oil under approved tariff codes to its FDA- registered and GMP-certified facility in the U.S. Dixie Botanical's parent company, Medical Marijuana, Inc., MJNA"
This is something many don't understand, which is that anyone can go online and buy these products, and that Dixie is working to sell these products in grocery and drug stores across the country (which would be huge.)
That of course is just Dixie's hemp based product line. They have five other lines including Dixie med o mints which are medical marijuana mints, Dixie Elixirs which are their marijuana infused drinks (they have 10 different flavors), Dixie Edibles ranging from rice crispy's to chocolate truffles. Dixie Scrip's are marijuana capsules with one for pain relief, one for mornings sickness, and one for evening sleep. Lastly they offer Dixie tinctures, meant to be used with a dropper where you just drop a few drops on your tongue for medicinal relief. Each one of these products serves a different niche in the market. The pills or drops offer discrete use, while the drinks and edibles can be marketed towards those interested in taste and appearance.
Around just the Denver area where they are based, Dixie Elixir products can be found in over 250 registered dispensaries (if you don't believe me type in Denver Co in the store locator.) Just in the city of Boulder where I live there are over 50 dispensaries that sell MJNA's products. I can personally attest that they have a overwhelming presence, and can be found with ease.
With such a large breadth of products and locations, it is obvious Dixie Elixir is one of the most successful Medical Marijuana brands.
MJNA acquiring 60% of the Dixie Elixir is a amazing step in progressing this company farther. Dixie recently was featured on cannel 5 Boston where the Boston company ventured out to Denver to take a look inside Dixie's factory. They also talked about future plans for Dixie to sell products to Massachusetts dispensaries, which looks very promising. Boston has a larger market than Denver, and could prove to be extremely profitable.
The other Companies
That is just the first of five company's MJNA is a part of. Although Dixie Elixir's receives most of the attention, the "other guys" are all leaders in their respected sectors, and provide great promise. MJNA has strategically leveraged itself over the past few years to be the biggest powerhouse in the Hemp, Medical, and recreational marijuana industry.
Phytosphere is the Hemp producing company MJNA owns which grows hemp in another country, and using FDA approved transport methods brings it to the US. A big opportunity for Phytosphere is that with Amendment 64 legalizing Marijuana in Colorado, it also legalized hemp for commercial cultivation. This means that PhytoSphere will be able to grow hemp on a commercial scale in Colorado, saving on many costs that they are currently paying such as shipping and packaging. CO could potentially be the first state to start cultivating hemp in the US, which would allow companies such as MJNA the head start. PhytoSphere owns 100's of acres (they don't state where, but its currently not in the US) of hemp and they are constantly improving on growing techniques along with CBD extraction.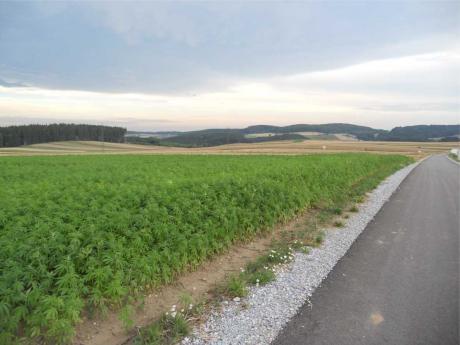 Here is one of many pictures posted on PhytoSphere systems web page of one of their hemp fields.
PhytoSphere is essentially a pharmaceutical division of MJNA specializing in the growth of hemp and development of innovative techniques for extracting CBD's, growing and harvesting hemp.
With many patents on CBD extraction and plant growth, it seems the sky is the limit for PhytoSphere.
Wellness Managed Services, is fully owned by MJNA, and according to the website it "engages in the management, capitalization and development of Health and Wellness facilities, Medical Clinics and Cooperatives throughout North America."
What this means is that WMS creates medical facilities, laboratories, and clinics across the country. The genius in MJNA is that they can then sell it's various products to these facilities, which shows how all these company's are deeply intertwined together, working as one to create revenue.
Canchew Biotechnologies, currently acts as mostly a Research and Development division of MJNA, as it works on it's patented CBD chewing gum. According to its website, the gum is intended for the "treatment of numerous diseases like pain, nausea and vomiting, anorexia, spasticity and various other symptoms."
Canchew has great potential, as the market for gum and marijuana is already huge. Combining them could be very profitable, as it is very discrete and they are the only ones with medical gum.
Hemp Meds RX is a leading innovator in hemp medication, and seems to be closely tied to PhytoSphere. They use a patented proprietry extraction process, which allows for maximum recovery of CBD's. This process makes them superior to any competitor since their extraction process is "purest." On Hemp Meds RX's site they state they use hemp from PhytoSphere and the patented extraction processes to create superior medication.
Conclusion
For the past few years MMJ Inc. has been working harder than anyone else in anticipation of this time, when marijuana begins to get legalized, and they can prosper as the leader. MJNA has strategically positioned itself for success as it owns crucial patents in various fields, and continues to develop new technology and techniques for advancing medical marijuana.
I foresee MJNA being the dominant player in the marijuana industry as it expands at a ever increasing rate. The forward looking projections released by the company on February 18, 2013, I believe are fairly conservative, since MJNA can not predict how many states will legalize medical and recreational marijuana.
What is predictable though is that with all the research conducted and patents Medical Marijuana Inc. owns, it would take lots of time and money for any other company to catch up to MJNA's progress.
Until that time, I will remain bullish, and won't be shaken anytime soon.
Disclosure: I am long OTCPK:MJNA. I wrote this article myself, and it expresses my own opinions. I am not receiving compensation for it (other than from Seeking Alpha). I have no business relationship with any company whose stock is mentioned in this article.