Ensco plc (NYSE:ESV) announced its fourth quarter and full-year 2012 results on Wednesday, February 20. Overall, these results were quite good and showcased the company's substantial growth over the past year. The numbers reported by the company are indicative of the strong business environment currently benefiting offshore drillers and this environment should help Ensco grow throughout 2013. The company will also be sharing some of this success with its shareholders in the form of a 33% dividend hike that followed the earnings announcement. There is a lot here for shareholders to be happy about.
I will begin my analysis of the company's results by looking at some of the highlights from the announcement:
The company reported fourth quarter diluted earnings per share of $0.94. This is down somewhat from the prior year quarter's $0.99 per diluted share.
The company's full year 2012 diluted earnings per share came in at $5.04. This compares quite favorably to the $3.08 in diluted earnings per share that the company reported in 2011.
Ensco's revenues grew 12% in the fourth quarter to $1.086 billion versus the prior year quarter.
The company's quarterly operating profit increased by 28%, to $382.1 million compared to the prior year quarter.
Ensco's operating cash flow in the 2012 fiscal year was $2.2 billion. This compares very favorably to 2011's operating cash flow of $731.8 million.
The company raised its dividend 33% to $2.00 per share annualized.
Dam Rabun, Chairman, President and CEO of Ensco, was understandably pleased with these results. He stated in the announcement,
"The past year has been a remarkable period of growth for Ensco. We achieved record revenues and earnings as we added new ultra-deepwater rigs, increased utilization, and benefited from rising customer demand. During the year, we delivered ENSCO 8505 and ENSCO 8506, the final two rigs in the ENSCO 8500 Series, as well as ENSCO DS-6, our fourth Samsung DP-3 ultra-deepwater drillship. Each of these rigs has commenced work on multi-year programs for repeat customers, reinforcing the advantages of fleet standardization."
Mr. Rabun continued by discussing Ensco's growth potential going forward,
"Ensco's growth will continue as we complete the construction of six additional rigs that are scheduled for delivery through the end of next year. These rigs will provide future earnings growth and afford us the flexibility to invest further in our fleet while returning additional capital to shareholders."
The six rigs that Mr. Rabun refers to are the ENSCO DS-7, ENSCO DS-8, ENSCO DS-9, ENSCO 120, ENSCO 121, and ENSCO 122.

Source: International Hedges
As you can see, Ensco will add three floaters and three jack-up rigs to its fleet between now and the end of 2014. Of these, the floaters should be the most profitable. As you can see, only one of these floaters has already secured a contract, at a dayrate of $610-$640,000. This is right around the average dayrate for an ultra-deepwater drillship right now. However, it only costs Ensco approximately $180,000 per day to operate one of these rigs, inclusive of all costs except for depreciation and amortization. The remaining $430,000 per day after covering costs migrates down to EBITDA. This works out to $156,950,000 per year in maximum potential EBITDA just from this one rig. Ensco has two more yet that will also be accretive to revenues. If we assume that the ENSCO DS-8 and ENSCO DS-9 secure similar dayrates then the growth potential here is obvious.
Ensco still has a lot of work to do in the area of increasing its fleet utilization, although the company did make some progress over the last quarter. In the fourth quarter, Ensco achieved utilization rates of 83% and 87% from its floater and jackup fleets respectively. As floaters are much more profitable, this segment is more important and the company did see improvement here compared to the previous quarter. The company's floater segment only achieved 80% utilization in the prior year quarter. The utilization rate tells us how close the company came to achieving full capacity - the 3% increase in utilization means that the company's floater rigs spent more time operating than in the prior year quarter. The more time a rig spent operating, the more money Ensco made relative to what the company could have earned. Given the aforementioned profitability of floater rigs, this understandably provided a boost to the company's profits and is a good sign for shareholders if Ensco can maintain this rate or improve it further.
In my previous analyses of Ensco, I have criticized the company's utilization as not being on par with the best companies in the industry in this area. This is still true as some of its peer companies typically achieve utilization rates of over 90%. However, Ensco's utilization numbers were comparable to what Seadrill's (NYSE:SDRL) rigs achieved in the third quarter. Seadrill has a history of being one of the best performers in the industry so to see Ensco match it should be heartening to shareholders. However, it should be noted that Seadrill's third quarter was one of its worst ever in this area so Ensco still has a long way to go here.
Analysts are rather optimistic about Ensco's growth prospects. Zacks Investment Research expects that the company will see its earnings grow at a 24.87% rate this year and states that the stock is significantly undervalued at its present level. According to the analysts at the firm, Ensco trades at a remarkably low PEG ratio of 0.35. Analysts at Thomson Reuters also believe that Ensco will show strong EBITDA and earnings growth over the next few years, although it will certainly not have the strongest growth in the sector.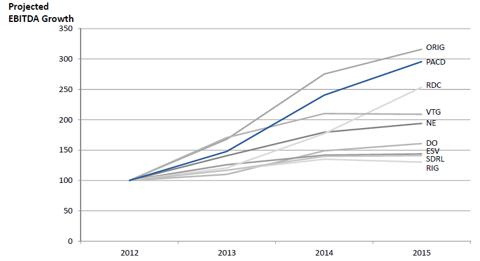 Source: Pacific Drilling
Ensco could also be a rather appealing play for dividend growth investors. As previously mentioned, the company announced a 33% dividend hike shortly following its conference call. That is the company's third dividend hike since 2010, which was the year that the offshore drilling industry began its current upswing (the Macondo disaster and resulting aftermath not withstanding). The company seems likely to continue to increase its dividends further going forward as the new rigs come online and increase its operating cash flow and net income. Ensco is not a dividend stock that an investor can buy and then forget about though, due to the cyclical nature of the offshore drilling industry. However, the industry's fundamentals look very good for the next few years as I have discussed in previous articles. This should make the stock rather appealing to these dividend growth or other dividend investors over that timeframe.
Disclosure: I am long SDRL. I wrote this article myself, and it expresses my own opinions. I am not receiving compensation for it (other than from Seeking Alpha). I have no business relationship with any company whose stock is mentioned in this article.