As housing recovers, investors should keep a close eye on real estate web portals Zillow (NASDAQ:Z) and Trulia (TRLA).
The two companies are enjoying growth from both subscriptions sold to real estate agents and display ads.
In January, I discussed the upside for real estate web portals, noting how Bank of America's (NYSE:BAC) mortgage settlement suggests normalizing markets and a shift away from courtrooms and back to finding, lending and securitizing mortgages.
The housing recovery is proving fertile ground for Zillow and Trulia.
Last quarter, Zillow's display ad sales reached $7.5 million, up 22% from a year ago. More importantly, sales of subscriptions to real estate agents, which generate 75% of revenue, surged.
In Q4, agents embracing premium web-based products lifted Zillow's subscription sales to $26.8 million, up 95% from last year. For the full year, an 87% increase in sales of Zillow's Premier Agent service helped Marketplace revenue increase 105% to $86.7 million. Combined with display ads, Zillow's total revenue grew 77% to $117 million in 2012.
Trulia notched similar results, with sales hitting a record $20.6 million in the quarter, up 75% year over year. Revenue from Trulia subscribers increased 90% to $13.9 million and ad sales were up 51%.
For the full year, Trulia's sales rose 77% to $68.1 million on a 104% increase in subscription sales.
The interest in both companies doesn't appear to be waning.
Subscription growth is rising sequentially too. Zillow's 87% year-over-year Premier Agent growth accelerated from 80% in Q3.
And, 45% more people were subscribing to Trulia at the end of Q4 versus a year ago, an increase from the 34% growth registered in Q3.
Additionally, Zillow's monthly unique active visitors grew 47% to 34.5 million in Q4. A trend which accelerated to 45.9 million active monthly users in January - a company record. At Trulia, monthly unique visitors were up 50% to 23.6 million in Q4.
This acceleration appears to have carried over into February.
The chart, from Google (NASDAQ:GOOG) Trends, shows Zillow is more actively searched than at any time in its history.

What's perhaps more intriguing though is Q4 is historically the weakest time of year for both companies.
So, as the home buying sales cycle shifts to the seasonally more active spring, investors should keep a close eye on both companies. Particularly, given short sellers are sitting on over 15 days of average volume short in Zillow and 13 days of average volume short in Trulia.
Source: E.B. Capital Markets, LLC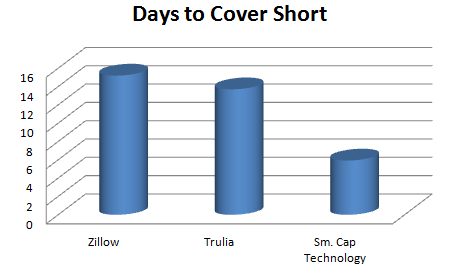 Disclosure: I have no positions in any stocks mentioned, but may initiate a long position in Z, TRLA over the next 72 hours. I wrote this article myself, and it expresses my own opinions. I am not receiving compensation for it (other than from Seeking Alpha). I have no business relationship with any company whose stock is mentioned in this article.