Whether you are new to dividend investing or you are a seasoned pro, it's likely that your main goal is to build a long-term portfolio that generates consistent income over time with as little volatility as possible. That said, over the next few weeks we will continue publishing our 10-part series which should help you build your own 6% DIY Dividend Portfolio for 2013.
In part 1, we highlighted the investment plan and strategy for the portfolio and parts 2-10 will highlight each sector in the S&P 500, including high-rated stocks within each sector that you should consider for your portfolio. Below is a schedule of the entire series. Please make sure to "follow" us so that you will be notified when each new article is published.
As we highlighted in Part 1, just because a stock has a high Parsimony composite rating, it doesn't necessarily mean that you should run out and purchase it that day. We believe that patiently waiting for a low-risk entry point for a given stock will drastically improve your long-term investment results. We call these entry points our "Buy Zones" and they are points at which long-term dividend investors should feel comfortable starting to build a position in the respective stocks. We focus on four key levels of support when determining a "Buy Zone":
Technical - Support from short and long-term trend lines (i.e, 10-week and 40-week moving average).
Volatility - Target correction levels based on historical volatility and maximum draw down.
Valuation - Support levels based on historical valuation multiple.
Yield - Support levels based on forward dividend yield.
We then average the low end and the high end of these key support levels to determine our target "Buy Zone."
It should be noted that this is how we determine our "Buy Zones," but there are no right or wrong answers here. We encourage investors to think hard about the key levels of support for their own stocks. What is the valuation level that you would feel comfortable buying a certain stock? What yield level makes sense for you? Also, you may want to add different parameters that fit your investment style better. The key takeaway here is that you establish a consistent process for determining a "Buy Zone."
Sample "Buy Zones"
Part 8a of the series highlighted some our top-ranked dividend stocks in the Industrial sector.

As a follow up to Part 8a, below are our target "Buy Zones" for each of these top-rated Industrial stocks.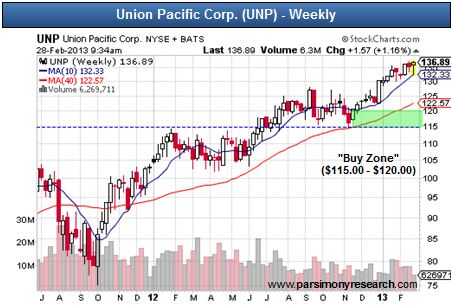 Union Pacific (NYSE:UNP) is up over 80% from its recent low in October 2011 and the stock is very close to a new 52-week high. That said, we believe that the stock has gotten ahead of itself and we are targeting a 15-20% pullback from current levels. UNP has paid dividends on its common stock for 114 consecutive years and the company has grown its dividend at a compound annual rate of almost 20% over the past 10 years.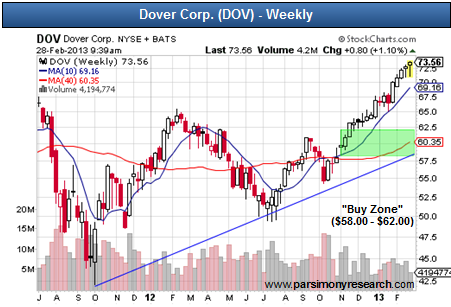 Dover Corp. (NYSE:DOV) is also very close to a 52-week high and the stock is up over 70% from its October 2011 low. As you can tell from the chart above, the stock has a relatively high beta and it tends to experience cyclical highs and lows. On a broader market pullback, we believe that the stock could test its 40-week moving average (~$60.00) and we would be a buyer around this level.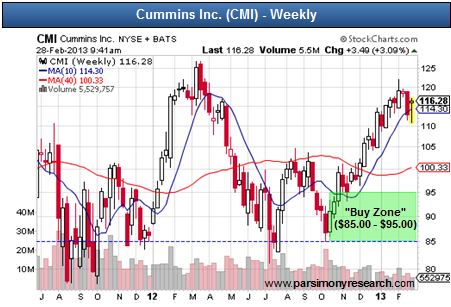 Cummins Inc (NYSE:CMI) has the highest beta of this group (1.95) and we think that investors should expect a good 25-30% correction in the stock. The $85.00 level has held as support during the last two dips in the stock and we believe that this would be a good low-risk entry point. Over the past 5 years, the company has grown its dividend at a compound annual rate of 34% and delivered shareholders a total return of 135%.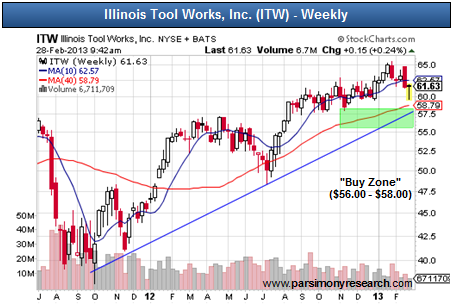 Illinois Tool Works (NYSE:ITW) has dipped a bit from its recent high, but we would like the stock to test its 40-week moving average before starting a position. ITW has the lowest beta of the group (1.16) and we think that a 12-15% total correction in the stock would be a good low-risk entry point. The company has grown its dividend at a steady compound annual rate of 8.6% over the past 5 years and it has delivered shareholders a total return of 47% over that period. Since peaking in 2007, its payout ratio has steadily declined to 30.1%, leaving room for future increases.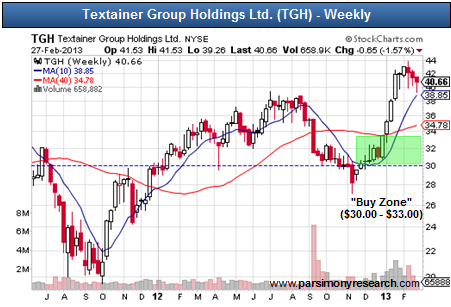 Textainer Group (NYSE:TGH) also tends to be relatively volatile and we recommend giving the stock a good 25-30% cushion. We actually bought TGH in our Model Portfolio back in November 2012 around $27.00 and we recently took profits around the $40.00 level. That said, TGH pays a great dividend (4.5%) and it is a solid investment at the right entry point.
Summary
Building a DIY Dividend Portfolio is a marathon, not a sprint. Don't put pressure on yourself to have a fully diversified portfolio overnight. The various sectors will offer good buying opportunities at different times - you just need to recognize them when they are there.
Disclosure: I have no positions in any stocks mentioned, and no plans to initiate any positions within the next 72 hours. I wrote this article myself, and it expresses my own opinions. I am not receiving compensation for it (other than from Seeking Alpha). I have no business relationship with any company whose stock is mentioned in this article.