The average share price of CEF fund types declined 10.0% for the month of February. National and single state muni bond funds averages were essentially flat for the month. During the month of February the S&P 500 dropped 10.7% as measured by SDPR S&P 500 ETF (NYSEARCA:SPY). Preferred CEF funds registered the largest monthly decline of 19.6% on the fear of creeping bank nationalization. As expected, domestic equity oriented CEF fund categories registered significant losses in sympathy with the equity markets.
For purposes of February comparison, Vanguard Total Bond Market ETF (NYSEARCA:BND) was down 0.6%, while the muni ETF, iShares S&P National Muni Bond Index Fund (NYSEARCA:MUB), was up 0.5%. The SDPR Gold Shares ETF (NYSEARCA:GLD) advance modestly to 1.4%, while oil prices, as measure by the United States Oil Fund (NYSEARCA:USO), was down 7.4%.
click to enlarge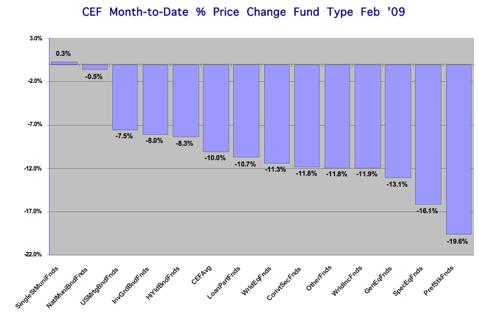 Click to enlarge
On average, the CEF "Fear Factor" in February was evident as CEF share prices dropped 4.9% more than their respective NAVs fell. Eaton Vance Insured New York Muni Bond Fund II (NYSEMKT:NYH) was one of the bigger gainers, advancing 14.2%. DWS RREEF Real Estate Fund II, Inc. (SRO) was one of the biggest losers, down 44.4%.