By Jay Peroni
Every four years, the world stops to watch the winter and summer Olympic Games, as individuals and teams compete to take home the gold medal for their respective countries. Though the goal is to bring home the gold, silver and bronze medals, the simple chance to participate in the games is still quite impressive.
In the investing world, I like to compare the remarkable Olympic athletes to the stocks that comprise the consumer-staple sector, one of the safest sectors to invest in during the past five years. Stocks like General Mills (NYSE: GIS), Kraft Foods (NYSE: KRFT), Colgate-Palmolive (NYSE: CL) and Procter & Gamble (NYSE: PG) are true winners, having offered better returns with less volatility and risk than the benchmark S&P 500 Index. In addition, this group of stocks has also a strong track-record of providing higher yields and dividend increases.
And within the sector, there is one particular stock taking home gold and silver medals as it holds the No.1 or No. 2 position in the key categories in which it competes. Four of the firm's brands generate more than $1 billion in sales annually. Though its product line may appear quite boring with diapers, tissues and toilet paper making up the majority of the company's sales, it has been consistent and delivered impressive profits during the past few decades.
But even being successful, many companies stumble and lose their shine. Just like an aging worn-out athlete, sometimes it makes sense to replace these companies when they are past their prime.
Could this be the case with Kimberly-Clark (NYSE: KMB)?
Take a look at Kimberly-Clark's impressive run since 2009...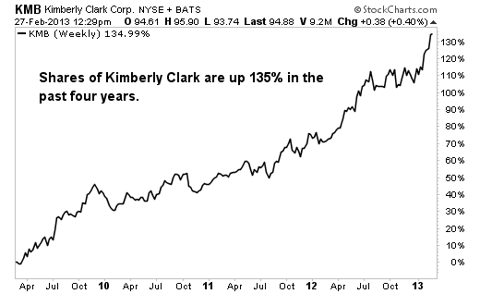 Despite a challenging economy, Kimberly-Clark has put up superior results during the past five years. To its credit, it has a top-notch management team dedicated to exit lower-margin business lines in pursuit of top-line results. This strategy has paid off handsomely in these hard times. Not to mention, the stock endures well during recessions, after all, people will always need toilet paper and babies will always require diapers.
But today, there are a number of headwinds for Kimberly-Clark. For the past three years, birth rates have declined 8% in the United States. Needless to say, fewer babies equals fewer diapers sold, which has hurt the company's Huggies diaper brand. In addition, Kimberly Clark's product portfolio has few opportunities for product innovation. This is not a problem for newer markets, but could pose a great challenge in more mature markets.
Here are two cases for and against this stock...
Why consider holding
Kimberly-Clark has an enterprise value/EBITDA ratio of 8.7, which is also a measure to determine a company's fair value. Along with a free cash flow yield of 6.6%, these two numbers are quite impressive. Clearly, the company has been able to grow fast even in a recessionary environment.
Kimberly-Clark is strong from a financial perspective, too. Revenue in 2012 came in at an impressive $21.1 billion, which was a 5% organic growth year over year. Earnings per share were $5.25 compared with $4.80 in 2011. The company has an impressive ability to use its huge amount of cash, which exceeded 10% of sales in 2012. This allowed it to reinvest the excess cash into growth opportunities. Sitting on large sums of cash could also lead to higher dividends or additional share repurchases in the future.
We at StreetAuthority like to call these "Dividend Vault" stocks.
Speaking of dividends, Kimberly-Clark has a 75-plus year track-record of paying dividends, with a current yield of about 3%. And based on management's current plans, the company should continue to raise its dividends each and every year in the 5-8% range through at least 2016.
Kimberly-Clark has repurchased about 3% of its shares each of the last five years, and this trend should continue until at least 2018. Its debt-to-capital ratio is low at 0.5, while operating income covers interest expenses nearly nine times. Its credit rating of "A" implies low default risk and amazing stability.
Why consider selling
Consumer sentiment has been quite challenging, particularly in developed markets, and this trend has not improved much, even with the recent economic recovery. This is because of persistent high levels of unemployment and higher tax rates in the United States, which has hurt consumer budgets. So despite being market leaders, its Huggies, Kotex and Kleenex brands are quite vulnerable to consumer trade-down.
Further compounding the problem, the company also intends to exit most of its lower-margin tissue and diaper operations in Western and Central Europe. This hit will be about $500 million less in annual sales, lowering the company's growth outlook.
In addition, input costs are a major concern as it is the key component of Kimberly's cost structure. This means the company depends heavily on consumer discretionary spending for higher margins on its premium products. As inflation heats up, however, margins get suppressed. The competition from Procter & Gamble and other private companies is fierce, making it difficult for the company to continue building market share. With about 45% of sales coming from overseas, foreign exchange rates, and unstable political and economic conditions pose ongoing risks to Kimberly-Clark's bottom line.
Finally, at its current valuation of 21 times trailing earnings (and a stock price in the mid-$90s), Kimberly Clark appears quite overvalued. The stock has been valued at about 15 times earnings on average during the past 10 years.
Despite the strong bear case for this stock, Kimberly-Clark is still an attractive company. But it's currently overvalued at $91 a share. I suggest waiting for a pullback to $80 before adding this to your portfolio. If you are long, I would hang in there and only sell if the stock hits about $100.
Disclosure: I have no positions in any stocks mentioned, and no plans to initiate any positions within the next 72 hours. I wrote this article myself, and it expresses my own opinions. I am not receiving compensation for it. I have no business relationship with any company whose stock is mentioned in this article.