January subscriber data for China Mobile (NYSE:CHL), with new adds of 4.4 million, is sending two messages:
1. Market share of new adds remains low, 41% in January and averaging 38% over the last three months - half the level of four years ago. The result is a steady erosion of China Mobile's previous market dominance - overall market share is now down to 63.8% and falling at about 0.2% per month.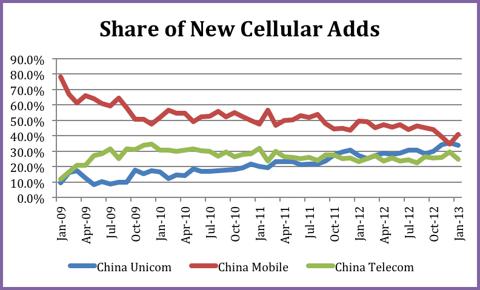 Click to enlarge
2. China Mobile has finally joined the 3G party. New 3G adds in January were 7.1 million, meaning that 2G numbers dropped by 2.7 million, only the second month to see them fall.
Click to enlarge
On the face of it, the company's jump in 3G subscribers shows that it is managing fine, despite its use of TD-SCDMA 3G technology - unknown outside China - and its lack of access to iPhones in the absence of agreement with Apple (NASDAQ:AAPL).
I look at this differently, however. To me the 3G figures just show that the market is now all about 3G. There is no room left for 2G in China, and certainly not at the high end of the market, which China Mobile used to dominate. The market share statistics reveal that Mobile is missing out because it can't offer the iPhone. The launch of the iPhone 5 in December saw two million units sold over the first weekend. None of them, officially at least, are on the China Mobile system.
So what does that mean for investors in China Mobile? If the current patterns continue China Telecom (NYSE:CHA) and China Unicom (NYSE:CHU) will build market share and establish themselves securely at the top of the market.
Things are not likely to stay the same, however. China Mobile Chairman Xi Guohua this week announced plans to roll out its 4G LTE network to 100 cities with a total population of 500 million by the end of this year. Four handset makers have already committed to supply equipment: LG, HTC, Huawei and ZTE. Media reports suggest Samsung is also on board. Adding a deal with Apple would provide the final element for China Mobile's re-launch.
Apple CEO Tim Cook met Mr Xi in China last month. Under pressure himself to show where Apple's future growth will come from, he has every incentive to conclude an iPhone deal with China Mobile.
I estimate China Mobile's 2013 PER at about 11x (and clearly in single digits if adjusted for net cash close to $60 billion as at June 2012), with a secure dividend yield of 4%. Those valuations already price in what are seen as lacklustre prospects, providing scope for interesting gains when the Apple deal is finally announced.
Disclosure: I am long AAPL, CHL. I wrote this article myself, and it expresses my own opinions. I am not receiving compensation for it (other than from Seeking Alpha). I have no business relationship with any company whose stock is mentioned in this article.