When you think of General Electric (NYSE:GE), what do you think of first? Electric? The light bulb? Jet engines? Windfarms? Locomotives?

oil and gas? To be blunt, all of the above is appropriate - perhaps this is what it means to be an iconic conglomerate. The scope of GE's capabilities are indeed daunting, as GE Industrial is expanding into formally unthinkable niche markets across the globe, especially new industries. One such market that surprised me was GE's strong presence in water treatment, a business some think has a strong future.
As water demand has increased 6 fold in the past century, about 20% of fresh water is gulped down by factories, power plants, refineries and other industrial facilities. In the U.S., industrial businesses amount to 45% of all water used, while just 6% is recycled. This is a huge opportunity for GE. View the "Water Video" from GE's Website:
Did you know:
GE operates the world's largest fleet of mobile water treatment systems, which can be used in emergencies, prevent spills, and offset production losses in times of shutdowns.
Today, GE is involved in more than 500 water recycling projects which treat more than 1 billion gallons of water per day, or 0.85% of the world's daily use.
GE is setting the example...Between 2006 and 2010, the company reduced its water usage by 11.9 billion gallons, or 22%.
Water Projects:
Deep in the Persian Gulf just adjacent to the hot sands of the Arabian Desert, lies a prospering city called Abu Dhabi. This place was once just a tiny village and the primary resource was pearl-diving. However times have changed, since oil discoveries have paved the way for immense growth, and it is currently the capital of the United Arab Emirates. With oil literally fueling Abu Dhabi's population growth and supporting industries, the lack of fresh water has become the number 1 challenge facing this flourishing city.
GE is working with local authorities to build the world's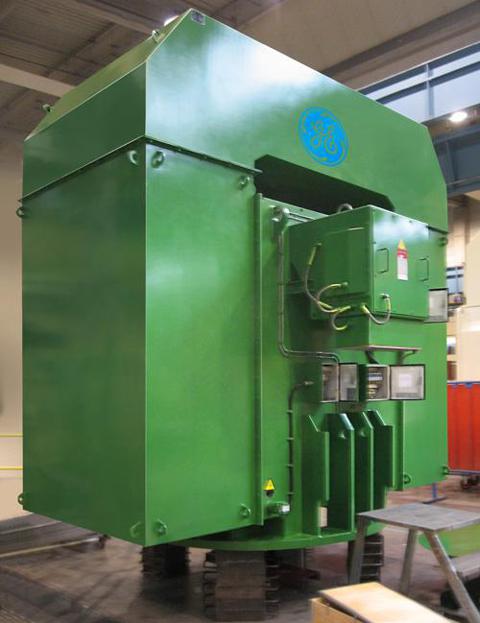 largest water treatment plant that will quench the city's increasing thirst. The plant will push water through huge pipes 20 stories deep underground. Needless to say, GE's pumps will have to push all of this water upwards, so GE engineers designed 8 custom-made electrical motors capable of pumping enough sewage to fill 28 Olympic swimming pools (70,000 cubic meters) per hour. The new water treatment system, called Strategic Tunnel Enhancement Program (STEP), should be completed by 2030. At full capacity it will handle 1.7 million cubic meters of wastewater each day.
With some 400 GE gas turbines and dozens of power generators providing 55% of Algeria's electricity, GE is no stranger to the 4 million people living in Algiers, the capital of Algeria. "GE is a leader in the power generation sector in Algeria, but we are not finished," Claims Ali Nouioua, a GE Power & Water, manager based in the city. Nouioua says that the country wants to double its electricity generation capacity in the future, however the current focus is apparently on water infrastructure, including sewage treatment.
Five years ago, GE built the first desalination plant in Africa- a process which removes salt and other minerals from unusable water. The plant now supplies Algiers with 53 million gallons of clean water each day, supplying 25% of the city. GE supplied the desalination technology, and holds 70% ownership of the facility. (Ali Nouioua is the plant's manager.)
It seems GE has its foot in the door so to speak, and there is plenty of additional opportunity, especially since Algeria plans to improve its sewage management systems. "Before long, all wastewater will have to be processed rather than going into the sea," Nouioua says. "There is a big opportunity." The water treatment facility in Algiers has since become the poster child for many other water treatment facilities up and down the highly populated Algerian coastline. "(The plant) is something that links us to the society," Nouioua says. "People don't see just water, they see GE."
Summary:
The natural increase in demand for clean water is an undeniable destiny across the globe. In consideration of GE's involvement in over 500 water recycling projects, they seem to have a great start in this small yet growing industry. Utilizing existing relationships, GE should be capable of capturing additional impressive projects in the future, similar to those in Algeria and Abu Dhabi. Treating over 1 billion gallons of water per day, or 0.85% of the world's daily use, there seems to be ample opportunity in this niche market.
Disclosure: I am long GE. I wrote this article myself, and it expresses my own opinions. I am not receiving compensation for it (other than from Seeking Alpha). I have no business relationship with any company whose stock is mentioned in this article.
Additional disclosure: I am long GEB