Deckers Outdoor (NASDAQ:DECK) continues to its journey back from its recent journey to the doghouse. The iconic maker of Uggs saw shares rise to near $120 a share in late 2011 only to plunge to $30 a share a year later. Since then the company has been on the long road back to its previous status and is now trading in the low 40s. The company provided an earnings report Thursday that should allow it to take the next leg up.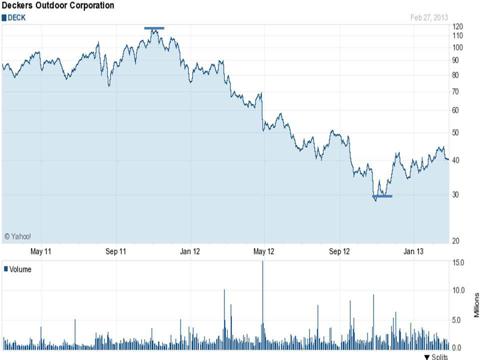 Click to enlarge
Positives from Decker's earnings report:
The company reported earnings of $2.77 a share, 15 cents above consensus estimates.
E-commerce sales were up more than 30% Y/Y to over $87mm.
Ugg sales are recovering and were up almost 3% Y/Y in the quarter. They were down almost 2% for the year.
International sales were a bright spot in the report and increased 15.6% to $170.5 million compared to $147.6 million for the same period last year.
Not a great report compared to some other retailers, but given how low expectations are for the company, this report should provide a significant boost to the shares in tomorrow's trading.
Four reasons DECK still has upside from $40 a share:
The stock sells at less than 11x forward earnings, a discount to its five year average (14.1). The company purchased over $200mm in shares in 2012 and has another $80mm available under its current repurchase program.
Even with the rise off the bottom, DECK still sells near the bottom of its five year valuation based on P/E, P/B, P/CF and P/S.
It is making good progress on sales in its retail divisions. Sales were up over 30% in 2012 to just under $250mm for the year after opening 30 stores since year-end 2011.
The company expects a sales increase of 7% in FY2013. Overall the company is doing well, executing against several initiatives. I believe the stock still makes sense as a turnaround story. However, given its small capitalization (Under $2B including debt and 20% takeover premium), iconic brand and valuation (1x revenues). I would not be surprised if a larger player became interested in Deckers as an acquisition target.
Disclosure: I am long DECK. I wrote this article myself, and it expresses my own opinions. I am not receiving compensation for it (other than from Seeking Alpha). I have no business relationship with any company whose stock is mentioned in this article.