1. From the National Restaurant Association today:
Driven by a more optimistic outlook among restaurant operators, the National Restaurant Association's Restaurant Performance Index (RPI) rose to its highest level in five months. The RPI -- a monthly composite index that tracks the health of and outlook for the U.S. restaurant industry -- stood at 100.6 in January, up 1.0 percent from December and its highest level since August 2012 (see red line in chart [below]).

In addition, January represented the first time in four months that the RPI rose above 100, which signifies expansion in the index of key industry indicators. The Expectations Index, which measures restaurant operators' six-month outlook for four industry indicators (same-store sales, employees, capital expenditures and business conditions), stood at 101.6 in January -- up 1.3 percent from December's level. January's solid gain was driven by improvements in each of the forward-looking indicators, and resulted in the highest level for the Expectations Index in eight months (see blue line in chart [below]).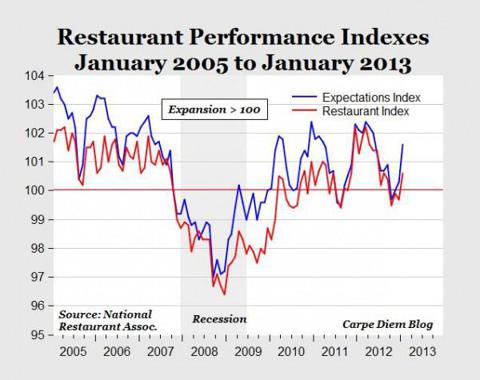 2. The American Association of Railroads reported today that total U.S. rail traffic for the week ending last Saturday (516,142 carloads and intermodal units) was up by 4.1 percent compared to the same week last year. Rail shipments of petroleum products (13,906 carloads) last week were up by 66.4% compared to last year, and total rail traffic year-to-date is up by 0.6% compared to 2011.
3. The St. Louis Fed reported today that its weekly Financial Stress Index -- which is calculated from 18 weekly data series that include seven interest rates, six yield spreads, and five other financial variables that measure financial volatility (CBOE volatility index and Merrill Lynch Bond Market Volatility Index, etc.) -- was -0.587 as of last Friday (lower readings indicate less financial stress). That's the seventh week in a row that the Financial Stress Index has been below -0.50, which hasn't happened since the pre-recession days druing the summer of 2007, more than five years ago (see chart below).