Mongolia has revoked the licenses for a key section of Rio Tinto's (NYSE:RIO) Oyu Tolgoi copper-gold mine. This huge copper and gold facility is the largest capex investment that Rio Tinto has ever made. The mine is just coming into production and the first of a 60+ year supply of high-grade copper and gold ore has been processed. Full production was to begin shortly.
What does this mean for the already troubled Rio Tinto?
In an earlier article, Mongolia In Partnership With Ivanhoe Mines And Rio Tinto, I gave an overview, including a video, of the huge undertaking. It has not gone smoothly. Negotiations have been going on recently concerning Mongolia's desire to change the terms and conditions of the arrangement. The government would like to have a larger share of the corporation, be the controlling stockholder and collect a much larger share of the profits. Newly elected officials who are extreme resource nationalists are driving this perspective.
Tsakhiagiin Elbegdorj is now the president of Mongolia, and he is the force behind the issue. He drew up laws for parliament's approval, which would put new restrictions on foreign miners. Rio Tinto holds a controlling interest in Turquoise Hill Resources (NYSE:TRQ), which holds 66% of Oyu Tolgoi.
Rio Tinto's new chief executive Sam Walsh, promised investors "no growth for growth's sake," as the mining giant posted a $2.6 bn annual loss, its first ever.
The telegraph reported today, Rio Tinto's profits fell as it recorded billions of write-downs in its annual results. The balance sheet pain came as the FTSE 100 company's revenues dropped to $51bn from $60.5 bn the previous year, amid falling commodity prices.

Rio also recorded close to $14 bn of write-downs, which cost former chief executive Tom Albanese his job when they were announced last month. At the same time, capital expenditure rose by 42 pc to reach a peak of $17 bn.

Together, these factors meant the company swung to a pre-tax loss of $2.6 bn for 2012, against a $13.2 bn profit the year before.
President and CEO Walsh is quick to point out that his credentials are as an experienced mining operator rather than a deal-maker. His thrust, he says, will be on shareholder value.
In addition to appointing Walsh, Rio Tinto recently named Christopher Lynch, a former BHP Billiton Ltd. executive, as chief financial officer to replace Guy Elliott. There has been quite a purge of mining executives in the past few months. I covered this in a recent article, A Sea Change in Mining. The subtitle to this article was, 1 Stock to Buy, 1 to Sell and 2 to Hold. Rio Tinto was the stock I recommended as a "Buy."
It is time to update that buy recommendation now, and change it to a "Hold." If I owned the stock, I would put a stop loss order at $48, about 8% off today's close and tighten that stop on more bad news.
The Basic Material Sector is down the past few months and miners in particular have had a very hard 6 months. The issues of resource nationalism, as in Mongolia, have been part of the problem. Investors are up in arms about the amount of capital expenditures miners were making in this soft market. The Growing Disconnect In Mining: Investors At Odds With Management.
Rio just had its worst year ever, and the current and ongoing problems in Mongolia can only make things worse. It remains to be seen how much of a disaster the Mongolian situation will be.
On Wednesday, RIO opened down on an 80 cent gap, but more than regained its loss and closed higher. Today, it once again dipped on the open, and closed slightly down at $53.64, 0.26 off yesterday's close.
This company that pays a dividend of $1.87 just posted earnings of -$1.67. One must pose the question - will they keep paying the high yielding dividend?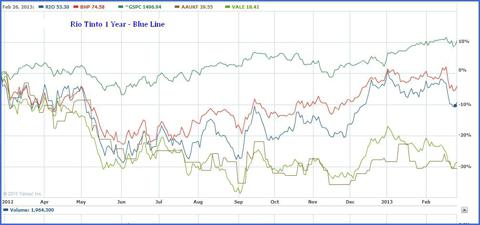 Please do your own careful analysis before buying or selling any stock. The strategy outlined above is one of many which might be implemented. Some might be inclined to buy on a dip.
Disclosure: I have no positions in any stocks mentioned, and no plans to initiate any positions within the next 72 hours. I wrote this article myself, and it expresses my own opinions. I am not receiving compensation for it (other than from Seeking Alpha). I have no business relationship with any company whose stock is mentioned in this article.