For anyone still caring to listen to Cramer's recommendations, we present the case of Foster Wheeler (FWLT), which Cramer said was a "buy, buy, buy" at $80, and mentioned it about 20 times over the past year on its ceaseless way down as one of his all-time top picks. Please indulge in the company's 1 year stock chart below (click to enlarge). As Cramer said early last year "many of you say 'the stock is at [$75 post split] it's over': Stay tuned - there's much more ahead"... Oh yeah, Jimbo, much more pain and destruction ahead.

Indicatively, it closed yesterday at $12.88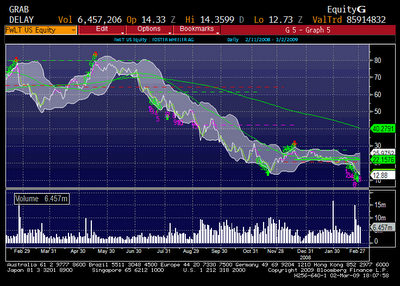 We love Cramer as an entertainer: he was fabulous on that one episode of Arrested Development. However, people, please... do not trade based on his show. On his February 27th episode of Mad Money (of which we have been trying to find the clip unsuccessfully), he said he was the only person who in 2008 was warning that people should run from the market... Say WHHHAT?

Anyway, we did find a clip of his sentiment on FWLT. For all who got caught in this slomo trainwreck per his advice, our condolences.



And another clip... this one of truly Chinese piracy quality.