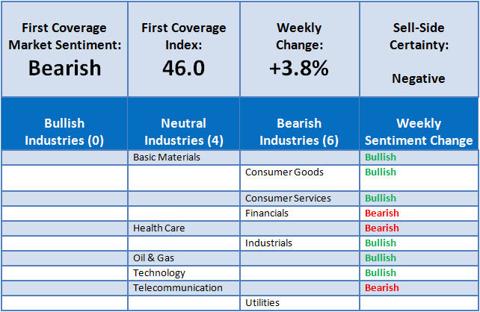 Click to enlarge
The wonderful thing about Tiggers is Tiggers are wonderful things!
The wonderful thing about this market, if there is anything wonderful about this market, is that right now the sell-side is suggesting it's about to pull a Tigger…bounce like a Super Ball and shortly look better than it currently does.
In short, it's time to get long.
Just over two weeks ago, First Coverage's Sell-side Sentiment underwent a noticeable week-over-week decline. The following week, the decline was three times as large. Since that first bearish indication on February 13, the S&P 500 has fallen more than 15%.
Don't say we didn't warn you!
But now, and this is the first time we've said this in over a month, things have stabilized on the sentiment front.
We have always mentioned that it's not so much the level or the direction of the sentiment that matters as much as the change in the level or the direction of the sentiment. Right now, sentiment has stopped getting increasingly bearish and has actually demonstrated a mild bullish tone.
It's far too early to call a short-term bottom; but there has been enough unique activity in enough different industries to clearly indicate something is brewing. Technology, the industry that has served as a precursor to almost every dead cat bounce that most of us can recall over the past decade, has seen the greatest bullish sentiment shift over the last week. It appears that the sell-side is telling their clients to go where the odds are they will get the biggest bang for their bullish pop.
Other industries that have demonstrated marked bullish sentiment shifts in their sentiment levels over the last week include Industrials (the proxy for the economy) and Consumer Goods & Services. (Now that they've saved 5% for a whole month, it's definitely time to go spend that money somewhere.)
It's not simply that there is a bullish sentiment percolating through the market, but it's that the bulls are congregating in areas that have been ignored, shunned and despised for months if not quarters now.
So, with all that said, here are two observations on what is really going on here.
Firstly, no matter how hopeful people are for a short-term bounce, it's telling that even now, the sell-side isn't suggesting that the buy-side entertain notions of getting into Financials.
Secondly, there is no way, at this stage at least, to assume this is anything other than the sell-side positioning their clients for a short-term bounce. Overall sentiment levels for the market are still bearish. There are no industries with long-term bullish sentiment yet, and these turns in sentiments are derived from numbers that are at, or near, all-time lows since we've been keeping records.
That said, this action is eerily similar to what we've witnessed prior to the few dead cat bounces that have managed to cobble themselves together during the last 15 months of this market and more importantly, upon which many institutional investors have made their only recent profits.
While the economy continues to sputter, it definitely doesn't mean that the sell-side has given up the hope of making money for their clients, and for this week…starting right now, they are suggesting that money is to be made by taking a long position…if only for the short term.
Until next week …