When I first discussed Sony (NYSE:SNE) in detail on May 30, 2012, I said that "Sony could be worth between $40 and $50 per share or over 3 times its current valuation levels in a few years." In an article on September 28, 2012, I wrote that Sony and Barnes & Noble (NYSE:BKS) are two struggling companies that need a restructuring. Sony recently sold two of its largest real estate holdings, its 550 Madison Avenue building in New York City and one of its major buildings in Tokyo, raising combined proceeds of about $2.3 billion. This could be the first step towards larger corporate restructurings at Sony. And earlier, on June 27, 2012, in another article I wrote that Sony's entertainment business is doing well and could be the catalyst that Sony needs. Indeed, in October of last year, CBS CEO Les Moonves indicated he is interested in Sony Pictures.
Importantly, Sony's common stock price could still reach a $44 to $50 per share range based on a sum of the parts analysis (discussed later) after appreciating over 10% for the nine months since May 30, 2012. Compared to other competitors, Sony's stock did not deviate too much from the S&P 500, which was up 15.4% during this period. For example, the share prices of some of Sony's peers saw a lot more turbulence in the past nine months (see graph). Apple (NASDAQ:AAPL) and Canon (NYSE:CAJ) declined by about 23% and 11%, respectively, while Lions Gate Entertainment (LGF) and Philips (NYSE:PHG) stock prices were up about 63% and 61%, respectively. Only Panasonic (PC) and the U.S. dollar versus the Japanese yen, which rose by 12% and 15%, respectively, performed in unison with Sony. This article will take a detailed look at Sony's valuation and its different segments and compare them to some of its peers.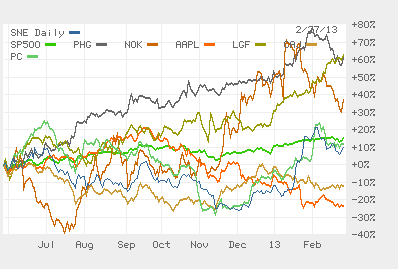 Valuation and Fundamentals
Sony recently raised 150 billion or $1.67 billion in a zero coupon convertible offering with a conversion price of about $10.63 and due in November of 2017. Sony plans to use the proceeds to pay debt and expand in image sensors. Excluding potential dilution from this convertible offering, currently, Sony has about 1 billion shares outstanding for a market capitalization of $14.5 billion and an enterprise value of $14.8 billion.
Sony should generate about $73 billion in sales and $1.4 billion in operating income during its fiscal year ending March 31, 2013, according to the company's estimates. This gives a price-to-sales ratio of 0.2 and a price-to-operating income of 10.4. For comparison, Apple, Panasonic, and Canon trade at price to sales ratios of 2.5, 0.2, and 1, respectively. With the exception of Panasonic, these valuations are much higher compared to that of Sony, mostly due to Sony's inability to produce profit and the decline in some of its core products. Below is a table comparing some valuation measures and fundamentals for Sony, Apple, Panasonic, and Canon together with the S&P 500 Index.
| | | | | | |
| --- | --- | --- | --- | --- | --- |
| | SNE | AAPL | PC | CAJ | S&P 500 |
| Operating margin (OM) | 1.9% | 33.5% | -2.9% | 9.3% | 15.5% |
| Market Capitalization | $14.5B | $418B | $16.6B | $42.5B | $13,550B |
| Enterprise Value | $14.8B | $378B | $29.1B | $33.1B | n/a |
| Price-to-Op. Income | 10.4 | 7.6 | n/m | 13.3 | n/a |
| Dividend Yield | 2.2% | 2.4% | 0.9% | 4.2% | 2.3% |
| Beta | 1.6 | 1 | 1 | 1 | 1 |
| Price-to-CFO | 2.5 | 7.3 | 23.4 | 8.7 | n/a |
| Employees | 162K | 73K | 330K | 198K | n/a |
Source: SEC filings, Thomson Reuters, Capital IQ, Wikipedia, author's calculations. CFO - cash flow from operations. An exchange rate of USD $1 per JPY ¥90 has been used throughout the article.
As seen from the above table, Sony has better profitability as measured by its operating margin than Panasonic, but it significantly lags Apple and Canon. On a price-to-CFO basis, it has the lowest valuation. This signifies Sony's ability to generate cash despite its profitability problems. In addition, it has the highest beta compared to the S&P 500. This means that over the long term the company's stock price is more volatile than the S&P.
Sum of the Parts
The majority of Sony's divisions have negative operating margins, and it makes sense to compare them based on price-to-sales of some major competitors. Sony is divided into the following major segments:
Imaging Products & Solutions - digital imaging (digital and video cameras) and professional solutions (broadcast and professional products); new products feature wi-fi, watreproof, high-zoom, intelligent flashlight, 360 panoramic shooting for digital cameras and versatile handycam for camcorders.

Game - includes Playstation gaming platform; in a recent event in New York City, Sony revealed its next generation Playstation 4.

Mobile Products & Communications - this segment is comprised of mobile communications (cell phones) and personal & mobile products (computers and tablets). Sony has a range of devices including Android-based phones and tablets and also Windows 8 laptops.

Home Entertainment & Sound - includes TV sets and home audio (blue-ray players and recorders and memory based portable audio devices); a new product is the first ever 4K OLED TV (resolution of 3840x2160) with a 56-inch monitor and using the most advanced oxide semiconductor TFTs (thin film transistors) and Sony's proprietary 'Super Top Emission' technology

Devices - includes semiconductors (image sensors) and components (batteries, recording media, and data-recording systems).

Pictures - includes the movie and television networks business. Sony Pictures is a top studio as evident in its Oscar nominations and awards (it was the studio behind Zero Dark Thirty, the controversial movie about torturing of Iraqi detainees). In addition, Sony is rumored to be developing a multichannel service streaming of TV over the internet (something CBS and Les Moonves won't like).

Music - The largest publisher of music in the world.

Financial Services - Sony Life Insurance, Sony Assurance, and Sony Bank.

Other - includes the medical devices, disc manufacturing, and network businesses.
Below is a table that estimates the per share value of each segment based on a price-to-sales ratio of a company operating in this business.
| | | | | |
| --- | --- | --- | --- | --- |
| Segment | FY2013 Sales (est.) in US$ | Comparable Company | Comparable Company's Price-to-Sales | Fair value per SNY share based on FY2013 sales and comparable company price-to-sales |
| Imaging Products & Solutions | $7.33B | Canon | 0.2 | $1.47 |
| Game | $6.6B | Nintendo (OTCPK:NTDOY) | 1.55 | 10.23 |
| Mobile Products & Communications | $12.46B | Nokia (NYSE:NOK) | 0.36 | 4.49 |
| Home Entertainment & Sound | $11B | Panasonic | 1 | 11 |
| Devices | $9.52B | Panasonic | 1 | 9.52 |
| Pictures | $7.33B | Lions Gate Entertainment | 1.1 | 8.06 |
| Music | $4.4B | Live Nation (NYSE:LYV) | 0.34 | 1.5 |
| Financial Services | $8.8B | Capital One (NYSE:COF) | 1.8 | 15.84 |
| Other | $5.86 | Sony | 0.2 | 1.17 |
| Total | $73.3B | | | $63.27 per share |
Conclusion
Sony recently traded at about $14.60 per share, a significant discount to my fair value estimate of $63.27 per share. Assuming a 20%-30% margin of safety, Sony's common stock could reach the $50-$44 per share range. Sony is currently undergoing a restructuring that includes a sale of assets as well streamlining of its businesses. For example, its segments do not operate any more like silos but rather they share ideas and know-how among each other on a global basis. As the integration and restructuring efforts continue, the market should recognize the potential that this iconic company has and the stock price should rise.
Disclosure: I have no positions in any stocks mentioned, and no plans to initiate any positions within the next 72 hours. I wrote this article myself, and it expresses my own opinions. I am not receiving compensation for it (other than from Seeking Alpha). I have no business relationship with any company whose stock is mentioned in this article.