Wells Fargo (NYSE:WFC) is an American national bank with a huge love for mortgages. Having survived the crash of 2008 and adding Wachovia to its arsenal; WFC is set up in a great place. Since emerging from the crash the company has continued to produce fantastic profits in the finance industry.
Fundamentals
WFC reported its earnings in January. The current EPS stands at $3.36 a share. WFC saw year-over-year quarterly earnings growth of 23.90%. WFC achieved this growth with the help of the recovering housing market.
At a price of $35.08 (Thursday's close) and using current earnings, the company is trading at a P/E of 10.44. The annual growth for the next 5 years is estimated at 10.10%. This gives us a PEG of 1.03. From the PEG we get a "Fair market price" based on growth of about $34.05. Based on growth the stock is currently priced over by about one dollar.
Graham Number
Now that we see WFC is priced around its growth price let's look at the Graham Number. I know Graham has many other criteria in selecting a stock. However, at a quick glance the Graham Number alone is an excellent tool to gauge the value of a stock.
Square root of (22.5 x Earnings per Share x Book Value per Share)
Or Square root of (22.5 x 3.36 x 27.66) = $45.73
From this we get a Graham Number of $45.73. Conservatively, from a value standpoint, this is the most that should be paid for this stock. Currently, based on the Graham Number the stock has a 30% upside.
Concerns
After the market collapse of 2008, people simply still do not trust banks. This may be why the growth prospect of WFC is so low.
Technicals
WFC hit a 52 week low on June 4th at $29.80 a share. Later WFC hit a 52 week high of $36.60 on September 14th; WFC has come back down since the high. It is currently floating between high 34's and low 35's.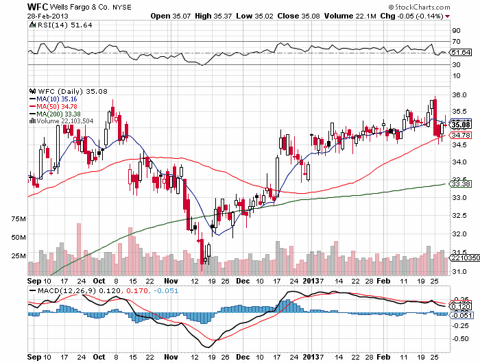 Conclusions
To pick a stock I first look at the fundamentals of a company. Is the company making money and will it continue to do so in the future at a reasonable growth rate? I also check the Graham Number. If a price is considerably above the Graham Number I move on to the next candidate. I like to see the Graham Number lower than the PEG growth number. It shows me that the stock is still growing. I like it even better if the current price is below the Graham Number, the more conservative of the two. There are other things I look at but these are usually the first two.
I then look at the chart and try to gauge when a good time to buy is. I know I'm not going to buy the absolute bottom, but I'd like to come as close as possible. I also do not want to try and chase the stock as its rising or catch a falling knife.
WFC is a great long term investment that has great potential. The PEG is higher than the current price. On a nice pullback to around its 200 SMA (daily) or $33.38; would be a nice entry point. Two things to consider pertaining to growth with WFC; first, a dividend of $1.00, recently increased 14% after approval from the FED. Second, a handsome buyback, 200 Million shares or roughly 3.7% of float was announced late last year. These are two factors that can substantially add up over the long term.
WFC is trading considerably below its Graham Number. Also taking into account WFC has a one year expected price target of $39.28. At current levels there is a potential 12% upside. Factoring this in with a growing dividend and a share buyback that I suspect will continue, WFC is a solid stock for the long-term investor.
I have expressed only some of the criteria I use to decide if a stock is right for me. I always recommend conducting one's own research before making any investment decisions.
Disclosure: I have no positions in any stocks mentioned, and no plans to initiate any positions within the next 72 hours. I wrote this article myself, and it expresses my own opinions. I am not receiving compensation for it (other than from Seeking Alpha). I have no business relationship with any company whose stock is mentioned in this article.