Sandstorm Gold (NYSEMKT:SAND) is a gold streaming company that has been developing in leaps and bounds since listing on the New York Stock Exchange in August 2012. The business model of streaming is described on their web site as follows:
Sandstorm provides upfront financing for gold mining companies that are looking for capital and in return, receives a gold streaming agreement. This agreement gives Sandstorm the right to purchase a percentage of the life of mine gold produced, at a fixed price.
Sandstorm Gold can be described as a non-operating gold-mining company, or it can be viewed as a venture capital provider for aspiring or producing precious metal miners. Their present market capitalization is $823.6M, their P/E ratio is 37.6 and their operating cash flow is $37.6M for the trailing 12 months. However, judging Sandstorm on these metrics means doing them little justice since a large portion of their valuation is coming from future prospects.
Sandstorm Gold currently has five producing gold streams including streams from solid performers like the Black Fox Mine operated by Brigus Gold (BRD) in the Timmins region of Canada, the Aurizona Mine in Brazil which comes with a lot of green-field & blue-sky exploration potential and is operated by Luna Gold (OTCPK:LGCUF), or the Santa Elena Mine for which a lot of impressive news have been published recently by Silvercrest Mines (NYSEMKT:SVLC).
More importantly, Sandstorm Gold also have signed streaming agreements with several near-term producers including the exciting Serra Pelada Mine by Colossus Minerals (OTC:COLUF) that should come online towards the end of this year, or the Deflector Mine in Western Australia developed by Mutiny Gold (OTC:MTYGF).
The growth potential for Sandstorm Gold is considerable and investors have been buying the Sandstorm story that is backed up by a management team with high credentials. After listing on the NYSE last year the share price jumped from $9.50 to $15.50 within one month, an increase of more than 60%. Soon thereafter an article voiced the opinion that Sandstorm Gold was overvalued and ready for a correction. In hindsight this opinion proved to be spot on the money supported by a falling triangle reversal pattern that has developed during the past five months. Three catalysts have occurred in the past weeks causing this pattern to break to the down side, as predicted by us in the discussion following one of our articles.
The three catalysts mentioned above were:
Sandstorm Gold buying a controlling stake in Premier Royalty (NSR-TSX) on which we reported in detail here and which was perceived as a comparatively expensive exercise by some investors;
the purchase of a gold stream from a project in Mongolia from Entrée Gold (NYSEMKT:EGI) on which we reported in detail here which was a large investment associated with considerable country risk and no near-term income by some investors;
and a weakness in gold price that has been widely discussed, for example here.
In our opinion the first two catalysts will pay dividends for the company and investors in the future and we maintain our high opinion of Sandstorm Gold. As stated before, we have been waiting patiently for an appropriate entry point and have watched the share price development with great interest. The chart below illustrates our observations and shows the descending triangle reversal pattern that is currently playing out in red lines. The final price target for this pattern is as low as $6.50.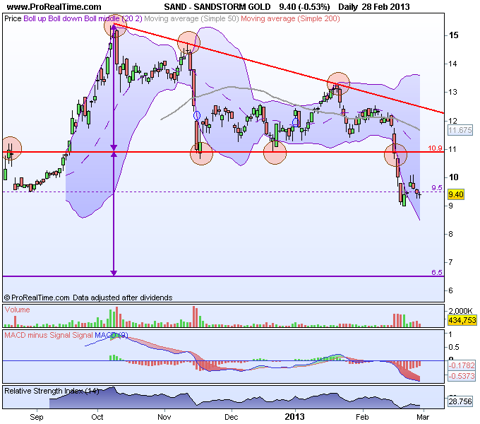 We are doubtful that this final target will be achieved in the case of Sandstorm Gold for reasons mainly rooted in the fundamentals of the company; however, we maintain that the share price has another leg down to go for the following reasons:
the perceived country risk associated with the recent Entrée Gold deal has already manifested itself in recent licensing problems concocted by the Mongolian government that would affect Sandstorm Gold's interests should they escalate;
the break of chart support at $9.50 and a very bearish MACD indicator; and
the lack of follow-up by the gold bulls after chairman Bernanke's speech this past week.
We are expecting a rounded bottom and will continue to keep our powder dry at this point in time. Averaging down from here onwards feels like grabbing a falling knife to us and we recommend against it. The RSI is currently indicating oversold so don't let a bull trap in coming days fool you. Should we be wrong, then we will not despair, but look for other opportunities which abound in the current volatile environment for gold-related investments.
Disclosure: I am long OTC:MTYGF. I wrote this article myself, and it expresses my own opinions. I am not receiving compensation for it (other than from Seeking Alpha). I have no business relationship with any company whose stock is mentioned in this article.