Revett Minerals (NYSEMKT:RVM) is a mining company operating the Troy Mine and developing the Rock Creek project in Montana.
The Rock Creek project is a most-intriguing blue-sky opportunity that has been on our radar for quite some time. It is one of the largest undeveloped silver and copper deposits in North America located near transport and power infrastructure; it is also located next to and partially on the Cabinet Mountains Wilderness Area. Revett Minerals has been fighting an uphill battle to achieve the necessary licenses to mine this deposit, but may just have started to begin seeing the light at the end of a prolonged tunnel.
The Troy mine was returned into service by RVM in 2004 and has been providing funding and income for the company. It currently produces 60% of its value in copper and the balance in silver concentrate. Under normal circumstances the mine can process 4000 tons per day resulting in an annual output of 1M ounces of silver and 8M pounds of copper. Unfortunately, circumstances are not normal at the moment.
On December 17 the company issued a statement announcing concerns with geo-technical conditions causing a temporary suspension of operations at the mine. This was followed by updates on January 2 and January 22 and the latest one on February 5 indicating that a critical underground haulage route has been affected by rock fall. RVM is currently working on opening up alternative access to their main North Ore Body aiming at resuming production by early April. The company has stated that updates will be issued in the event that new information hindering the execution of their plans comes to light.
The share price has been trending constantly lower since the first announcement regarding these geo-technical issues and has not shown any signs of bottoming so far as can be seen on the weekly chart below. We believe that with current risk-off market conditions it is unlikely that this trend is broken unless a resolution to RVM's problems is announced to the market. Such a resolution is unlikely before early April. Until such time, any news would probably concern further problems and increase the pressure to the downside.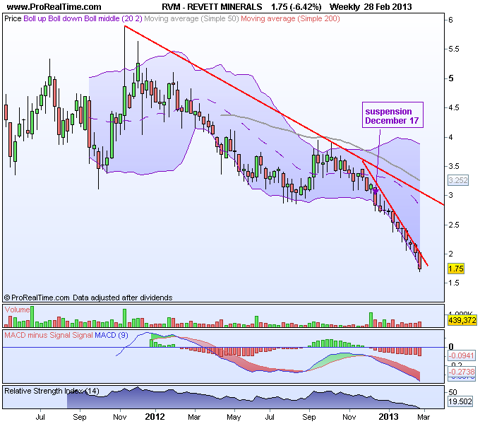 We suggest that investors with a reasonable appetite for risk consider trading on the downside of RVM during March. Without news the share price should continue its down-trend, and any news of further delays or additional problems will probably reinforce this trend.
If RVM manages to resolve their problems and operations can resume early in the next quarter then we believe that interested investors should be ready to pounce at a bargain to buy a speculative stake in one of America's most exciting silver-copper deposits.
Disclosure: I have no positions in any stocks mentioned, and no plans to initiate any positions within the next 72 hours. I wrote this article myself, and it expresses my own opinions. I am not receiving compensation for it (other than from Seeking Alpha). I have no business relationship with any company whose stock is mentioned in this article.