I'm starting to become a believer in the Advanced Micro Devices (NYSE:AMD) turnaround story. While I stress that this is a high risk stock meant only for extreme risk tolerances and/or small, speculative portions of a portfolio, I think that the risk-reward, despite the high risk, is still quite good as the "reward" could be enormous simply due to a short squeeze if things actually go right (that's a BIG 'if'). Plainly and simply, AMD has stopped trying to take Intel (NASDAQ:INTC) on directly in the PC/server space and has instead begun to leverage its unique position as the only other company that can design and sell X86 chips to bring the X86 architecture to places that Intel wouldn't bother. This is a smarter strategy than was in place before.
Now, I don't really understand why AMD is using ARM's (NASDAQ:ARMH) next generation 64-bit low power cores for micro-servers. The company has its own perfectly good low power "Jaguar" cores that, while lagging in a lot of the clever power saving states and tricks that the ARM (and Intel) low power SoCs have (and are really only relevant in a battery constrained environment), have solid performance capabilities as well as compatibility with the suite of existing X86 code. Perhaps it's a marketing gimmick, a hedge, or a way to demonstrate flexibility to eventually service a much broader range of customers.
That being said, I would like to highlight a few particularly smart moves that I believe are indicative of management headed in the right direction. While the jokers who ran this place into the ground may have irreparably damaged this company's name with investors (and the balance sheet), it seems that the new guys genuinely have a plan in place. Whether it ultimately succeeds or not, I don't know, but a good game plan is a decent place to start.
Smart Move #1: Never Settle Bundle
AMD's only profitable business right now is the discrete GPU division, and even that is fading fast. The company is bleeding market share to Nvidia, which has a cheaper-to-manufacture/more power efficient chip that has allowed the graphics juggernaut to enjoy record gross margins and strong market share gains in notebooks as well as desktops (the market share picture looks nearly identical to the notebook one shown below):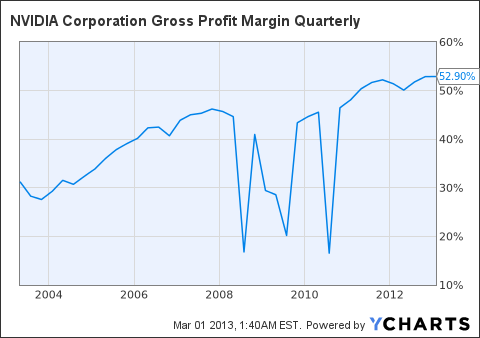 NVDA Gross Profit Margin Quarterly data by YCharts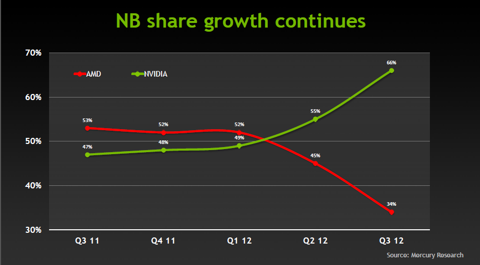 So AMD, despite having quite capable silicon, wasn't able to score the love of the desktop enthusiasts...until it announced the Never Settle Bundle: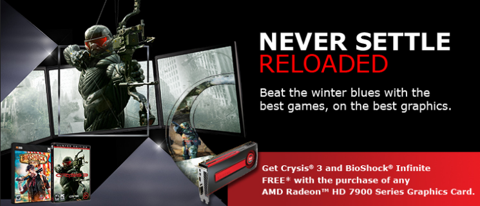 Here's why the bundle was such a solid idea:
Crysis 3 and BioShock Infinite are very hotly anticipated as well as very graphically demanding, so this could push buyers debating between Nvidia and AMD to go with AMD
This could also spur demand for folks who already own a Radeon 7800/7900 series card and want an excuse to buy a second one (you get a graphically demanding set of great games AND another graphics card...for the enthusiast, this is a win)
And, according to some retail data from Overclockers UK, the promotion "worked like a charm". I would not be surprised to see Nvidia's share gains in high end (not including the $999 card space) come to a halt and perhaps reverse slightly as a result of this deal.
The hope is that AMD got these games on the cheap (retail they're combined worth ~$100) and wasn't just desperate to clear inventory, but we won't really know until we see the form 10-Q for the current quarter out of AMD.
In any case, this scheme seems to have worked to stem any further share loss to Nvidia, and for that management deserves a pat on the back.
Smart Move #2: Temash For Tablets/Hybrids
The other smart move is the apparent focus on the lower power SoCs. While I don't think AMD has a prayer of fighting Intel in the higher end CPU/APU space, I have to agree generally with fellow SA author Tom Luongo in that Temash/Kabini are exciting products for the company. However, I would like to start off by addressing some misconceptions before everyone gets too excited.
The following performance numbers for AMD's 4 core Temash were leaked onto the web very recently: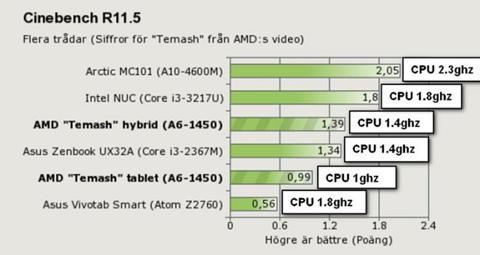 There's no doubt about it: the numbers are quite good. In "tablet" mode it's about twice as fast as an Intel 2 core/4 thread Atom Z2760 and in "hybrid" mode it edges out the Intel 2 core/4 thread Core i3 based on the 2011, 32nm "Sandy Bridge" architecture. Generally speaking, it's easier to get more theoretical performance by throwing on more cores than it is to make single threaded performance better, but it's still interesting nonetheless.
The caveat here is that Temash isn't playing in the 2W tablet chip space like the Atom Z2760 -- it's an 8W TDP chip in "tablet" mode and a 15W one in "hybrid" mode. The problem is that in terms of multithreaded performance it's about as good as a 2 year old, 32nm Intel chip in one test, but it will be contending with similar TDP "Ivy Bridge" parts in 1H 2013 and then in 2H 2013, the "Haswell" onslaught (11.5W TDP/7.5W SDP) begins. The 22nm Atom refresh known as "Bay Trail" should also make life a tougher for AMD: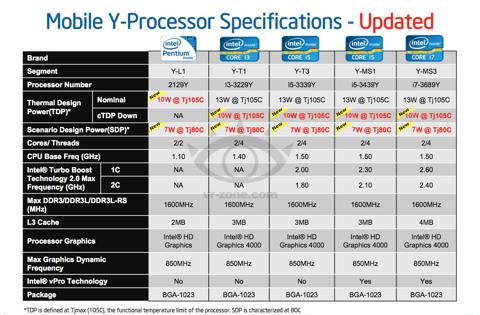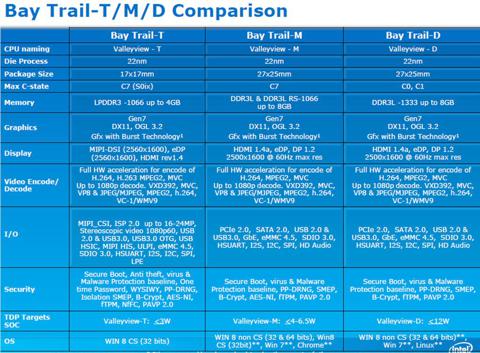 That being said, if Temash is cheap enough, and if AMD can sell enough to turn a solid profit, then that's all that really matters for the stockholders. The only nagging issue is that these chips are going to be produced at Taiwan Semiconductor (NYSE:TSM), which means that AMD's $1.15B wafer purchase commitment won't really be spared from further take-or-pay charges at Global Foundries should the other parts of the business (i.e. higher end APU/desktop CPU/server) falter. AMD mentioned that it would start shifting some discrete GPU business to Global Foundries on its recent WSA amendment call, but it's unclear what sort of timeline we're looking at.
Conclusion
AMD has made a few smart moves that should help it drive sales back up. The game console wins are also of great interest, but I feel that they are beyond the scope of this article, especially as we don't have all of the details. AMD's probably not going bankrupt, and they've got a lot of solid IP, but the debt levels coupled with competitive and secular weaknesses in the core PC segment still make this a pretty speculative bet. But as far as speculative turnaround bets go, this one isn't half bad, but know what you're buying!
Disclosure: I am long NVDA, INTC, AMD. I am short ARMH. I wrote this article myself, and it expresses my own opinions. I am not receiving compensation for it (other than from Seeking Alpha). I have no business relationship with any company whose stock is mentioned in this article.