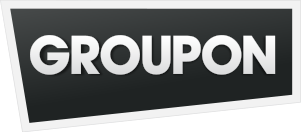 You won't be surprised to see that things are not going well for Groupon (NASDAQ:GRPN). On Wednesday, the company announced its most recent earnings that featured
-Losses of $81.1M (vs. $65.4 a year ago)
-Gross Margin declining from 80.4% to 55.7%
What part of the business is suffering? Basically all of it. The company once dominated its main market but is now trying to offer several different products in nearly 50 countries. Is it over its head? You bet. I've been one of many who believed that founder and CEO Andrew Mason wasn't the man to turn this around. From the moment Groupon turned public, things looked fishy with top execs selling loads of shares, many accounting irregularities, etc.
Following the earnings, Groupon's stock tanked 24%.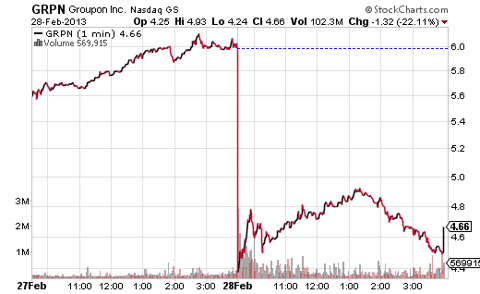 Click to enlarge
As a result, what many had been expecting happened as CEO Andrew Mason was fired the following day.
Groupon Did Have Value Once
It's easy to forget that Groupon was launched less than 5 years ago. After incredible growth in its first few years (Groupon had 35 million registered users after less than 2 years), it started to face major headwinds. Some were caused by its own fault (wasting money on a poor Super Bowl ad, some local missteps in Japan and elsewhere, etc) and others by huge competition from the likes of Amazon (NASDAQ:AMZN) (through its investment in Living Social), Facebook (NASDAQ:FB), Google (NASDAQ:GOOG) and hundreds of smaller, more targeted players.
Still, in November 2010, Google reportedly made an offer to buy the company for $6 billion, about twice Groupon's current value. That was $3B more than Yahoo had offered just a month prior. That seemed like a good decision a year later when Groupon turned public.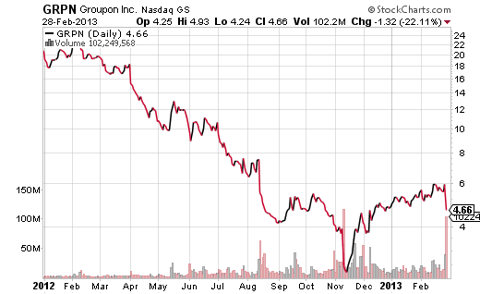 Click to enlarge
What's Going Wrong?
No doubt, a lot has gone wrong. Groupon has tried (and failed) to become this global ecommerce powerhouse offering dozens of different types of products on different platforms, falling short in many of those initiatives. As was said in this week's earnings call by Kal Raman, Groupon's COO:
"We did grow way too fast with way too many people."
CEO Andrew Mason has not been impressive and not been convincing that he'll be able to turn things around. So I personally think that firing him was the right move.
As is often the case in struggling tech companies, the costs are increasing much faster than revenues and earnings: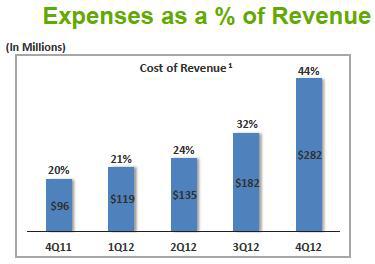 In fact, almost any slide that you can look at in Groupon's recent presentation is worrying, just look at their full presentation.
Groupon Does Have Value
Yes, Groupon has lost most of its momentum, its mojo and clearly has made a lot of mistakes. That being said, it does have several elements going for it:
- it is the leader in the space of daily deals.
- it has the infrastructure and personal in dozens of countries to deal locally.
- it has business relationships with thousands of companies (many would argue that a lot of those merchants ended up being unhappy about the results which is a fair point but many others did end up doing more business with Groupon).
- it has 41 million active customers.
Is It Worth A Flyer?
In my opinion, the main thing missing for Groupon was a clear strategy. Knowing what it's good and not good at and focusing on those products/markets. Ousting Andrew Mason was the right move and while it could have been done earlier, I think there's still plenty of time for Groupon to recover. Groupon still has assets that are worth a lot to many of its larger competitors giving two possible positive outcomes for investors: either a turnaround or an acquisition.
Personally, I will remain on the sidelines until we get a clear vision of who is stepping in and what the plan is. Yes, that might mean losing an opportunity but I just think that it will continue to be very volatile and they could very well go wrong. Just look at how many CEOs Yahoo hired until they got to Marissa Mayer which at least gives them a chance at a turnaround.
Disclosure: I am long FB. I wrote this article myself, and it expresses my own opinions. I am not receiving compensation for it (other than from Seeking Alpha). I have no business relationship with any company whose stock is mentioned in this article.